Bullying Prevention
8 Steps to Combat the Bullying Epidemic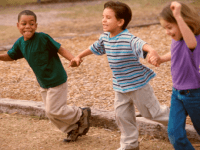 October was National Bullying Prevention Month in the U.S. But shouldn't every month be bullying prevention month? Shouldn't we do more about this problem -- this epidemic -- than raise awareness about it during one month out of 12?
I don't think "epidemic" is too hyperbolic a term to use in this context. Indeed, the American Medical Association has labeled bullying a public health concern. I have come to care about and advocate for this issue because I am a mother and a teacher. My research has taught me that many of the current approaches to the problem simply aren't working. I teach college courses in theater for youth and theater for social change, and I have seen first-hand that the arts can play an important role in bullying-prevention programming. I have also learned several other key lessons about bullying and bullying-prevention programming that could make a difference for our kids and our schools.
1. Teach Acceptance
Teaching tolerance should not be our goal. No one wants to be tolerated. People want to be accepted. Let's aim higher and have faith that our children will meet our expectations. Let's strive to teach acceptance, both at home and in our schools.
2. Modernize Our Thinking
The old method of addressing bullying with a student assembly at the beginning of the school year just isn't enough. School culture has changed, and one only has to look at the headlines to see the tragic consequences of bullying, especially given the prevalence of cyber-bullying. It's evident that our approach needs to change as well.
3. Adapt Our Strategies
Even some of the current methods are ineffective. For instance, the American Psychological Association Zero Tolerance Task Force concluded that zero tolerance policies have not improved school safety or school environments, and that a different strategy is necessary (PDF, 98KB).
4. Compassion and Curriculum
Methods that seem to be more successful are those that are both positive and integrated. First, rather than focus on punishing the perpetrator and preventing contact between the "bully" and the "victim" (see #5), let's focus on teaching positive social behaviors, such as respect, compassion and kindness. Second, bullying-prevention programming should be integrated, intentionally tied to curriculum and possibly to a school-wide theme or philosophy as well.
5. Avoid Labeling
We need to stop labeling children. If a child is repeatedly called a bully, imagine what that can do to his or her self-esteem and self-perception. Let's focus on discussing the action -- the bullying behavior -- rather than labeling the child a bully (or victim). Small changes in our language can make a big difference in how our children view themselves.
6. Involve the Community
Students need to hear that bullying is wrong and unacceptable, and they need to hear it from multiple voices. Solving the bullying crisis cannot be the job of teachers and administrators alone. Schools shouldn't have to function as if they're entirely separate from their communities. As such, schools might consider bringing in guests and experts from outside the classroom to present on the topic of bullying. These presenters could include parents, local officials, college students, performers, and even local celebrities. Children need to hear from diverse voices that the entire community -- beyond the school walls -- is dedicated to cultivating a safe, inclusive, and supportive learning environment for them.
7. Include the Arts
We need to get creative. It is well documented that young people respond favorably to the arts, and that participation in the arts has both cognitive and affective benefits for children. Investigate what role the arts might play in bullying-prevention programming at your school. If funding is a concern, you can do this economically. Rather than bringing in guest artists, your school could perform a bullying-prevention play and/or related songs. In art class, the children could paint pictures of what a no-bullying school would look and feel like to them.
8. Start Early
We need to implement bullying-prevention programming at the kindergarten level -- even at the pre-school level. Waiting until the later elementary school years is too late (and we know that middle school is far too late). At the most basic level, we need to provide our children with the appropriate language for expressing their feelings, and encourage them to do so. Furthermore, we can teach our kids about being upstanders (people who take action, especially when the easiest course is to do nothing) if they see another child being bullied.
The bullying epidemic will persist until we do something about it. We need to own this problem, as communities and as a society. This will take time, resources, and a commitment to making changes in our schools (and in our homes too). But aren't our children worth it? Shouldn't we do everything in our power to help them? Many children are afraid to speak up. Let's pledge to be upstanders and give voice to all of the voiceless children. Better yet, let's empower children to find their own voices. Let's not wait until the next National Bullying Prevention Month. Let's act now.