Administration & Leadership
5 Ways to Partner With Your School Counselor on the Common Core
School counseling programs must be inextricably woven together with instructional practice and school leadership.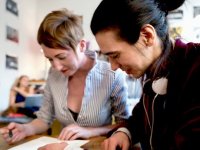 One of the most under-appreciated education professionals is the school counselor. Often on the chopping block when budget cuts come around, the job is frequently misunderstood by both the general public and the teachers (and administrators) with whom counselors work.
But counselors are at the heart of every school. They're often the first educator that parents and students see when they enroll, and the last one that they speak to before moving on. And they are dedicated to making sure that students are developing the academic, career, and social-emotional competencies to be successful in school and in life.
Fortunately, there's a new light shining on them, thanks in part to the Common Core State Standards (CCSS).
As Daniel Peabody, Maryland's 2015 Middle School Counselor of the Year pointed out in a recent interview, the standards have brought the traditional focus of the school counselor -- promoting college and career readiness -- into the realm of day-to-day curriculum and instruction.
But counselors cannot do this work alone. They must collaborate with administrators and teachers to identify student needs and deliver services that make a positive impact on learning.
To be effective, school counseling programs must be inextricably woven together with instructional practice and school leadership. And with the transition to the Common Core, teachers and administrators will find that, now more than ever, partnering with the school counselor can enhance progress toward their goals.
Connecting With Counselors
To that end, here are tips (drawn heavily from conversation with Peabody) for teachers and administrators looking to form productive partnerships with counselors around implementation of standards:
1. Include the counselor on leadership teams.
As collaborators for school improvement, counselors provide valuable insight. They inform instructional strategies for challenging students and work to ensure that students arrive in class with a good mindset for learning. They support positive school culture and climate, providing a structure of support for all students toward positive academic, career, and social-emotional development. That structure should be visible and accessible to all in the school, so the counselor should be at the leadership table for planning, management, and problem solving.
School counselors are also trained in group facilitation, a skill that can be tapped to support goal-directed planning processes during the implementation of higher standards.
2. Think collaborative, not supplemental.
School counseling is integral to a school's overall program, not a supplemental service to be accessed only when needed. The college and career readiness focus of a comprehensive school counseling program marries well with a Common Core-aligned curriculum. The school counselor, as a career and academic skill development expert, is poised to collaborate with teachers to get the most out of students working toward these rigorous standards.
To that end, a school's counseling program should be aligned to student learning needs. School leaders can expect counselors to review student data and take responsibility for school improvement as all departments do.
3. Use the counselor as a consultant.
The school counseling program serves all students in a school. Given heavy student-to-counselor ratios, individual intervention with all students is usually not possible. Often, the best way to deliver counseling intervention to a difficult class or group is by consulting with a teacher or administrator.
Other educators should go to the counselor, not to hand off the problem, but to talk through it and collaborate on possible solutions. Look to the counselor as a developmental and behavioral expert who can provide strategies to implement.
4. Use data to inform and guide collaboration.
Data (including Common Core-aligned assessment outcomes) help counselors and educators review student progress toward stated goals and inform instruction and support going forward. Together, teachers, administrators, and counselors can ask:
What standards are our students reaching successfully?
In what areas are students not reaching stated goals with consistency?
In areas of weakness, how can we change instruction to promote better progress?
Are there groups of students failing to reach certain standards at higher rates -- and if so, can we figure out why?
Aside from changing instruction, what interventions can we implement to address these weaknesses?
5. Review the role of the school counselor.
The school counselor's role has changed significantly in the past 15 years. Most notably, school counseling has changed from a responsive problem-solving model to a comprehensive developmental program for all students. Most administrator and teacher training does not include much information about the appropriate role of the school counselor. Fortunately, the American School Counselor Association provides resources on both the role itself and the principal/counselor relationship that are worth reviewing to understand how best to work with the counselor around the Common Core and otherwise.
A final thought: While these tips are framed around the Common Core, they are also simply best practices and ways to break down the silos that often exist between school counselors and other educators that best support student learning.