Culturally Responsive Teaching
5-Minute Film Festival: Talking About Race and Stereotypes
The most important conversations are often also the most difficult to have! Learn how to start a constructive dialogue about race in your classroom with these tips and tricks.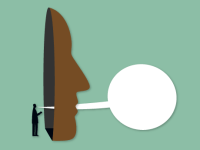 Race is a difficult thing to talk about, but it's also one of the most important. Recent events in Ferguson have sparked a national conversation about civil rights, and many college and high school students are joining in. Work toward embracing the diversity of your students, and when you're ready to dive deeper, check out the video playlist below to learn how talk about racial stereotypes constructively with your students, break down assumptions, and bring people together. 
Video Playlist: Talking About Race
Watch the first video below, or watch the whole playlist on YouTube.
video
More Resources for Talking About Race in Schools
Getting the conversation started can be tough, but as shown above, addressing racial stereotypes directly can have an amazing positive impact in your class. By helping the next generation learn constructive ways to tackle stereotypes and racism, everyone benefits.