Curriculum Planning
3 Steps to Becoming a Coding Teacher
To become a coding teacher, prepare to teach the basics by curating your curriculum, preparing yourself and your classroom, and finding support as needed.
Becoming a coding teacher doesn't need to be intimidating. I've tried to convert real programmers into after-school coding teachers and it completely bombed. Trust me -- as a well-trained teacher, you have all of the skills you need to be successful. Plus, it's not like you have to know enough to make the next Facebook, just enough to teach the basics! So let's get started.
1. Curate Your Curriculum
We are fortunate to teach in a time when there are hundreds of coding resources and curricula available to use -- and most of them are free! To get started, you really don't have to make your own year plan, units, or even lessons. You can worry about creating your own stuff when you get the hang of things. For now, check out these recommended resources for each grade level (or check out my rated list of resources):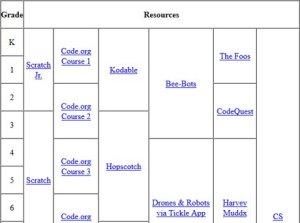 This work by Grant Smith is licensed under a Creative Commons Attribution-ShareAlike 4.0 International License
(Click image to download the Word doc.)
Note: grade levels are generalized suggestions.
2. Prepare Yourself and Your Classroom
Notice how I included resources above for adults to learn coding. That means you! I recommend that you first review your selected curriculum and then move on to the more complicated stuff. I highly recommend the Intro to CS and Intro to Programming courses on Udacity. You should also prepare for your class by answering the following questions:
What are your learning expectations for the students? (Check out these learning outcomes for the Khan Academy course as an example.)
Are your students learning computational thinking, computer science, or computer programming? (There is a difference. Check out Harvard research on computational thinking.)
What's your classroom layout? (See my post for ideas.)
Will your students work at their own pace or at your pace?
Will students work through a curriculum, or will it be project based?
How will students collaborate?
How will students share their work with you, their peers, and the world?
How will student accounts be managed? Will you create them? Do you need parent or administrator permission?
Why should your students learn to code? (Students are more excited to learn when you are excited to teach. Check out the Top Ten Reasons to Code.)
How will you assess your students? (This PDF details some research on assessing computational thinking.)
3. Get Support
Just because anyone can learn to code online doesn't mean that's the best way to do it. Code.org's research found that "students who are learning with the support of their teacher in a classroom setting complete courses more than those learning on their own" (Teachers Matter). We all know that for teachers to be successful, we need support. So rally the troops!
Find a champion for your coding crusade. The higher level the champion is, the easier it will be for you to gain access to resources and spread the word about your 21st-century class.
Get the community involved. Host an Hour of Code community event. Last year, the Avondale Elementary School District held an Hour of Code event where the students taught their parents how to program.
Build your PLN. Follow people on your favorite social network and ask for help. Some great hashtags are #CSK8, #KidsCanCode, and #AllKidsCode.
Present to your governing board. Show them how your curriculum aligns to CCSS and builds 21st-century skills.
Jump Into 21st-Century Learning!
If you've already had successful experiences coding in your class, share them in the comments section of this post or on your PLN. If not, you may be asking the following questions:
Will you know the answer to every question that your students will have?
Will you feel well rested, prepared, and in control at all times?
Will every class run without a hitch?
Answers: 1) No. 2) You wish. 3) In your dreams!
Will it be worth it? You better believe it! Now go make it happen!