Technology Integration
3 Edtech Myths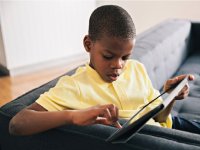 We are constantly hearing about how some piece of new tech will transform teaching and learning in the classroom. We believe that if something is shiny, new, and slick, it will inevitably be good for the classroom. In other words, we believe that technology will solve the ills of the 21st-century classroom. This can, however, lead to blind adoption or ill-planned implementation.
Remember QR codes, those fun black-and-white squares that were going to revolutionize the classroom? Or Google Glass? How about how One Laptop Per Child was going to bring digital literacy to the masses in the Third World? These initiatives were built on the myth of "cool" and the myth of good intentions.
There are three common myths when it comes to edtech tools:
1. If it's cool, it will engage kids, and teachers will use it.
Many schools budget thousands of dollars to install interactive whiteboards (IWBs) in their classrooms. They definitely have the "cool" factor, but whether kids are excited about them and whether teachers use them is still not clear. What is clear is that IWBs are costly and require extensive professional development for successful implementation. Without this training, teachers tend to use these expensive tools as "glorified chalkboards," or worse, not at all. Research also shows that effective use of IWBs is a reflection of effective teaching and doesn't necessarily make a "bad" teacher better.
2. If it works really well and is really slick to use, it must be good for the classroom.
Just this past year, the widely popular Class Dojo, which has been celebrated for its ease of use and slick interface, was criticized for the way it handled student information. The company has since agreed to delete all user data after one year, and has signed the Student Privacy Pledge along with a number of edtech companies. Many schools and districts are now scrutinizing some of the tools they use in the classroom due to the concerns of parents over how much of their children's data is being made available to companies and what these companies are doing with the data.
In addition, many edtech companies get really excited about a slick tool they have built, only to find that it does not match the needs of teachers in the classroom and/or that it solves a problem no one actually has.
3. If the intention behind the product is good, then it can only do good in the classroom.
In both examples given, the companies involved set out with the best intentions. IWB companies did not set out to create the world's most expensive chalkboard, and Class Dojo did not set out to create a tool that mismanaged student information. Most edtech companies have the best intentions and sincerely hope that their product will improve teaching and learning in the classroom. However, these good intentions do not mean that a tool will be effective in the classroom or that the product will truly meet the needs of the classroom.
When bringing any new technology into the classroom, it's important that we don't fall for the myth that something shiny and new will be a good bet for our students' education. We must do our homework on what the underlying costs (both financial and others) are, and what the responsibilities of the school, company, teacher, and families should be when we want to bring a tech tool into the classroom.
Please share your thoughts on these or additional edtech myths in the comments section below.