School Libraries
21st-Century Libraries: The Learning Commons
Libraries become a different kind of learning destination when schools reimagine them as open, transparent spaces that invite student communication and collaboration.
Libraries have existed since approximately 2600 BCE as an archive of recorded knowledge. From tablets and scrolls to bound books, they have cataloged resources and served as a locus of knowledge. Today, with the digitization of content and the ubiquity of the internet, information is no longer confined to printed materials accessible only in a single, physical location. Consider this: Project Gutenberg and its affiliates make over 100,000 public domain works available digitally, and Google has scanned over 30 million books through its library project.
Libraries are reinventing themselves as content becomes more accessible online and their role becomes less about housing tomes and more about connecting learners and constructing knowledge. Cushing Academy in Ashburnham, Massachusetts has been in the vanguard of this transition since 2009, when it announced its plans for a "bookless" library. A database of millions of digital resources superseded their 20,000-volume collection of books, and a café replaced the circulation desk. With this transition, not only did the way in which students consumed content change, but also how they utilized the library space. Rather than maintain a quiet location for individual study, the school wanted to create an environment for "collaboration and knowledge co-construction."
From Library to Learning Commons
Printed books still play a critical role in supporting learners, but digital technologies offer additional pathways to learning and content acquisition. Students and teachers no longer need a library simply for access. Instead, they require a place that encourages participatory learning and allows for co-construction of understanding from a variety of sources. In other words, instead of being an archive, libraries are becoming a learning commons.
The design and implementation of the new library at Chicago's Francis W. Parker School epitomizes this concept as they transformed their traditional space with its cubicles and stacks (which essentially thwarted collaboration) into one that fostered learning and communication. To meet the needs of their teachers and learners, they constructed a flexible space with moveable chairs, desks, and even bookshelves. Small rooms can be opened up to allow for group projects, and the circulation desk as well as the sides of the stacks are writeable with dry-erase markers to encourage the collaboration and sharing that the previous space had discouraged.
Rather than focusing on the role that their library had played in the past, Francis W. Parker designed a space for what students need now and what the school could envision for the future.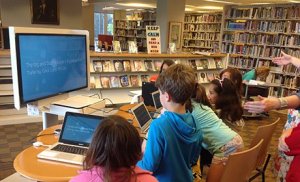 Photo credit: Francis W. Parker School
Transparent Learning Hubs
In a TED Talk called Where Good Ideas Come From, Steven Johnson explores the role of the coffeehouse in the birth of the Enlightenment -- it provided "a space where people would get together from different backgrounds, different fields of expertise, and share." When Carolyn Foote redesigned the library at Westlake High School in Austin, Texas, she wanted to create a space without barriers, one where individuals would congregate and engage in co-learning. She wrote:
In other words, she wanted to create a learning hub for the school community that would encourage teachers and students to collaborate, communicate, and share. To achieve that goal, the Westlake library includes glass walls, making the space literally transparent, as well as an outdoor area and a "juice bar" -- combining the concepts of an Apple Genius Bar and a Starbucks.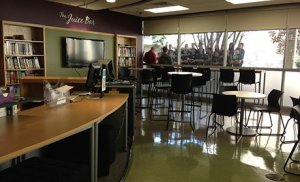 Where traditional libraries are often characterized as places of silent, independent study, the spaces at both Westlake and Francis Parker have been transformed into centers of active learning.
Extending the Physical with Digital
Too often, the debate about the future of libraries centers around paper vs. eBooks or physical vs. digital. Instead of looking at technology as supplanting the traditional, we could explore the ways in which it enhances the traditional. Paul Hamilton from Sunshine Coast, Australia, uses a combination of paper, books, whiteboard paint, iPads, and augmented reality to create custom learning environments for his students. He wants them to interact with the content, the technology, the space, and each other in order to gain context and increase their knowledge.
Image credit: Paul Hamilton (@PaulHamilton8)
When the Stephen Perse Foundation in the U.K. opened their new library, the guest speaker described it as quaquaversal, meaning "directed outward to every point of the compass from a common center." Not only does the space embrace the concept of a learning commons, it also thoughtfully merges the best of the physical and digital worlds. While the space does include paper books and physical artifacts, as well as flexible furniture and an open environment, digital content encourages students to explore, play, and delve deeper into subjects they may not otherwise experience. As principal, Tricia Kelleher writes:
The Future of Libraries
When every student has the potential to carry a global library on the device in his or her pocket, the role of physical libraries may become even more important, not just a place to house resources, but one in which to create meaning from them. The libraries of the 21st century provide a welcoming common space that encourages exploration, creation, and collaboration between students, teachers, and a broader community. They bring together the best of the physical and digital to create learning hubs. Ultimately, libraries will continue to inspire students to construct new knowledge and meaning from the world around them.
How is your library changing? Please tell us about it in the comments section below.