Technology Integration
2014 Nerdy Teacher Holiday Shopping Guide
Nerds need gifts, too! How about a pen made of magnets, a Bluetooth cassette adapter, or a crust cutter that reduces your sandwich to Tetris pieces?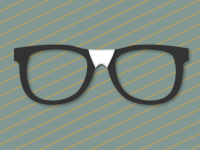 'Tis the season to find that special nerdtastic teacher a special gift that will make the rest of the school year move by at an accelerated pace. Below are some great geeky gifts that would make any teacher smile.
Polar Pen
The Polar Pen is a recent Kickstarter grad that has created something fun. The last innovation of the seemingly eternal ballpoint might have been the multi-colored pen. Having blue, black, red, and green all in one pen blew my mind, and the Polar Pen is right up there in mind-blowing power. The entire pen is held together by magnets. Yes, magnets. Once you've collected the pieces of your mind strewn around the room, this video will explain the fancy aspects that make this pen awesome. Basically, you can put it together and take it apart as often as you want and play with the magnets when you don't need to be writing anything. Another cool part of the Polar Pen is that it doubles as a stylus for your smart device. Need to switch from pen and paper to tablet? No problem! The Polar Pen has you covered. This is a very cool idea that should be lots of fun for the fidgety teacher who needs a pen and a stylus.
Grammatical Art
For the nerdy science teachers, here's some great art found on Etsy. Grammatical Art has created this really cool poster for those who need to understand how salt is put together. This would look lovely in any living room and serve as a nice way to test friends on how well they did in chemistry class. Grammatical Art has other nerdy gifts available on Etsy that are worth checking out. There's a great nerdy robot poster and a nice version of the Periodic Table that would be wonderful gifts for the science nerd that has a warm place in your heart. Check out the rest of the art and find the perfect gift for your favorite geek.
Cassette Bluetooth Adapter
This amazing gift proves that magic really does exist. Now, a Cassette Bluetooth Adapter is a tad user specific -- the lucky recipient must still own a car with a tape deck or a really old-school boom box. Just slide the adapter into the tape deck and your car becomes a Bluetooth-connected device. You can send it music from your phone and rock out to the oldies without hauling around that tub of old cassettes. The device also comes with a microphone so that -- amazingly -- you can make Bluetooth phone calls. I bet there are plenty of teachers out there whose in-class cassette players still get regular use. With this nifty adapter, teachers could stream audio from their device to enhance lessons -- or rock out in the car at the end of a long day. This is such a cool solution to a very unique problem.
Bites and Pieces Sandwich Crust Cutter: Tetris Style
Yes, please! For the gamer geek who loves to eat, here is a wonderfully fun present. I have always said that sandwiches are way too boring. I've been waiting for someone to solve this age-old problem, and here's the answer. This wonderful, inexpensive crust cutter will allow the user to cut a sandwich into delightful little Tetris pieces to make lunchtime far more fun than it's ever been. Why let your love pack a lame sandwich when this neat tool could make him or her the talk of the lunchroom? It's sure to bring hours of nourishing fun to anyone who's always wanted to eat Tetris pieces. Snap up this sandwich enhancer as soon as possible.
Flux Capacitor USB Car Charger
This gift is a no-brainer for the time travel nerd in your life. The Flux Capacitor is one of the most important icons of time travel, right up there with the Tardis. And this Flux Capacitor USB car charger sports two USB ports for the driver to charge multiple devices before jumping through time. Its lights will shine bright as devices are charged. Running in stealth mode? Turn the lights off with a flip of the switch. The Flux Capacitor is adjustable so that all of the devices can be snugged in for easy charging. It's another perfect gift for the person who charges those devices on the go.
USB Pet Rock
What do you get for the person you don't want to give a gift? If you have to do Bad Santa or Pink Elephant gift exchanges, the USB Pet Rock is for you. This updated version of the classic Pet Rock still brings the same thing to the table that it did 40 years ago -- nothing. It doesn't do a single thing. You can plug it into a device and it will not draw power. It will sit there on the desk next to the computer taking up a USB port. Like all other types of rocks, the USB Pet Rock takes up space. If you're looking for the perfect gift for someone you don't like, this has to be the winner. Geek or not, this gag gift will garner a few smiles and stink eyes.
These are just a few of the very nerdy gifts out there. There are tons more worth exploring if you seek the perfect gift for that special nerd or nerdette. Happy holidays and feel free to leave your own suggestions in the comments portion below.