Technology Integration
Test Prep with Virtual Tools: 10 Flashcard Apps for Mobile Devices
May 20, 2014
Updated April 18, 2014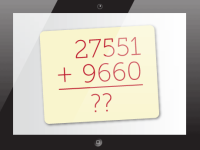 When children are told to "go home and study," many aren't quite sure what this means. "Do I stare at the pages of a textbook? Should I redo old homework problems? Will I remember this new list of vocabulary words if I read them over and over?" Giving students the tools to develop study skills is one step in the right direction.
Children need to take ownership of their learning, and one way that teachers and parents can help is by providing the right guidance and materials. Help students set time aside in their homework routine or school day and ask them to review key terms and concepts they've learned. The flashcard apps in this post can be used to build independent study skills in children.
Check out these apps to see what will work best for your students. Most are free to download, and many have extra features that are accessible through in-app purchases.
Math Vocabulary Cards (iOS and Web App - Free)
The Math Learning Center has some fantastic apps, including this simple flashcard tool designed for K-5 students. Children will see models and diagrams with each new word and can quiz themselves by hiding and revealing different parts of the screen.
Flashcards (+) (Android - Free)
Students can create their own flashcards or access decks created on Cram or Quizlet. With this app, kids can organize their flashcards into folders and even play a memory game.
Vocabulary.com (iOS - $2.99; Web App - Free)
For students ready to start studying for high-level exams, Vocabulary.com has a comprehensive program for learning new words. This app is perfect for high school students trying to boost their vocabulary through a personalized learning experience.
gFlash+ (Android and iOS - Free)
With lots of different ways to study, gFlash+ gives kids a chance to try out a couple of ways to review content. Users can create and edit cards from within the app, and gFlash+ makes it simple to purchase pre-made decks of flashcards for a variety of subject areas.
Flashcards with Cram.com (iOS and Android - Free)
Students can connect with their Cram.com account by logging into this app. They'll have access to flashcards that can be downloaded for online or offline use. This app lets students work through flashcards at their own pace, giving them the option to focus only on the ones that they've missed.
Flashcards* (iOS - Free)
This app (and yes, the asterisk is part of the title) is super simple and makes creating new flashcards straightforward and user friendly. Students can download decks of cards from Quizlet that have been created by teachers or another user. The ability to add images to the cards makes it great for English-language learners.
Evernote Peek (iPad - Free)
With this app, students can use the smart cover on an iPad 2 to peek at the text in an Evernote notebook as they study. If you have a different type of iPad or case, Evernote Peek still lets users swipe and peek using a virtual cover. Kids can access study materials by linking to their Evernote account.
Brainscape - Smart Flashcards (iOS and Web App - Free)
If you want to push students to take more ownership of their study routine, Brainscape - Smart Flashcards is a great choice. This app asks students to self-assess as they practice key terms. It uses this information to figure out the best time to quiz them again. Kids can create flashcards in the app or on Brainscape's website.
StudyBlue (iOS and Android - Free)
This app lets teachers create flashcards to share with students. Kids can set a reminder on their device to help them develop a study routine. StudyBlue also gives kids a chance to make their own flashcards that include audio, images and equations.
Flashcards Deluxe (iOS - $3.99)
Students looking to use their time efficiently will like all of the features built into Flashcards Deluxe. This includes the ability to integrate spelling tests with audio support, use images on each card, and divide cards into categories. Once users have created a set of flashcards, they can back them up to their computer and search through them to find a particular key term. Flashcards Deluxe also has a smart study mode that helps kids focus on the cards that they've missed.
Do you have a favorite app for supplementing a study routine? Can virtual flashcards replace the real thing?