Social & Emotional Learning (SEL)
"The Class" Spotlights a Teacher's Learning Curve
The universal challenge of reaching disaffected youth is explored in this French film.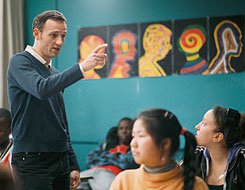 Credit: Courtesy of Sony Pictures Classics
François Begaudeau as François, the teacher.
Movies about teachers dealing with disadvantaged kids usually don't hold a lot of surprises. We know from the first moment the teacher enters the troubled classroom that she will get through to these angry, hostile students and change their lives.
As a teacher, I love these movies. I'm a sucker for the conflict between the teacher and the students and the inevitable resolution. But it makes me uncomfortable to see the types of educators these films generally present. I don't work extra jobs to take my students out to dinner and on field trips like Hillary Swank in Freedom Writers, nor do I toss out candy bars for getting the right answer like ex-marine Michelle Pfeiffer in Dangerous Minds. Does that make me more like the opposite stereotype -- the worn-out, uncaring cynic barely hanging on until retirement who tells the idealistic young teacher to wise up, because these kids just aren't interested in learning?
Like most teachers I know, I encourage my students to do their best, and I am confronted with my own inadequacy every day. So it's unbelievably refreshing to have a film present the teacher in The Class, winner of the Palme d'or at the 2008 Cannes Film Festival and this year's Academy Award nominee from France for best foreign-language film.
The film tells the story of a high school French-language class in a low-income neighborhood in Paris. Many of the students' families come from Africa, the Middle East, and Asia, and the adolescents and their teacher -- like many of their counterparts on this side of the Atlantic -- deal with issues of identity, class, and race day-to-day.
Director Laurent Cantet wanted to do a movie about a school for just this reason. He calls schools "a microcosm of the world, where issues of equality and inequality -- in regard to opportunity, work and power, cultural and social integration, and exclusion -- play out concretely."
Cantet filmed the movie entirely inside the school, rather than looking at the students or the teacher at home and with their families. This decision has the effect of making what goes on there seem more important and more immediate. Cantet used three cameras: one always on the teacher, one focusing on the students, and a third to capture classroom interactions. François Bégaudeau, a former teacher and onetime singer in a punk rock band, wrote the book the movie is based on and plays the teacher, François Marin.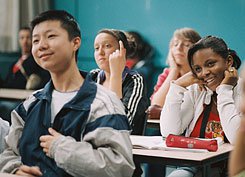 Credit: Courtesy of Sony Pictures Classics
Wei (Wei Huang), Sandra (Esmeralda Ouertani) and Khoumba (Rachel Regulier) discuss the day's topic in class.
Like thousands of teachers in the United States, Marin deals with kids who see him as the enemy, who want to challenge what they are learning and why they're learning it, and who have huge worries at home, such as their parents being deported. He takes on these challenges as best he can, but he's no miracle worker, and The Class doesn't have any Hollywood breakthrough moments. But Marin doesn't give up. Instead of staying behind his desk lecturing, he comes out and takes risks. He tries to get his students to express themselves; he challenges them and lets them challenge him -- for example, by answering the schoolyard rumors that he is gay.
The Class has won critical praise for its candid look at teaching. In a review in Entertainment Weekly, Lisa Schwarzbaum calls it "one of the most alive and engrossing movies ever to take on the rich, infinitely renewable topic of school-as-life and make it feel real, unscripted, and above all, honest." David Denby of The New Yorker writes, "I would be surprised if this brilliant and touching film didn't become required viewing for teachers all over the United States."
I'm encouraged, at last, to watch a teacher who doesn't have all the answers and to find a movie that presents classroom interactions in a realistic, nonglamorized way. For the scores of teachers who have setbacks and small successes, who get exasperated, and who keep trying, it's satisfying to see that experience reflected on the screen. This teacher, like most, is neither a martyr nor a saint. He's a person trying to make some difference in a vast system.
Emily Wilson is a teacher and a freelance reporter in San Francisco.