Assessment
Start with Big Concepts; Follow with the Facts
A new assessment measures not what kids know but how well they learn.
Researchers at Seattle's University of Washington are creating a new kind of assessment that would turn our age-old ideas about learning on their head.
Contrary to popular belief, says project leader John Bransford, learning basic facts is not a prerequisite for creative thinking and problem solving -- it's the other way around. Once you grasp the big concepts around a subject, good thinking will lead you to the important facts. So, along with colleagues at the university's Learning in Informal and Formal Environments (LIFE) Center, a laboratory sponsored by the National Science Foundation, Bransford is building assessments of what he calls "preparation for future learning."
"What we want to assess is how well prepared people are to learn new things in a nonsequestered environment where they have access to technology tools and social networks," says Bransford. Compared to typical standardized tests, for which seeking new information would be considered cheating, he says this model is "way more motivating, much more interesting for students, and much more valid in terms of what people really need to do when they get out of school."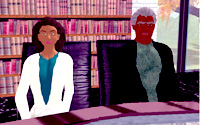 Credit: Courtesy of John Bransford
Virtual Evaluation: These avatars represent a virtual couple for whom students will provide genetic counseling in Bransford's Preparation for Future Learning assessment. Test-takers will deal with a series of increasingly difficult cases that allow dynamic assessments along the way.
In the computer-based tests, students are presented with complex problems that might have more than one good solution. One test challenges students to assume the role of animal-endangerment expert, fielding questions from fictitious clients around the world about how to protect local species. Another makes them virtual genetic counselors, dispensing advice to couples about potential risks to their children. They need enough conceptual knowledge to decide what kinds of questions to ask, then they search the Web for information and create whatever charts or diagrams will help them meet the challenge. Scoring is done with rubrics.
Fully realized, this kind of assessment would be linked with curriculum. Rather than moving along a metaphorical conveyor belt from one lesson to the next, Bransford says, students would spend time developing expertise in a subject. Through repeated challenges,they'd build up strategies and resources over time, just as a worker would on the job.
The researchers are trying out the test now with students in North Carolina and Washington State; they aim to have a prototype science test ready by the end of this school year.
Grace Rubenstein is a senior producer at Edutopia.