Parent Partnership
Teacher-Parent Communication Strategies to Start the Year Off Right
By prioritizing communication with families at the start of the school year, educators can foster strong parent engagement, break down barriers, and provide support for all students.
It's no secret that when schools make a concerted effort to foster healthy, strong relationships with families, students benefit in a number of ways.
Studies suggest that parental involvement can lead to academic gains for students: higher grades and test scores, improved social skills and time on task, better attendance and participation, and decreased behavioral problems in the classroom.
But parent-teacher communication can be challenging, say teachers. In 2006, 50 percent of participants in a survey of more than 1,000 K–12 public school teachers rated parental involvement in their children's education as inadequate; 48 percent reported parental understanding of the curriculum similarly. And a 2016 study revealed that some of the largest barriers to productive parent-teacher communication were trouble getting to the school site, conflicting work schedules, lack of translation services, and consistent requests for donations or fundraising that seem prioritized over all else.
Though parent-teacher communication will always require a mutual effort on both sides, educators shared their best practices—from home visits to in-school parent workshops—for building strong bonds with families, from the first day of school to the last.
Getting Off to a Good Start
Establishing strong relationships and clear lines of communication at the beginning of the year sets a strong foundation for parent-teacher interactions, according to teachers.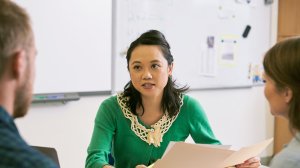 © Shutterstock.com/Monkey Business Images
Asking families for their preferred mode of contact ensures important information will get to them.
Opening reliable channels of communication: Not all parents communicate the same way. To determine a family's contact preferences, simply ask them directly, says Erin Healey, an English teacher in Rhode Island. Create a beginning-of-the-year Google Form, use an introductory phone call or email, or discuss the topic at back-to-school night. This is also a great time to learn what languages are spoken at home.
A personalized touch: When in-person parent meetings weren't possible due to the pandemic, middle and high school teacher Lauren Huddleston found that embedding short, introductory videos in emails was an effective alternative. The video format allowed Huddleston to virtually "share my personality and warmth with parents" at the start of the year, while also outlining the syllabus and explaining classroom expectations.
Your child, in a million words or less: Eighth-grade English teacher Cathleen Beachboard mails out a "Million Words or Less" survey asking caregivers to tell her everything she should know about their child, with a tongue-in-cheek word limit as the only restriction. Huddleston, meanwhile, distributes a survey to caregivers that is meant to capture their child's attitude toward the subject matter, their motivations, and how they might be feeling about the new school year.
Connecting outside the school walls: To kick off the year, preschool teachers from Educare New Orleans visit the homes of each family. During the visit, parents are asked about their strengths as a family and any goals they have for their child. Educators then help outline what can be done within their classroom to help the child meet and exceed those goals, as well as what families can do at home to help support their child's learning. They have a follow-up visit near the end of the school year.
Establish Back-and-Forth Communication
Two-way communication where parents can listen and receive information, as well as speak and be heard, ensures a healthy exchange of ideas that welcomes parents as partners in their child's education, says Beachboard.
Beyond bad news: Consider sharing regular information about how students are progressing and engaging with lessons at school. This is especially important for families that are newer to the country, as "teacher-home communication may be new and is likely to be reserved for bad news only," explains Louise El Yaafouri, an independent consultant in refugee and immigrant newcomer education.
Get active on social media: Healey recommends creating a classroom Instagram page or Twitter account to post photos and videos of student work, or emailing out a monthly or quarterly blog celebrating student successes and previewing upcoming curricular content for parents. This keeps families in the loop about what their child will be learning next and maintains positive communication with parents, she says.
Real-time tech tools: Platforms like Seesaw or ClassDojo allow kids to share their learning with their parents directly through the app and make real-time updates easier. "If you're in class and you're able to take a video of one of your scholars saying, 'Hi Mom! I'm learning about how to add numbers—10 and 5 makes 15. I'm going to practice tonight when I come home,' and then the [parent] gets to see, that's powerful," says Paul Bannister, a New York–based kindergarten teacher.
Give parents a nudge: Simple text reminders—sometimes called "nudges"—can help parents help their children stay on track. A Columbia University study, for example, found that sending weekly text updates to middle and high school parents about their children's grades, absences, and missed assignments led to an 18 percent increase in student attendance and a 39 percent drop in course failures. Beachboard says she personally utilizes the Remind app to keep families abreast of assignment due dates and bolster back-and-forth communication.
Bring the Parent Into the Classroom
Show off your families' strengths: Give parents a chance to highlight their talents, experiences, and skills to get them more engaged in the classroom, says education consultant and retired teacher Terri Eichholz. Eichholz created a Google Form where families could mention any skills that they might want to share with the class—which led to her finding a parent who was a drone operator. "[He] zoomed with my students (back before Zoom was a thing!), and we built an entire field trip around his expertise," she says.
Provide pathways for entry: At Educare New Orleans, teachers maintain a monthly calendar marked with days on which caregivers are invited to engage with their child inside the classroom. For parents who can't attend, there's a take-home activity that provides a similar experience.
Empower students to explain their best work: At Design 39 Campus in Poway, California, parents attend in-school workshops. During the first half hour, students are in the driver's seat, taking charge and explaining their work to their parents. The second half hour is reserved for parent-teacher communication—including a question-and-answer period—while students attend an elective, gym, or their lunch period.
Making your curriculum transparent: High school history and journalism teacher David Cutler posts two weeks' worth of lessons and assignments online. The practice provides transparency to families about what their children will be learning—and when— while also allowing him to carve out time to meet with students and parents as they prepare for more challenging assignments.
Reaching Every Parent Where They Are
Historically underserved families are often judged before parent-teacher communication even begins, says Angie Shorty-Belisle, school director of Educare New Orleans.
"The biggest mistake is to think, OK, we're at a school where we're servicing [underserved] families; they're going to be difficult parents," explains Shorty-Belisle. "Every parent is their child's first advocate.... No family comes in wanting to be a burden or difficult to the school."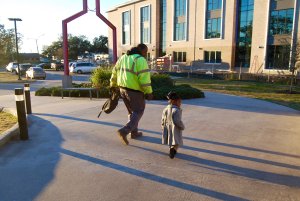 ©Nora Fleming
At Educare New Orleans, teachers use events as one of many ways to invite parents into the classroom. Take-home activities ensure the learning continues even when students are at home.
Redefine the perception of participation: Work schedules and transportation can be just as significant of a barrier to parent engagement as language, say teachers. "We often think of parent engagement as PTA, coaching the softball team, or chaperoning the middle school dance," says El Yaafouri, who recommends redefining family participation so that it's more inclusive. "Sometimes, engagement is ensuring that a child has a quiet place to study at home, or making the right calls to get ahold of school supplies, or sharing wisdom that is unique to one's lived experiences."
A more inclusive calendar: One way to show families of diverse learners that they are an important part of the community is by creating an inclusive school calendar at the beginning of the year, says El Yaafouri. Find out what holidays families celebrate—don't make assumptions—and be cognizant of not scheduling school events on days that might conflict, while creating opportunities throughout the year so that all students and families feel represented and valued.