Interest-Based Learning
Students Excel When They Find Purpose—So How Do We Help Them?
By connecting learning to the real world, students begin to see themselves as a catalyst for change within it.
Last June, 5,000 people gathered in front of Jersey City's city hall for one of the area's largest protests about the death of George Floyd and police reform. The gathering wasn't the work of an advocacy group or seasoned political organizers, but high school senior A'Dreana Williams.
Until last spring, A'Dreana, now a student at Howard University, had felt disconnected from school and believed that many black students, like herself, were not being set up to succeed. But the protest she led inspired many others and helped change her idea of the impact she could have on her community. Before organizing the protest, she thought, "'What connections do I have?' It turns out I'm connected to a lot of people," she said.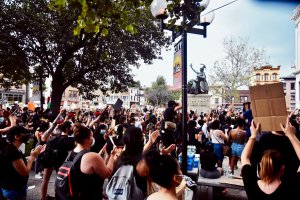 ©Otto Dierig
People gather for a protest on police reform in Jersey City, New Jersey, organized by high school students.
In the last five years, teenage activists like Greta Thunberg, Emma Gonzalez, and A'Dreana have uncovered their power through online communities, in time set aside in the school day, or in the unexpected freedom offered by virtual school. Students around the country have organized marches on gun violence and fundraisers for first responders, sat on boards of education to push for policy changes in their schools, and connected to peers across the country in online forums on topics ranging from global warming to racial equity.
Some teachers, meanwhile, are increasingly using their classrooms to create opportunities for students to uncover their passions and make a civic impact—both in person and virtually. By participating in pointed discussions, conducting research on pressing local issues, or working with governments, these students are no longer seeing school as separate from the "real world," but as a catalyst for change within it.
Even young children can practice "participating and shaping [their] own world as part of the classroom," points out Rafael Perez-Segura, a bilingual pre-K teacher in New York City, who says he starts fostering student agency in children as young as 3 years old. "To me, it's seeing the impact and having a say in what your environment looks like," whether that is the classroom, the city, or greater society.
Finding New Purpose in Learning
Seeing one's actions impact others is empowering, according to research, particularly for students who may otherwise feel disenfranchised by systems and institutions that distribute power unfairly.
One study by renowned researcher David Yeager, for instance, found that academic persistence and student interest were linked. High school students who were asked to connect their schoolwork to their values and personal passions were more likely to persist even when academic work became challenging or boring. These same students went on to finish college at significantly higher rates. Conversely, school structures and curriculum that seem outmoded, or actively opposed to student input, can push students, especially the most marginalized, to disengage or even drop out of school entirely.
An early step in connecting students to a larger purpose can start with "equitable talks," or conversations like Socratic seminars or fishbowl discussions, where all voices get a chance to be heard. Inclusive conversations strengthen the idea that others' learning is as important as one's own, and that insights are strengthened by group discussion and critique—a fundamental idea of democracy as well.
"It's tangible in the room that the world is going through a lot," says Minneapolis high school English teacher Susan Vaughan of online discussions in her class where students practice understanding multiple perspectives. For one activity, Vaughan asks students to respond to literary quotations that classmates select, then try to explain why they might have picked them—encouraging students to think through another classmate's reasoning process.
These conversations can also help students connect school to a larger purpose outside of the school walls, according to Alyce Aldige, a sixth-grade teacher in Long Island City, New York.
"It takes a lot of work because you have to create safe spaces" for students to listen, discuss, and brainstorm ideas that are truly meaningful to them, says Aldige. During classroom discussions, her students open up about topics like job loss in their families, which has led to civic action like a recent project where students created proposals on the best way to use an undeveloped plot of community land. Most important, she said, it's helped "students understand that they have power and a voice."
Laying the Foundations for Social Engagement
Some conversations may be polarizing or uncomfortable—particularly for parents following along at home—and can put teachers in tough positions.
©Shutterstock.com/Rena Schild
Influenced by the school shooting at Marjory Stoneman Douglas High School, students stage a lie-in in front of the White House about gun violence.
Having students conduct research about local issues and guiding them to understand credible sources can be a first step before diving into wide-ranging conversations that may bring up heated discussion. Using the free Stanford Civic Online Reasoning curriculum, for example, students learn how to ask for evidence for a claim and to agree on what constitutes valid evidence.
Still, when students ask challenging questions about current events, educators may have to make in-the-moment decisions about how to respond. Carving out time for a subsequent conversation allows students to share what they know or hear, reflect on it, and then conduct research to deepen their understanding. Or, educators may have to respond immediately, such as when one student has hurt another student with a slur or stereotype. In that case, they can use the antibullying "Name It, Claim It, Stop It" approach, by clearly stating what they heard, explaining why the words are hurtful, and articulating a plan for possible next steps.
Groups such as Facing History and Ourselves, Teaching Tolerance, Harvard's Project Zero, and EL Education offer resources to help teachers who may not feel comfortable moderating fluid discussions on politically sensitive issues. Teaching Tolerance's Let's Talk curriculum, for instance, offers checklists for teachers to assess their comfort with topics before diving in, as well as tips for dealing with tricky situations that may arise.
Teachers can also turn to the tools that kids know to make students comfortable. Gaming culture, for example, allows children to practice standards for civil discourse in the classroom by using mods or moderators on communications platforms such as Discord or Twitch that connect gamers together through shared interests.
"When you are playing video games online with a couple of friends, you are coordinating and collaborating, and there are tensions that need to be resolved. Those feel like the pieces of civic engagement," says Antero Garcia, a professor of education at Stanford University and a former high school teacher, who studies how gaming culture and online discourse can serve as new models of civic activism.
Schools as a Catalyst for Change
These skills learned through gaming can then be connected to classroom projects, where students work with peers and choose how to share their learning, say educators. Independently, students have staged gaming-tournament-style fundraisers for environmental causes or to raise money for essential workers, for instance.
Social media apps can likewise become platforms for overt student activism, with high school students organizing to address pressing issues in their communities like racism, climate change, and gun violence. In 2018, Jersey City high school senior Jai Patel used social media to bring together hundreds of students from high schools and colleges for the walkout against gun violence after the shooting at Marjory Stoneman Douglas High School in Parkland, Florida, for example.
Though educators have to tread cautiously when it comes to contentious or political topics, encouraging students to become vested in pertinent issues that affect them and others is an important step to improving schools—and the outside world.
Actively learning about the impact of individual actions on larger society can start among the youngest students. In Boston Public Schools (BPS), for example, kindergarteners spend eight weeks constructing projects in their classrooms that would make Boston "a more interesting and fairer place for children."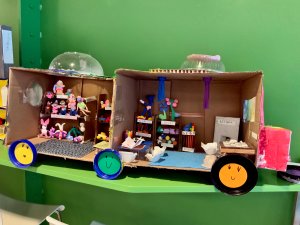 Courtesy of Marina Boni
Kindergarten students in Boston Public Schools create projects on how to make the world a better place for children. Pictured: 'A Mobile Toy Library'
Using cardboard and other recycled materials, students create their own exhibitions that have included things like a "hug bank," a hotel for the homeless, and many water parks. The city displays their creations at City Hall. "Kids actually get to brainstorm an idea together that feels empowering or powerful and build it together," says Marina Boni, an early childhood program director for BPS.
For older students, that feeling can lead to concrete change into high school and beyond. At her admissions-based New York City public high school, student Emma Rehac noticed that few students of color from outside the neighborhood attended. These disparities pushed Rehac, who is a student of color herself, to get involved with Integrate NYC, a student-led group that advocates for intentional integration programs and unscreened admissions across the sprawling New York City district of 1.1 million students.
Rehac, now a college student, credits her involvement with Integrate NYC to her middle school teachers and counselors who prepared her to see the inequities between students through conversation and relationship building. In the end, she says, those teachers "taught me what kinds of support I needed and how to seek those out for myself."