STEM
A STEM Project That Connects to Students' Interest in Social Movements
A personally and socially relevant project ties what middle school students study in science class to developments in the world around them.
Black, Latino, and Indigenous people are underrepresented in science, technology, engineering, and math (STEM) fields, in part because STEM in school is often treated as bias-free or objective, removed from everyday life. This colorblind approach contributes to the alienation of students of color from science because it does not recognize many of the ways in which they see themselves. A crucial question for STEM teachers, therefore, is how we can create compelling learning activities in our classrooms that recognize students as whole people.
We'd like to describe one example of a personally and socially relevant STEM project—or STEAM, really, as it incorporates art—that has the potential to do just that. A few years ago, prior to the pandemic, one of us (Donna), an eighth-grade science teacher, noticed that her students would come into her classroom talking animatedly about the issues they had been discussing in their social studies class: justice, inequality, and personhood. She decided to use social movements as a metaphor and have students apply it to one of the topics in the science curriculum, Newton's laws of motion, by asking them to build kinetic sculptures that would represent both a social movement and the laws of motion.
Eli contributed to the project by co-designing a space for teacher professional learning where Donna developed the idea. (This was part of a project funded by the National Science Foundation (#2021180) to research how teachers learn to integrate computational making projects into STEM classrooms, and we're grateful for the support; teachers can do this project without outside funding.)
How to Set Up This Project
Donna introduced the kinetic sculpture project by describing the overarching task, the criteria for success, and the timeline (about seven days, or the equivalent of nine class periods). Students had already been introduced to paper mechanics and practiced building a kinetic sculpture of choice with inspiration and templates from Karakuri: How to Make Mechanical Paper Models That Move by Keisuke Saka.
Donna presented the task as follows: "You will apply your knowledge of forces and motion and your "making" skills from the karakuri projects to design and build a kinetic sculpture that moves and addresses a social movement."
Students brainstormed a list of "hashtag movements" and then chose one that they wanted to represent. The movements they brainstormed included #ClimateChange, #MeToo, #BlackLivesMatter, #NoBanNoWall, #LGBTQIArights, #TakeaKnee, and #StopWar. They joined together in small groups based on the social movement they selected, and began with a day of research on that movement in order to build background knowledge as well as to generate ideas for symbols and types of motion they might incorporate in their sculpture.
The groups then chose a mechanism (cam, gear, lever) they would use to add motion to their sculpture. Some groups built their own cams or gears; a great resource for paper-based mechanisms is PaperMech.
Next, each group submitted a design proposal with sketches, a brief description of what they wanted to build and necessary materials, the connection to physics, and the connection to their social movement. Project proposals needed to be approved before groups could gather materials and begin building their sculpture. After that, they were left mostly on their own to figure out how the work would get done.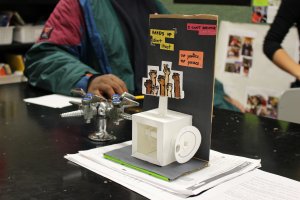 Courtesy of Donna Peruzzi
One of the moving sculptures built by Donna Peruzzi's students.
About four class periods were allotted for building sculptures, with multiple checkpoints scheduled for peer feedback as well as individual and team reflection. On the fifth day, students made final preparations for presenting their sculptures "gallery style" in a project exhibition, creating signs and planning what they would present to an external audience. They used an artist-scientist statement to help them.
The project exhibition happened during the school day with school administrators and staff and other classes invited to attend, but this could also be a wonderful opportunity for an evening event that would be more conducive to inviting families.
Metaphors are not perfect, but they do help to expand static ideas about what counts as science and how science can be related to the world adolescents inhabit. Three years after the first implementation of the project, one of the students from the class said, "I feel like with the project, I was learning science but I was also learning about social justice and skills I need to know for the future. And I feel like in things we're learning now [in high school], we don't get that. That two lessons in one. We only get one [now]—science heavy, not future related."
Culture is often thought of as linked to particular ethnic or religious groups, but we understand culture to be the daily practices, values, and beliefs of any group of people. For instance, there can be a workplace culture, or a culture of activism in a neighborhood. This project honored and built on students' cultural identities as legitimate subjects of study because it attended to what they cared about and who they believed themselves to be. It also built on their intellectual identities by providing them an opportunity to make decisions about how they were going to complete their projects and in doing so explicitly valued their ability to know, do, and learn.
Students are often asked to acclimate to STEM and other subjects rather than the other way around. Donna paid attention to what her students were talking about among themselves for weeks and months before the project began and asked her students what was important to them.
By expanding the connections we educators make between STEM and the rest of the world, we can also expand students' ideas about what is possible in learning STEM and how STEM can be a tool for more just futures.