Project-Based Learning (PBL)
A Starter's Guide to PBL Fieldwork
Five tips to help you get started with taking students out for fieldwork—a powerful component of project-based learning.
September 25, 2017
Updated September 22, 2017
A group of students boarded the Mobile Learning Lab at my school to visit the Barefoot Beach County Preserve in Bonita Springs, Florida—an expedition to a community partner that was part of the students' Extreme Migrations project.
Their teacher had prepared learning materials to enrich the fieldwork, including sea turtle reference books, images of nests around the world, and an iPad for recording photographic observations. The student researchers were ready to learn by playing, imagining themselves as scientists exploring the beach using measuring tapes, journals for recording observations, and bins and tools for specimen collection.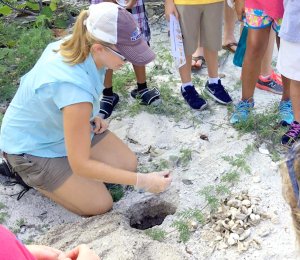 Courtesy of Elizabeth Garcia
Learning by doing: Excavating sea turtle nest 203
At the preserve, these third graders assisted an environmental specialist with the excavation of sea turtle nest 203. They discovered 72 hatched eggs and two that had failed to hatch. Following the excavation, students measured tracks in the sand, looked for signs that the sea turtles had made it safely to the shoreline, and collected samples of sand and shells surrounding the nest. The photographs, specimen samples, and data recording notes all made their way into our school's student-curated Natural History Museum, a typical learning extension of our project-based learning (PBL) fieldwork.
Here are five tips—based on what we've learned through trial and error—for directing PBL fieldwork to ensure that it's meaningful, measurable, and extended. I recommend starting small and building upon these ideas as your fieldwork experience progresses.
1. Fieldwork First
I suggest conducting fieldwork at the beginning or in the middle of a project. Individual student interests are often piqued during fieldwork, which increases student engagement. Sparking student interests has a number of benefits, including increased memory of learning content and the identification of student passions for self-directed learning experiences and individual capstone projects.
2. Purposeful and Intentional Planning
PBL fieldwork extends beyond the concept of a traditional field trip. It should be carefully crafted by the teacher, while also allowing for student choice and active participation. Most often, it's planned with a community partner and aimed at solving a real-world problem. The school can assist teachers with building community relationships by creating and maintaining a binder of potential partners and an email template for requesting participation.
A fieldwork planning form with specific and measurable goals is also critical to high-quality fieldwork. The form includes an objective, the driving question, an en route lesson, a list of student research tools, a list of specimens to be collected, and an explanation of the follow-up extension activity.
3. Inquiry-Based Experiences
Real-world observations often lead to a significant amount of student inquiry. Encourage students to explore the site according to their interests, with a self-created driving question in mind. Students can then record a list of further questions in their field notebooks that can be researched as a follow-up activity.
Thinking routines such as See, Think, Wonder are helpful when recording on-site observations. And the Zoom In routine is excellent for analyzing photographs taken at the site. This level of careful observation and questioning leads to deeper learning and understanding.
4. Data Focus, Sample Collections, and School Extension
Encourage students to measure, draw, and photograph items of interest throughout the field site. This information can later be graphed, digitized, and recorded into meaningful data. Sample collections should also be taken, including—depending on the site—water, sand, photographs, flora, and fauna (photos).
5. Create a Curation Cart and Natural History Museum
My school has a curation cart that is used to preserve specimens. It's a stainless steel table on casters with reference books, science lab tools, and maker materials. For example, students work at the cart to create shadow boxes using wood, batting, fabric, and labels for documenting scientific names. They also press flowers and plants at the cart using waxed paper. All fauna is preserved digitally and includes photographs and labels.
A designated exhibit area, our Natural History Museum, allows students to highlight their current work, which is later archived and stored, according to the type of specimen collected. Teachers can use the specimens later in classroom project centers or as teaching models for future projects. Showing students that their work has a purpose beyond the project allows them to appreciate their learning as a meaningful activity. They take great pride in their museum and collections.
These tips can be reimagined to fit the resources and budgets of your school or classroom. There are websites, like DonorsChoose.org, that help teachers raise funds for educational uses, and PBL fieldwork tools or a curation cart are great requests. And there are nonprofit transportation services in many communities to transport your student researchers to various sites. Your school's backyard can be a great resource too. And if fieldwork is not an option, you can ask a community partner to bring samples to the school so students can take photographs, explore, and curate.