Professional Learning
6 Summer Reads for Teachers
Six engaging books to inspire big-picture thinking on a range of topics from school culture to classroom instruction.
June 25, 2019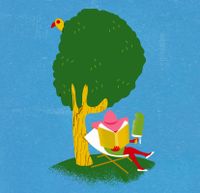 Jens Magnusson / Ikon Images
The first heat of summer reminds me, like many teachers I know, to get my book list ready. School is out of session and some serious reading is about to begin. During the year, my education reading is heavy with how-tos, quick tips, and easy strategies. In the summer, I like to shift my education picks toward big-picture topics that illuminate new ways to think about schools and learning. This summer, my top reads are expansive, inspiring, and deeply rooted in history.
In Search of Deeper Learning: The Quest to Remake the American High School (2019). Jal Mehta and Sarah Fine guide readers into wildly successful classrooms at four U.S. high schools. Despite an initial chapter that wrestles with disappointing test results, the book is a hopeful, easy-to-read narrative on what the best teachers do and what deep, engaging learning looks like for students. Grab this text if you're looking for a celebration of what's possible in American schools.
The Culture Code: The Secrets of Highly Successful Groups (2018). Daniel Coyle's lively culture manual isn't written specifically for educators, but positive group culture is essential in every school and classroom. Coyle seamlessly weaves together research, case studies, and narratives to illustrate the ways the best teams work together. This book is an engaging way to examine what we can do to improve culture in our classrooms and school buildings. Pick up The Culture Code if you're looking for ways to make class discussions feel safe for all students or need ideas for welcoming new teachers to your school or grade level.
Onward: Cultivating Emotional Resilience in Educators (2018). Onward, written by coaching pro Elena Aguilar, invites teachers to build the emotional resilience required to manage school stress and avoid burnout. Using school-specific examples, Aguilar nudges educators to examine reactions and emotions instead of soldiering on in frustration or exhaustion. Although I read the book straight through, the text does include calendar guidance if you want to focus on one resilience skill per month. Pick up a copy if you're ready to reflect deeply on your habits or if you're a school leader looking for teacher-supporting strategies.
Bush-Obama School Reform: Lessons Learned (2018). State and federal policies impact everything from the way schools test to how teachers are evaluated, and yet it can be hard to pause and learn from past education policy initiatives. Edited by education policy experts Frederick Hess and Michael McShane, Bush-Obama School Reform is a collection of essays focused on small wins, missteps, and unintentional outcomes of major educational reform of the last two decades. The text isn't a beach read, but it does offer crucial historical context for understanding the current educational landscape and valuable insights from leading educational thinkers across the country.
Driven by Data 2.0: A Practical Guide to Improve Instruction (2019). No matter what level of experience you have with data use, Paul Bambrick-Santoyo offers big thinking and small actions. The book is peppered with inspiring narratives and takes a hard, honest look at how data use can go awry or feel forced upon teachers. The templates and tools in the text are especially helpful for schools that need meaningful follow-up for assessments. Grab this text if you're troubleshooting the way you plan systems of data use or want to develop a keen eye for how schools around the country are weaving data into everyday school choices.
Reclaiming Conversation: The Power of Talk in a Digital Age (2015). Like many educators and parents all over the country, Sherry Turkle is worried about the dominating role of smartphones and digital devices. In Reclaiming Conversation, she deftly switches between narratives and research to build a case that kids aren't developing enough empathy or face-to-face communication skills. Turkle takes a reasoned, pragmatic view that celebrates what the digital world can offer while urging adults to champion in-person, empathy-building connections. She offers readers a chance to slow down and examine how technology has impacted the way we live and interact. Pick up this book if you're eager to reevaluate how schools can help students communicate, empathize, and find respite from the digital world.