Online Learning
Reaching Through the Screen to Develop a Community of Learners
Online instruction is remote, but it doesn't have to be distant—teachers can cultivate a cohesive group in early elementary classrooms.
In August 2020, I was ready to kick off a new school year with brand-new students while teaching completely online. I was terrified. My mind raced with thoughts mostly along the lines of "There is no way we will be able to form a community online. How will we even get to know each other?"
And here I am a year later, having just begun another school year with another new group online, and I can safely say that it is possible. You can build healthy relationships and a strong sense of community teaching in a synchronous online classroom. The medium may be different, but the important parts—you and the children—are still there. Here are a few lessons I've learned along the way. 
Include Students in Decision-Making
Many teachers spend the beginning of the year in a classroom co-constructing expectations together with the children. In my fear of losing control with this new methodology, I held on very tightly at the beginning of the last school year. I didn't let the children annotate on the screen or use the chat feature. When I reflected on the difficulties of having a conversation online, I realized that these features might be just the things to help support more equitable participation.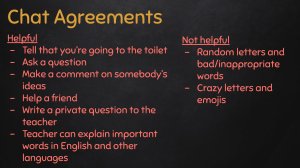 Courtesy of Kailyn Fullerton
After deciding on norms of use together, we began to use these features and others, and the online environment started to become the students' classroom space as well. Some wonderful things happened, especially with the chat feature. Students would use it to comment on read-alouds or write responses to each other's thoughts. Students who were learning English or shy about speaking in the whole group would write me private messages to connect to the lessons.
Long story short, any time you can, make the decision together. That will help everyone feel like they're part of the club.
Seize Opportunities to Create Traditions
By student request, we had Tuesday joke days and Friday dance parties. When the dilemma of celebrating birthdays came up, we used the collaborative tool Padlet to ask students how they would like to celebrate their birthdays online. Thanks to their ideas, for each birthday I compile the notes or video recordings left for the birthday person into a slide show, which gets sent home to them. The morning of their birthday, they lead us in a greeting, and in the afternoon the birthday child has the opportunity to choose a song for the whole class to dance and celebrate with.
Make Use of the Home Environment
One of the things about being at home that beat being at school is the access to all of the things that make each child special. At the end of the year, we decided to have a talent show, which quickly turned into a "Students as Teachers" extravaganza. With access to all of their special materials at home and also the opportunity to film before, we had days of entertainment and learning: swimming pool and rollerblading demos, how-to-draw classes, origami lessons, cooking classes.
Visits from puppies, lizards, or baby siblings can bring home right into the classroom. And why not have family members in as guest readers or speakers? For some people who are working from home, this idea might be more accessible now, and it is a lovely chance to connect with families.
Use Breakout Rooms
My biggest mistake last year was not using breakout rooms early on. I was overwhelmed and did not want to learn another new thing. When I'd resigned myself to the fact that we were not going back in person, I decided to start trying out these breakout rooms. Again, I was nervous about what would happen with young children and whether they would be able to use the technology. But, I will say that in terms of creating connections, partnered and small-group breakout rooms are an absolute game-changer. Here are just some of the ways that I use them on a daily basis:
Include Digital Recess
A few times a week, I left the Zoom room on during the 20-minute break between our morning meeting and next academic session. This allowed time for the children to play together in an unstructured way, similar but different of course to recess at school. I was present for the meeting—sometimes a part of the fun and sometimes organizing things for the next class. They would bring toys and create stories together, chat about their days and weekends, tell jokes, and eat their snacks. This time allowed the children to build relationships on their own terms.
Know that you'll make mistakes. You'll hold on too tight or make a major tech flop or have lessons that don't work in an online environment. But when it comes to creating community, just trust yourself, trust your students, and know that it's possible.