Early Childhood Education
In Preschools, Sharing and Playtime Look Different Now
To support young children's social and developmental skills, preschools have had to get creative with what were once mainstay classroom practices.
In Madison Stacy's classroom in Denver, Colorado, elbow bumps and foot taps have replaced what was once a staple of preschool life: hugs, hive-fives, hand-holding, and toy-sharing.
"They might not be encouraged to hug each other anymore, but they're still able to have fun because they're together. They really missed that," said Stacy of her students' return to Educare Denver at Clayton Early Learning, after it was closed this spring for the pandemic.
Though Stacy was nervous about how her young students—ages 3 to 5 years old—would adapt to the many changes in store for them, she said they are adjusting quickly to the face masks, temperature checks, and handwashing.
Clayton Early Learning is one of a number of preschools and childcare centers opening around the country with heightened health and safety protocols. Guided by the early reopenings of day cares that served children of essential workers, preschools have been able to bring back students and staff at reduced capacity, as many already served small, contained classes and are independently run—and not connected to the same funding streams or regulations as public schools.
To reopen, however, preschool teachers and administrators have had to think creatively about how to reformat a learning experience that's especially hard to adapt to pandemic protocols.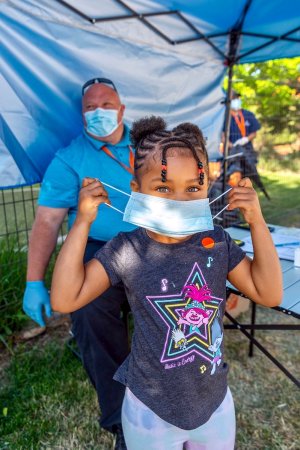 Scott Dressel Martin for Clayton Early Learning
A child puts on a mask outside Clayton Early Learning Center in Denver, Colorado.
What were once best practices in the classroom to teach students necessary social and developmental skills—such as sharing and playing with peers—are now liabilities. There are no desks to maintain six-foot boundaries, and no guarantee that young kids will fully understand, or remember, the new standards. And though young children seem to be the least susceptible to serious health impacts from the virus, many preschool teachers, like K–12 educators, have expressed fears that they are putting their own health at risk if they return. A number of preschools that have reopened have had to shut down again.
Yet Stacy and other educators say the changes to the classroom, while challenging, are easier to adapt to than trying to teach preschoolers virtually, as her school did at the beginning of the pandemic. She feels safe, she said, and the kids are better off being in school around their teachers and friends.
"It's a lot of new things and new expectations put on us—on top of the ever-changing situation in the world," said Stacy. "It's been a bit of a challenge, but I feel it's worth it because I'd rather be with my students than doing the online work."
Circle Time Takes New Shape
The return to school brought many new routines for teachers and students alike, according to preschool teachers from reopened schools, who say the young students seem to be excited to be back.
"The kids have responded really well to everything we've done," said Abby Baustert, a preschool teacher for a class of 3-year-olds at Educare Hawthorne at Tulsa, a preschool in Tulsa, Oklahoma, that is part of a national network of 24 preschools for low-income students.
To reopen, her school reduced class sizes (hers shifted from 16 to eight students and runs a waiting list) and adopted extensive safety protocols, such as daily health screenings, to ease parent and staff concerns about returning. While Baustert's school only requires staff to wear masks, at other preschools, including Educare Denver, students also must wear them.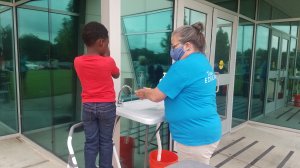 ©Abby Baustert
A staff member at Educare Tulsa helps a student wash his hands outside before entering the building.
The hardest part of the new regulations has been keeping preschoolers socially distanced, especially after students have been at home for so long, according to Baustert. To help, teachers have made adaptations to traditional classroom activities like circle time, recess, and meals to reduce large groupings but still give students opportunities to play with peers—a critical component of the preschool curriculum. They've also made strategic decisions about times that they will allow students to be closer to each other, such as when the kids are outside with fresh air circulating.
Now, instead of having music time on the rug at Educare Tulsa, students spread out across the classroom to dance to music. All-class circle time has shifted to small group readings. And at recess, the mud kitchen and sensory tables are off-limits, but kids can explore sensory and water play through outdoor activities like sprinklers and puddle jumping.
When it comes to toys and manipulatives, staff have taken a proactive approach. At Educare Tulsa, teachers placed popular toys like Magna-Tiles in stations around the room so that kids could play at the same time in different locations without the urge to get too close or share. In Stacy's Denver classroom, staff cut yoga mats (supplied by the school) in half to give each child their own area to play on.
"It's a tricky place to be in because typically we want to encourage kids to play together and share toys," said Jennifer Ladner, the director at Educare Tulsa. "Now we're in a place where it's, 'Oh, you're done playing with that truck—now bring it over so we can sanitize it.'"
The 'Number One-and-a-Half Goal'
Though Ladner says health and safety is the school's first priority and receives rigorous attention, the "number one-and-a-half goal is children getting their needs met." Many of their students have been under considerable strain during the pandemic and are seeking support from adults to make sense of the dramatic changes to their lives.
Before students returned, teachers said they held videoconferences—sometimes wearing masks—and sent photos of their classrooms, so that students would feel comfortable with the new environment and health regulations. Teachers say they've also integrated social and emotional practices with the health and safety protocols, such as reading social stories about wearing masks, along with trying, in any way possible, to make the rules fun. At Stacy's school, where students wear T-shirts over their clothes as a protective layer against germs, the class tie-dyed their shirts.
"Ultimately, we're all going through this collective trauma as teachers and as students. The most important thing for me is to make [school] fun, be silly, and to enjoy the time with our students that a lot of us didn't get to have for so long," Stacy said.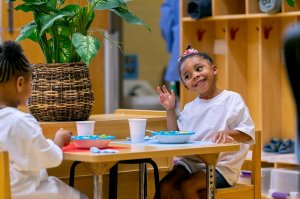 ©Scott Dressel Martin for Clayton Early Learning
Two students eat lunch together at their preschool in Denver. Preschools have had to find ways to foster developmental skills while keeping everyone safe.
Lorayne Carbon, director of the Early Childhood Center at Sarah Lawrence College in Yonkers, New York, said that she's planning on letting children who return spend lots of time outside and giving them opportunities to process their experiences—like being exposed to family members who were sick—through play. She envisions that her students may play doctor with peers, or have casual conversations about feelings like fear or sadness in the sandbox.
"We know how important play will be, not only at the beginning of the year but throughout the year, for the children to work through their feelings and those big issues that they have in their minds that they may not be able to articulate," said Carbon.
Teacher Self-Care
Children aren't the only ones who will need support coming to terms with their experiences and the changes to their way of life, according to Susan Friedman, from the National Association for the Education of Young Children (NAEYC), who recommends that preschools make sure teachers feel safe and emotionally cared for before they are put back into classrooms with kids.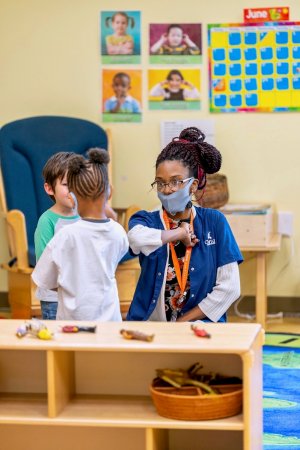 ©Scott Dressel Martin for Clayton Early Learning
An educator elbow-bumps a greeting with a student in Denver.
"You have to look at all of the players. You have teachers that have their own stressful situations; you have parents who have stressful situations; and then you have kids. You have to think of the whole picture," she said.
NAEYC has published several resources for preschool teachers to help them adjust and prepare to teach their students. The cover story for their upcoming back-to-school magazine focuses on supporting young children after crisis events and offers advice on topics like recognizing signs that a child might be struggling or how to discuss feelings about the pandemic. They also host webinars and open discussion forums on their website, including one on preschool teachers' experiences and the best practices they've found when they reopened classrooms. 
At Educare Tulsa, Ladner said it was the first priority to work with teachers to help them feel comfortable with the new circumstances so that teachers could "turn around and help the children feel confident and safe." Before teachers returned to school, they were provided staff professional development training on safety and self-care practices; Educare Denver is also offering ongoing, free mental health support services in case teachers need to decompress.
Teachers say they are doing their best under the circumstances to try to remember their own self-care practices—and remind themselves that things won't be this way forever. "I need to prepare my body and face to wear a mask all day," said Baustert. "That's been an adjustment, but I've gotten used to it. I prepare each morning, mentally telling myself that it's going to keep [everyone] safe."