Technology Integration
Pen Pals 2.0: Can Technology Foster Global Tolerance?
Schools all over the world are using digital tools to help students collaborate and build cultural understanding with distant peers.
One evening last December, Kay Lee gathered her class of third graders in front of a webcam in Georgia, Vermont, to "meet" a class more than 6,000 miles away in Sejong City, South Korea, for the first time.
Though the students had spent months sharing lessons and conversing online, they had never seen each other on live video before.
After the cameras turned on, both sets of students sat for a few moments in stunned silence staring at one another. The quiet quickly erupted into giggles as the Korean students took turns introducing themselves.
The program, which Lee said has "opened the eyes" of her students living in rural Vermont, is one of a growing number of others like it that use technology to foster global learning among U.S. students and their international peers. Thanks to today's technological capabilities, students from Somalia to Alabama no longer wait weeks to receive a mailed letter from a pen pal halfway around the globe: They can see and hear from one another in real time.
I kind of went into it thinking it was going to be like pen pals, but it's so much more than that.
IVECA uses Lee's standard social studies curriculum as the basis of a cultural exchange between her class and a classroom abroad. Throughout the semester, Lee's students spend weeks preparing presentations on a particular topic to share with their assigned peer class—last year, they focused on Vermont's alternative energy initiatives, and the Sejong City students shared details about their city's shift to solar and wind power.
In between presentations, students communicate regularly through emails, photos, and audio recorded messages.
© Monica Donovan
Kendra Myers and her fourth graders at Bellows Free Academy in Vermont listen to presentations by a class of Tunisian students.
Lee said the project-based curriculum provides a unique, hands-on learning opportunity for her students, who are often most excited to learn the similarities and differences between themselves and students overseas. For students in rural Georgia, Vermont, with a population of less than 5,000, finding similarities with students living in Sejong City, an administrative capital home to more than 230,000 people, often comes as a big surprise.
"My kids' eyes are huge when they get these emails back from Korea. 'Oh, they have the same food we have? And they read the same books we read? How can that be?'" said Lee, a 42-year veteran teacher who has participated in the exchange for the past four years. "I kind of went into it thinking it was going to be [like] pen pals, but it's so much more than that."
Building Cultural Understanding
A number of education and technology organizations, such as the Asia Society and Digital Promise, are now diving in to help teachers like Lee connect their students to students around the world. It's their hope that online exchanges about favorite foods or pastimes will lead to greater cultural awareness, tolerance, and collaboration across borders over time.
The International Education and Resource Network (iEARN), for example, offers more than 150 teacher-designed projects for classrooms in different countries to work on together, while the Global Nomads Group has roots in connecting mostly rural North American students with students in Muslim-majority countries, such as Jordan. The group's new virtual reality (VR) component is now exposing students to challenging experiences overseas, such as the crisis in Syria, through 3-D simulations.
Bloomberg Philanthropy's Global Scholars program even helps students from different countries collaborate on solving international problems, like water shortages or food security. The theme for the 2015–2016 school year, "Building Better Cities," asked students how cities could become more sustainable in light of global warming and population growth.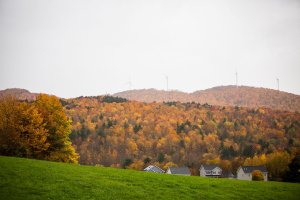 © Monica Donovan
Rural Vermont is idyllic, but students here don't often meet people from different backgrounds. A virtual exchange program with international students is now giving them that opportunity.
Superintendent Ned Kirsch shared some of these programs' same intentions when he decided to implement a global education program throughout the three rural Vermont districts he oversees, one of which includes Kay Lee's school, Georgia Elementary and Middle.
The combined 1,650-student Franklin West Supervisory Union (FWSU), which Kirsch called "99 percent white, typical Vermont, not a lot of diversity," began using the IVECA program five years ago to show students a world outside of their small communities.
What started in three classrooms has now grown to 12. In addition, FWSU hosts an annual China Camp, in which Chinese high school students spend two weeks in Vermont, practicing their English and soaking up American culture. An exchange program with a school in Puerto Rico may also develop in the future.
Kirsch said the global education program has been a win-win for teachers, parents, and students. Because it blends two classrooms' existing curricula, teachers don't have to plan extra lessons. Parents recognize the program's importance for the future, as many of them commute to nearby Burlington for jobs with international clients.  
And for Vermont students like 10-year-old Colby Phelps, who participated in the exchange last year, the cultural connections are opening their eyes, literally, to what life is like for students halfway around the world.
"They were dressed in uniforms, blue shirts with collars, and these thick, dark blue sweaters. It was cool to see them talk in [a] different language," said Phelps of the video meeting with South Korean students, noting that he didn't know anyone who spoke any language other than English.
His mother, Michelle Phelps, added, "It was amazing for our kids to have that experience. We don't have a lot of diversity here, so it's nice for them to see how other kids live . . . I think they got a lot out of it."
Growing Interest
Though no official numbers are available for how many schools are internationally connected, experts report the numbers are rising, driven by a world where technology is rapidly removing borders and changing the way all of us communicate and interact.
When students are doing meaningful work together, they understand that people from other countries aren't that different from them. Students may look different, but they're really dealing with the same issues; they have the same feelings. They're more alike than different.
In 2015-2016, the Global Scholars program had 6,700 students participating in 48 cities from Los Angeles to Zomba, Malawi. The Global Nomads Group expanded from individual classrooms to entire districts in 2015 and doubled the number of participating students. This year, the organization plans to reach 4,000 students in nine countries, including the U.S. And the popular Global Education Conference, a free, weeklong online event and international network that helps facilitate global classroom connections, currently claims 24,000 members from more than 170 countries.
The network helped fifth-grade teacher Will Piper from Milwaukee meet fellow fifth-grade teacher Pedro Aparicio from Mexico City four years ago. Their online friendship quickly blossomed into a series of classroom-to-classroom projects that the two teachers designed themselves. Their students have collaborated on lessons over Skype and by email, and even created websites together, including one about El Día de los Muertos.
The Global Education Conference also provided professional development for Piper, who says he is passionate about "co-teaching across borders." Using free tools like Google Docs, Piper and Aparicio regularly share photos, videos, and lessons, and have even made a game of trying to outdo themselves each school year, he said.
© Monica Donovan
Cassie Underwood's fifth graders watch themselves on screen at Fletcher Elementary School in Vermont as they prepare for a live presentation to a class of Korean students overseas.
As classrooms grow more diverse and issues like global warming and immigration dominate news headlines, educators are becoming more interested in globalizing their curricula, according to Heather Singmaster, an associate director at the Asia Society. The international nonprofit has spent the last 60 years focused on strengthening relationships between the U.S. and Asia.
Because of increasing demand for global learning resources, the Asia Society recently launched the Center for Global Education, a website for educators, schools, and parents that offers global education lessons, blog posts, and professional development training that can be purchased for a school or district.
Singmaster expects that the interest in global learning will only increase in the future, as more educators realize that students from very different cultures can learn to respect and understand each other when they work together in pursuit of a common goal.
"When students are doing meaningful work together, they understand that people from other countries aren't that different from them," Singmaster said. "Students may look different, but they're really dealing with the same issues; they have the same feelings. They're more alike than different."