Professional Learning
Opening the Door to Professional Learning
The pineapple chart is a way for teachers to invite colleagues into their room to observe lessons for meaningful and affirming collaboration.
Our world has changed drastically over the last year, and the education profession has adapted and overcome many challenges. Adapting to the ever-changing world of technology is something educators do on a daily basis, and recently many of the tried-and-true professional learning experiences have transformed into Zoom meetings, web conferences, and virtual workshops.
This is all fine, but as Elena Aguilar notes, teaching is a profession, much like the medical field, where learning is most meaningful when observed in real time. Synchronous observations open the door for you to communicate with your fellow educators, improving instruction through affirming practices. Being able to collaborate with others can spark wonderful new ideas that can change the world. How can we be more collaborative in this new, Covid-19 era? We can be innovative! 
Welcome Your Colleagues Into Your Classroom  
What is a pineapple chart? The pineapple has been a symbol of hospitality and welcoming since the early days of colonial America, when pineapples were extremely rare. A pineapple chart is a system that plays on this symbol—teachers voluntarily invite each other into their classrooms to informally observe and glean new information that could be utilized in another classroom. 
The chart can be displayed in a common area, such as the teachers' lounge, and individuals pick a time and day to open their door to others, which allows for personalized professional development that takes place during the school day. You could use your planning time or professional learning community (PLC) time, or arrange with another staff member to cover your class while you participate in pineappling. Because it is a volunteer endeavor with no strings attached, you'll feel less pressure and can embrace the idea of learning from your colleagues in their natural habitat. But, given the safety concerns related to Covid-19, sharing an enclosed space might not be possible. Digital pineapple charts could fill that gap for many teachers.
No Restrictions and Easy Access 
Pineapple charts are very effective in helping teachers learn new practices inside the classroom. They are job-embedded, they're customized, and they encourage collaboration with your fellow employees. During the pandemic, many educators have been craving meaningful professional development, with little or no success because of Covid-19 restrictions.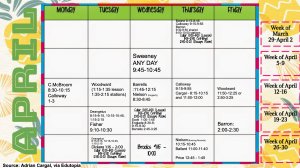 Courtesy of Adrian Cargal
When pineapple charts are digitized, teachers can access a database full of lessons to observe. What if anyone, anywhere, at any time could find a video of a fellow teacher in their district who had great classroom management techniques, language arts techniques, or math strategies? What if these lessons were all housed on a single digital document? A digital pineapple chart would eliminate all challenges encountered when debating whether employees should participate in informal observations of classrooms in person. 
Eliminate Scheduling Conflicts to Encourage Growth
It can be hard to find coverage for your classroom so that you can travel to different campuses for observation purposes. Even if you do have time during your planning period, the travel time alone could eat up precious minutes that could be used for pineappling. Also, there is a high probability that your planning time might not coincide with the scheduled lesson on the other campus. For so long, many factors have deterred educators from observing other classrooms—even before the pandemic.
Creating a digital pineapple chart for a campus or district could potentially be the catalyst to achieving a growth mindset among teachers, allowing them to constantly improve their craft and affirm others for their classroom strategies. This would build a positive, collaborative culture within schools. Not only would this tool highlight effective teachers who go above and beyond, but it would also encourage growth from teachers who are still developing their skills through feedback and collaborative implementation. 
Key Components to Implementation 
In order for a digital pineapple chart to be successful, it's helpful to implement the following key components: 
It's a voluntary endeavor: Pushback will be inevitable if it's a required task.
The pineapple chart is accessible by all employees: A shared document via Google Slides or an equivalent is optimal. 
It's a connected call to action that inspires others to join in on the fun: Highlight the positive things that you've observed in your classroom at every possible opportunity. This will encourage your colleagues to participate and will make the PD experience more collaborative.
Once everyone knows how the digital pineapple chart works, invite your colleagues to sign up on the document. Some teachers may agree to do an in-person observation; others might decide to record their lesson, upload it via YouTube or Screencastify, and then link it to their name in the pineapple chart. Once the videos are up on the chart, you can click the links and watch the videos with the intention of finding at least one affirmation they can deliver to the teacher, generating one question, and gleaning one practice to implement. Through PLC sessions, teachers share feedback and work together to create a plan of action based on their findings. Thus begins the fostering of a positive, collaborative culture that is sure to strengthen over time.
A digital pineapple chart is a powerful tool that enables you to customize your professional growth, pandemic or not, in a way that is meaningful to you.