Professional Learning
Not Again! How to Keep From Overextending Yourself This Year
Experts say it's important to set clear limits and prioritize certain tasks early on in the school year to help prevent stress and burnout later.
When asked to take on a new project or role at her school, Kasey Short's first thought is always "YES!"
That's usually the case for teachers, who, like Short, a sixth-grade humanities teacher in North Carolina, often add to their regular workload by enthusiastically saying yes to extra duties and extracurriculars at the beginning of the school year. But taking on too many responsibilities and being overly ambitious leaves many teachers burned out by October—the infamous fall slump.
According to new research on teacher retention, one of the most consistent predictors of teachers leaving the occupation is the overwhelming number of additional job duties they take on, like serving on various committees or filling administrative tasks, says Brian Swider, an associate professor at the University of Florida's Warrington School of Business and a coauthor of the study. These nonteaching roles have only increased during the pandemic due to additional safety measures that schools have adopted to protect students' health. Nearly one in four teachers—compared with one in six teachers prior to the pandemic—said that they were likely to leave their jobs by the end of the 2020–2021 school year, another study finds.
Following an arduous year, how can teachers avoid overextending themselves when they return to in-person teaching this fall? According to experts, it's important to set clear limits and prioritize certain tasks early on in the school year to help prevent stress and burnout later.
Below, we highlight a few strategies that educators can use to take care of their well-being and start off on the right foot.
A Simple Method to Say No
To help her determine if a voluntary opportunity is worth her investment of time, Short now asks herself a few questions:
Does this commitment allow me to use my strengths to help others?
Will it further my professional growth?
Will taking on this commitment lessen my ability to fulfill my current obligations?
What can I take off my plate before adding something new?
Beside her own reflective process, Short has a designated colleague whom she can call and talk to before agreeing to the new work. "It is helpful to hear someone else remind me of previous commitments and give me 'permission' to say no," she says.
Saying no is a difficult thing for teachers because they are natural helpers, writes teacher career coach Kitty Boitnott in a recent blog, "but they need to at least practice doing it because it will get easier."
Commit to Less Grading, Finally
When it comes to coursework and grading, Boitnott, a former teacher, suggests evaluating what you have to do to reach curriculum benchmarks versus what you choose to do out of habit. Then, cut out all unnecessary assignments and grading from your curriculum to save time, she says.
Providing students feedback and grading assignments are often the most time-consuming activities, say teachers, but they don't have to be.
This year, commit to the one in four rule, where you give in-depth, specific feedback for only one out of four exercises, and assign the rest as credit or no credit, recommends Rebecca Alber, an education professor at the University of California, Los Angeles. Experienced teachers say it's a life-changing approach. Alternately, you can reduce grading by asking students to show you their best work when they complete multiple assignments—grade only that piece and check the remaining work for completion.
Recognize Productivity Guilt—and Ditch It
According to educational consultant Michelle Blanchet at the Educators' Lab, time management tends to be the number one challenge for most educators as they try to balance their professional goals with their lives outside of school. One of her focus areas, as a result, is to help teachers come up with strategies to ditch the "productivity guilt" that gives them the feeling that they should always be doing something more, without any rest.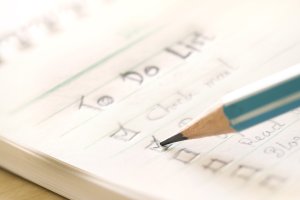 ©Cozine/Shutterstock
Blanchet suggests that educators add downtime to their to-do list for things like breaks and walks, and even marking it on their calendar. In addition, when facing a big task, she advises tackling it step-by-step instead of aiming to achieve it all at once—a practice backed by research. Setting more tangible goals and realistic targets "may take a bit longer, but it's worth doing for your own sanity," adds Blanchet.
Set Clear Precedents Early
To set firmer boundaries with your schedule, make sure to establish reasonable expectations with parents and administrators at the beginning of the school year—for example, set an out-of-office email after 5:00 p.m.—or you'll invite questions late into the night.
Proactively manage your screens, too, especially your cell phone. "Instead of freeing us up to go anywhere anytime, they've tethered us to a hamster wheel," writes educator Vicki Davis of mobile devices. She suggests deleting school email off your personal phone and unplugging completely at least once a week to cleanly separate your personal life from your work concerns.
Finally, teachers can make unstructured time more regulated, and less subject to interruption, by scheduling visible blocks on their calendar for school tasks like writing emails or lesson planning/grading—and personal things like breaks and exercise—advises Marissa King, an educational consultant and former teacher in Tulsa, Oklahoma.
Simplify Communications and Tighten Meetings
If you're using a learning management system (LMS), create a central hub where you list all assignments and important updates—you'll save time and reduce unnecessary communication by directing parents and students there when they have questions, suggests Sarah Schroeder, an associate professor at the University of Cincinnati.
Meetings—whether with parents or colleagues—are another good area to target, time management gurus say. Barring serious circumstances, educational consultant Cecilia Cabrera Martirena encourages teachers to allocate no more than 20 minutes to each parent meeting or conference and go in with a clear agenda. When other topics arise during the meeting, consider putting them on hold for a future conference so that you don't go overtime, Cabrera Martirena recommends.
Be Selective With Tech Tools
While distance learning has pushed educators to experiment with a myriad of new pedagogical tools—especially technological tools—that doesn't mean more is always better.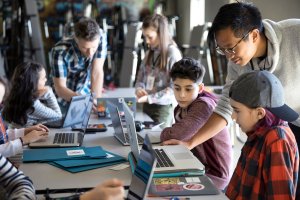 ©Hero Images/500px
Teachers should be selective and add new tools only when they provide something new or essential. "Designing rigorous learning experiences in a tech-rich classroom requires us to take a step back and think about the ways technology can elevate and energize students," writes educational consultant Monica Burns. Prioritize learning tasks by taking a hard look at how each digital tool elevates the student's learning experience, rather than getting "caught up with the shiniest, brightest, or most attention-grabbing digital device or website."
To ensure that the tool works well for all students with varying needs, try exploring the learning experience from the perspectives of three different personas—an English language learner, an advanced reader, and a student with ADHD, writes literacy specialist and instructional coach Shveta Miller. "When you look at the product from the perspective of a student persona, you might notice that there is no audio feature or captioning to support striving readers or language learners to independently access complex texts," she explains.
Don't Forget Your Colleagues
Because teachers are innate helpers, "they would rather try to muscle through on their own, but they do that at their own peril," says Kitty Boitnott. Teachers, more than most professions, need to be reminded that it's OK to seek help, especially from their colleagues.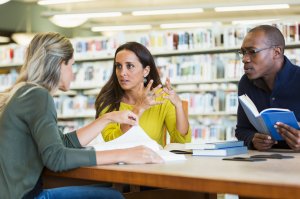 istockphoto.com/kali9
Teachers at Concourse Village Elementary School in the Bronx, New York, for example, use a simple TAG feedback form to Tell something they like about their colleague's work, Ask a question, and Give a suggestion for each other. "We've created an environment where we feel safe with each other—it's respectful feedback," says teacher Jennifer Negrón of the peer-to-peer feedback tool. "It's definitely opened my eyes to things that I don't necessarily see when I'm in the classroom every day with kids."
And at Wildwood Elementary School in Chicago, teachers prepare lessons with others so that they can share ideas and collaborate without having to schedule additional meetings. "When teachers are able to collaborate and have planning time during the day, especially built into the schedule, you have somebody there, a partner that has your back," says fourth-grade teacher Georgia Melidis. Even when they can't meet in person, Wildwood teachers share their lesson plans or curriculum maps on Google Drive so that others can see what colleagues are working on and get inspiration for their own units.
As teachers return to the classroom this year, they will be—once again—adjusting to new rules and new realities that might feel strange or uncomfortable at first, says Kitty Boitnott. "The problem is that they are trying to please everyone all the time, and this fall is an opportunity for them to set some limits for themselves."