Family Engagement
A More Engaging Back to School Night
Intentionally fostering interactions among teachers, parents, and community partners helped one school create a more inviting event.
It was September. Back to School Night—the open house, the tradition of welcoming parents to join educators as partners in the educational process. The approach at Zane North Elementary School in Collingswood, New Jersey, had remained the same for years: Chairs set up in rows, administrator positioned front and center behind a podium, staff gathered in a designated seating area awaiting introductions. Behind the smiles, staff remained nervous until the grade-level presentations were complete.
The audience was filled with enthusiastic kindergarten, first-, and second-grade parents—upper elementary parents avoided the traditional welcome because it had been repeated year after year. They went directly to their child's classroom, where they were all ears listening to grade-level expectations and up-to-date strategies on how to best support their children. Sitting in student desks, viewing student work, and reading notes from their sons and daughters stirred their emotions a bit, but the pace of the evening did not allow much time for reflective joy.
Principal Tom Santo realized his traditional Back to School Night was failing. It was time for a change—Santo wanted to create positive memories for all parents and guardians during the Back to School presentation, including ones who had attended the evening in the past. He had a sense that parents might appreciate personal connections, authenticity, and interaction. His big idea for the following year: Foster community engagement by creating an intimate event where parents, teachers and staff, and community partners would all interact with each other.
An unceremonious, inviting, nonlinear community engagement session. Social and emotional learning for adults. Why not? It was time, Santo decided, to more deeply engage all of his educators, parents, and partners, and to build community.
A Not-Boring Back to School Night
To do this, he invited a group he called Friends of Zane North to display content-specific materials and share them with the Zane North community. Every organization he reached out to said yes, and the overarching theme of community engagement was embraced by all. In the outdoor sustainable garden reception area, the staff set up info tables and ran a jazz playlist. The outdoor venue created a casual, relaxed atmosphere that piqued parents' interest, validated community and school participants, and really promoted team building among all participants.
In a school where choice and independence were championed, the adults were given a chance to meet and mingle, inquire and investigate, laugh and have fun. Parents visited various stations: The Safe Routes to School representative promoted that group's work. The PTA executive board highlighted volunteer opportunities for parents—homeroom parents, library checkout, celebrations, events on monthly or other school themes, and so on. Board of Education members explained legislation focusing on mental health services for elementary students. The Green Team called attention to environmentally friendly initiatives. The social worker, case manager, speech language specialist, occupational therapist, and resource room teacher answered parent inquiries and discussed the availability of supports for classified students.
Informal conversations held by the art, music, technology, world language, and physical and health education teachers addressed creativity, collaboration, scope and sequence in the curriculum, and grade-level benchmarks. The nutrition supervisor presented handouts spotlighting the breakfast and lunch programs. The before- and after-school care supervisor highlighted program offerings and enrollment procedures. And the school nurse promoted the health and wellness program for the school community.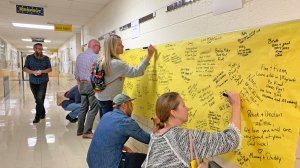 Courtesy of Tom Santo
Parents leave messages for the students on a grafitti wall at Zane North Elementary.
Perhaps the highlight of the evening came at the end, when Santo's team set up a graffiti wall and parents wrote messages to their children with their wishes for the upcoming school year. Children saw this the next day upon arrival and were delighted.
An Idea Well Received
Engagement was natural, different voices were welcomed, creativity was explored, and connections were established. The overall approach fit perfectly into the school's mindset of exploring, engaging, and educating, and the parents loved it.
Parents said things like, "What a great event—I'm very happy about this," and "My children come home and talk about the special area teachers—now I am able to meet them and put a face to the program. I love this idea." Community partners committed to returning, saying, "This is a great school community. I'm making connections for future events," and "It was great meeting your parents. I'll be back."
Zane North has left the old Back To School Night behind for good in favor of a socially and emotionally nurturing event for parents, staff, and community partners.