Assessment
Making Student Data Part of the Conversation
Humboldt Elementary, a school once on the verge of being labeled under-performing, turned to data to move the bar on student success.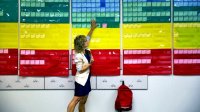 When Cole Young became the principal of Humboldt Elementary School 12 years ago, the school was only 300ths of a point away from being labeled under-performing. Young, who had previously been a teacher at Humboldt, knew that they needed to enact change -- and they needed to do it quickly.
Young, who says he'd "been a numbers guy for a long time," began aggregating all kinds of data, pushing it out to the teachers and staff, and exploring the role it could play in helping the school turn the tables on its under-performing label. Twelve years later, the result is a school that uses data in myriad ways and is truly data driven.
Creating A Data-Friendly Culture
In moving Humboldt Elementary to a more data-driven model, one of the first challenges that former principal Cole Young faced was figuring out how to use the data, how to share it, and how to get everyone on the same page with the numbers. The school didn't have a culture of data, and creating one was difficult. "I had never been a part of a data culture, and we didn't have a system in place for it," Young says. One of Humboldt's early mistakes was what Young calls "death by data," where teachers were given a mountain of numbers and often felt a sense of "now what?"
Young began parsing through the data and looking for what would be the most useful for teachers, providing them with enough data to help them feel effective and targeted in their instruction without crossing the line into overwhelming. Once that data was shared, Humboldt staff met as a group to look at the numbers and talk about what to do with it, how it applied to research-based practices, and strategize collaboratively as a school.
Every teacher had a different comfort level with working this way, but once they looked at the data and were able to see the data points start to move for their students, the staff developed an overall sense of empowerment and buy-in.
Making It Collaborative, Not Competitive
Teachers at Humboldt don't see just their own data and scores, they see everyone else's as well. That openness wasn't something that was initially in place. Previously, teachers might have felt that they would be judged by their students' data, and it was something they kept to themselves.
Three years into his tenure, Young decided to start sharing data for all teachers, and used it as an opportunity for staff to collaborate and strategize together. Now everyone's data is shared and projected on screen after the benchmark assessments, and teachers come together to draw strengths from each other as they reflect on the data.
Tools of the Trade
Humboldt uses several different assessments to track student performance, including DIBELS, Galileo, and the AIMS test. Title I instructor Maureen Holt currently creates the student data reports in a program called VPORT, although Humboldt has used the MClass program in the past. 
Creating Their Own Tools
Once they developed a comfort with data, teachers found themselves wishing for better tools to help them organize it. When they couldn't find what they were looking for, Humboldt teachers created their own data tools.
On the wall of instructional specialist Gwen Walton's room is a color-banded row of four hanging pockets that hold colored index cards. Each card represents a child, and each color represents a certain level of performance. Red is for students in Tier 3, yellow represents Tier 2, green is for students who are performing at benchmark, and blue is for students who are high achievers. The wall is only for reading scores, since that was a big push for Humboldt over the last few years.
Students are tested at the beginning of the year to establish their index card color, which is also the color band in which their card starts out. As they are progress monitored every three weeks and fluctuate up or down in achievement, their card moves through the color bands. This wall is strictly teacher facing, so the students never see it, but it's a visual way for teachers and staff to keep track of how kids are improving and where they are currently performing.
Keeping the Conversation Going
Once the students are benchmarked and that data is shared, the conversation about those scores doesn't end. Teachers are continually getting data, ensuring an ongoing process of examining it and making changes from it throughout the year. "We didn't wait for natural breaks along the way, such as Christmas or spring break," Young says. "Once we saw something in the data, we made changes immediately."
Humboldt teachers have grade-level meetings every week to review their data together and strategize, as well as sharing tips and practices. "Teachers are talking data all the time," Young says.
School Snapshot
Grades K-6 | Dewey-Humboldt, AZ
Enrollment
450 | Public, Rural
Per Pupil Expenditures
Free / Reduced Lunch
64%
DEMOGRAPHICS:
82% White
13% Hispanic
2% Native American
2% Multiracial
1% Black
1% Asian
Data is from the 2014 academic year.