New Teachers
The Just-Right Mentoring Balance
In the mentor-mentee relationship, a balance between strong support and high challenge can help the novice teacher flourish.
A successful mentor-mentee relationship is the result of planning, dedication, and perseverance. When new teachers pair with experienced mentors, they have many opportunities for interaction and growth, and when teacher-mentors provide novice educators with an optimal combination of support and cognitive challenge, the new teacher maximizes their learning.
Finding the "just right" balance of guidance and challenge will ensure a productive relationship that will guide the new teacher to grow professionally.
But first, to clear up any misconceptions, below are three examples of support and challenge combined ineffectively.
Ineffective Mentor-Mentee Relationships 
Specialized training helps mentors learn how to balance mentee support with cognitive challenges, as the proportions need to be just right for a new teacher's maximum growth.
If the mentor gives the new teacher little support or little challenge, the result will be stasis: the status quo.
When the mentor offers minimal help yet includes a lot of challenge, the novice will tend to academically and emotionally retreat because they're professionally confronted beyond their current understanding and capabilities.
In cases where a mentor offers the mentee extensive support but doesn't challenge the novice, the new professional will believe that their current knowledge and abilities are adequate because the mentor never questions their decisions or outcomes.
So, little support or challenge, little support and high challenge, and high support with low challenge are ineffective combinations for mentees' growth. Here's how to have a productive mentor-mentee relationship.
Effective Mentor-Mentee Relationships
The optimal balance for mentors and mentees is high challenge and high support. This just-right combination promotes mentee growth through mentor-guided questioning and reflection with simultaneous development of new understandings, all with consistent guidance from a mentor.
High challenge: When teacher-mentors introduce cognitive and academic challenges, they ask open-ended questions that focus on a specific area. One excellent mentor I know guides the mentee's lesson design process by asking, "How did the math lesson you taught today compare with the lesson you planned to teach?" Nonjudgmental questioning invites the novice to think deeply about planning and instructional processes as well as the lesson's outcome. The mentee leads their own reflection by responding to questions and engaging in a dialogue with the mentor.
This mentor's high level of challenge includes meta-reflection that encourages the mentee to consider how a lesson was planned, assembled, and implemented, and what outcomes were expected versus met. Through relaxed interactions with the mentor, the new professional will gain insight into best planning practices and implementation, which is the goal, rather than a single, binary response.
Most mentees are recent graduates of universities or career-switcher teacher programs, so they begin with a foundation of theory and academic knowledge. New teachers learn how to transfer theory into practice during their first year in the classroom. Sometimes novices struggle through the transition from pre-service to in-service professionals, and they might harbor self-doubt and ask frequent questions.
To maintain a high level of challenge for mentees, mentors need to carefully consider which questions the mentee should answer and which questions should lead to reflection opportunities.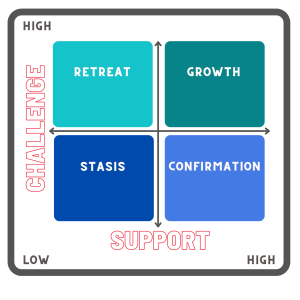 Courtesy of Amie Weinberg
Mentors should provide straightforward responses, of course, to questions about school-based rules—the professional dress code, work hours, and other objective statements of fact. However, questions like "How should I respond to…?" or "What's the best way to teach…?" might accelerate a teacher's growth when a mentor guides a deeper dive into those questions.
For example, if a classroom parent sends an email message to the new teacher asking about a child's behavior, the mentee may ask a mentor how to respond. Although experienced teachers can share expertise and likely provide an answer to the question directly, the mentor's goal is to promote continuous professional growth, so the mentor poses questions that support the mentee in that process. One possible mentor response is, "Why do you think the parent is asking about the student's behavior?" and then, "What is your goal when sending your response?"
Questions and reflections should take place even when all is going well for the mentee. Deconstructing "How do you know that your lesson was successful?" is as learning-focused as "What challenges did you encounter during that lesson?"
High support: Teacher-mentors can provide high levels of support right from the start by meeting consistently each week at the same time and place, rather than holding only sporadic discussions during stressful times. Further, the pair might email, text, or even talk on the phone during the week to interact in a timely manner between formal meetings. Also, support is most successful when the mentoring pair has forged an authentic, professional connection based on mutual respect.
Well-trained mentors will plan for strong challenges and support for the mentee that the pair's interactions will reflect. High challenge doesn't mean that mentors must always be critical of mentees; mentees welcome authentic praise from mentors. The mentor needs to maintain optimal balance between challenge and support for their mentee.
While a mentor might transition from co-planning during the first month of school to reviewing lesson plans during the second month, high mentee support doesn't mean providing lesson plans to novices or telling them what to do. Supportive mentors I've worked with are available for their mentees, engage in deep discussions about instructional strategies, and even clap and cheer for each other's students. These experienced mentors ask mentees to consider various possibilities and, occasionally, to reflect during times beyond their formal mentoring interactions. Many mentors invite mentees to observe them and reciprocate by visiting the mentees' classrooms (or viewing lessons virtually) and then sharing growth-producing feedback.
While new teacher support is essential for first-year success, mentors lead their mentees far beyond initial survival. Successful mentoring that balances just-right support with cognitive challenge benefits the new teacher throughout their career.