Environmental Education
An Interdisciplinary Approach to Teaching Climate Change
Combining several content areas can guide students to develop a deep understanding of how climate change affects them and their community.
There's a great need for rigorous, relevant, and impactful learning about climate change, one of the most important issues facing our generation. When interdisciplinary learning and student choice are incorporated, students can attain a more enduring understanding of climate change, think innovatively, and transform their ideas into meaningful civic action.
Using multiple content areas, peer-reviewed data, informational text, and scaffolding to examine climate change, we can push student thinking in original ways while also challenging traditional methods of thinking; we can collectively reimagine new ways to educate, advocate, and connect all members of a community. The following project highlights this learning with an integration of science, technology, art, social studies, and mathematics.
Our project: rising Sea Levels
For "The Water Line Project," students researched how 10 feet of rising sea levels would impact 23 coastal states in the United States. From their research they created a presentation and shared their knowledge with their class in a think-pair-share model. They also shared their research and learning with community members within and outside of the school.
The "Water Line Project" bulletin board had printed research slides, a map of the United States marked with paint to visually represent land affected by 10-foot rising sea levels, and papier-mâché sculptures. Based on their research, students picked one animal or insect that rising sea levels would negatively affect. Using recycled newspaper and wheat paste, they created three-dimensional papier-mâché sculptures and attached them to the same bulletin board. The public display of learning allowed students the opportunity to engage the larger school population in an interactive and authentic way.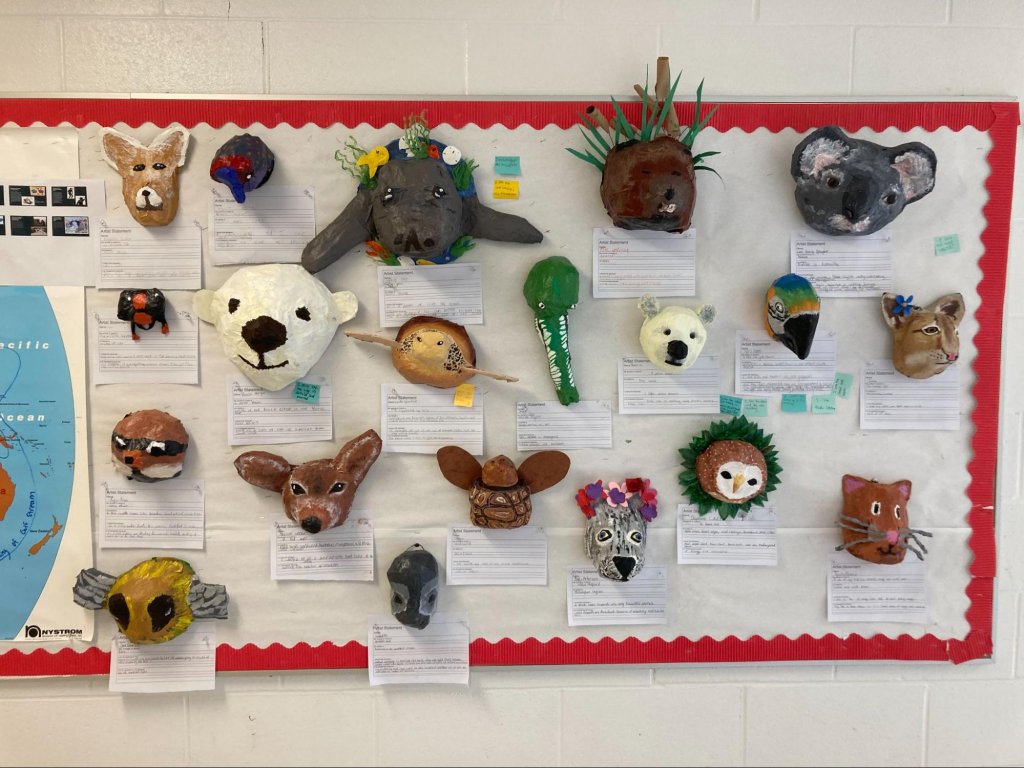 Courtesy of Amanda Schaeffer
At the heart of every great project is student choice. When students have choices in their learning and how they demonstrate it, they're more engaged, invested, and able to see the relevancy and application of their learning.
"The Water Line Project" allowed students the opportunity to investigate and use their curiosity to generate their own questions, which they used to guide their learning. Students could choose which state they wanted to research and what insect or animal to focus on. Many students picked their state based on personal experiences, such as having family or traveling there; they chose their animal as a result of research of adaptations and ecosystems within that location.
One way to help students begin to unravel the complexity of peer-reviewed research and data is to create teacher-guided research pathways. Using thoughtful structures, intentionally choosing where students can explore openly, and having limits scaffolds knowledge, allows creativity to flourish, and encourages student ownership of learning.
"The Water Line Project" used the online learning platform Canvas and research pathways where each subtopic of climate change, such as shrinking of the Arctic ice, deforestation, and thawing of permafrost, had its own webpage that included a wealth of resources, such as videos, articles, and guided data platforms such as that of NASA (the National Aeronautics and Space Administration) or the "Sea Level Rise Viewer" from NOAA (the National Oceanic and Atmospheric Administration). In addition, an embedded Padlet allowed students the opportunity to share their research with other students from different sections and different academic years.
The goal of using informational text and interpreted data is to teach students to question bias, consider multiple perspectives, and embrace ambiguity. This is often difficult for students and requires strategic questioning and planning. One strategy is to begin with statistics that are relevant to a student's experience. For example, in "The Water Line Project," students could look at the impact of rising sea levels on an area of interest, like sports stadiums, art museums, and national and state parks, as a starting point for their research. From that point, students refined their research and had to focus on certain data points.
Giving students the opportunity to look critically at data and to consider the context with which the data is being analyzed opens up the conversation to begin framing future research and information.
Providing advocacy and student empowerment opportunities allows students to invest in their communities both within and outside of school. "The Water Line Project" is one example of a project that breaks down the traditional structure of knowledge and places agency in student hands by rethinking shared online spaces, including social media, and collective thinking.
When students feel empowered to share their learning with a wider audience, they begin to see themselves represented and reflected in their communities as agents of change. This brings relevancy to their learning, since they can apply it to many different aspects of their lives.
Using interdisciplinary learning to investigate climate change can provide students with an opportunity to use data-driven research and informational text, which in turn allows students to engage in deeper learning. Offering students choice and the opportunities for agency and advocacy empowers them in their learning and provides them with a way to engage in their communities.