Arts Integration
An Arts-Integrated Approach to Teaching Engineering
Incorporating the arts into STEM education helps foster students' creativity, cognitive development, and content knowledge.
As a physics and engineering teacher, I (Liz) found the concept of STEAM (science, technology, engineering, arts, math)—specifically, including the arts in my teaching—to be challenging. I saw it as one more thing to think about when I was already struggling to cover required content. Factoring in the reality that both children and adults often categorize themselves as "artistic" or "scientific" made arts integration feel out of reach.
Yet arts education has always valued creativity and innovation, and these are skills that I want my students to acquire alongside a body of knowledge about the physical world.
While I considered this tension, my graduate program put me in touch with Priscilla Kane Hellweg of Arts Integration Studio, and through that collaboration I came to see how STEAM can be actionable and efficient—and can enhance student engagement and understanding.
Below, we share a project from my classroom that illuminates the power of this approach, along with strategies for getting started with STEAM no matter what grade you teach.
My Journey Into STEAM: The Lake Coaster Project
One of my favorite projects to teach is the lake coaster project, in which students use drawing software and a laser cutter to make coasters that represent bodies of water. The project hones technical skills like scaling and working with a high-quality GIS image, and it affords students practice with etching, tracing, cutting, positioning, and using acrylic resin as they create 4x4 inch products.
In the past, students were engaged by the project and its requisite problem-solving processes; one student, for example, was excited to trace and place the islands of Lake Winnipesaukee into resin water—a technique that I now offer to students who are looking to pursue more complex design.
However, I also had students who seemed less motivated; their lakes weren't centered, or their text seemed haphazard. Given the amount of labor involved, I wanted everyone to feel proud of their final product. I knew that the project needed a refresh.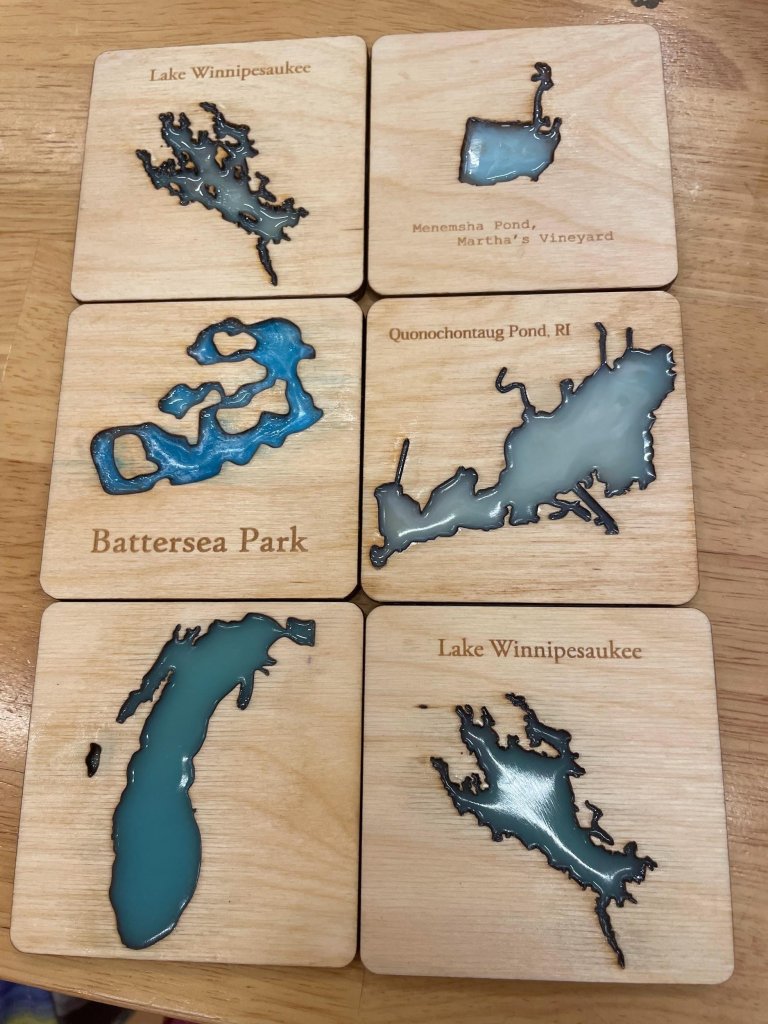 Courtesy of Liz MacLauchlan
Arts Integration
When I discussed this project with Priscilla, she suggested that we amplify the artistic design criteria, lifting them to be equal with engineering. We discussed visual thinking strategies to enhance the visual arts components of the project and considered activities that would train students to observe like scientists and artists, noticing details, perspectives, and purposes through different lenses.
Together, we explored a technique called visual scanning, a simple but elegant activity for taking in visual information that can be applied when looking closely at an artwork to experience the elements of line, texture, color, shape, and space. In a classroom setting, asking students to articulate what they see when they look at a painting is like doing a close reading of a text. We discussed applying this artistic way of seeing to the act of etching the images students chose. We also built in the metacognitive skill of reflection—and an opportunity for students to communicate their design concept to others.
We then rewrote the project rubric to assess arts and engineering in tandem.
Assessing art was new to me; Priscilla shared that artistic grading has parameters that aren't about whether or not the teacher likes a piece but instead focus on the design elements that students utilize.
Keeping this in mind, we discussed having students consider the size and orientation of the lake on their coasters, text placement, font, and resin color. Whereas I used to ask students to "make a lake coaster like I did," I will now invite them to think intentionally about planning the creation of their coaster, to discuss design choices with a partner, and to apply those approaches in practice.
My inspiration to redesign this project came from a student who, last year, proposed to make a coaster of the Ring of Fire. He was the only student to not choose a lake. His result was spectacular. Surrounded by so many coasters of blue lakes, this coaster had a vibrant red. There was an audible gasp from other students when they saw his creation. He achieved the goal of making something with cuts and etches, and he considered his medium, but he proposed an alternative interpretation of the assignment. This student was inspired by his own creativity. I am excited to use this creative approach when teaching the unit this year, and I can't wait to see what students dream up.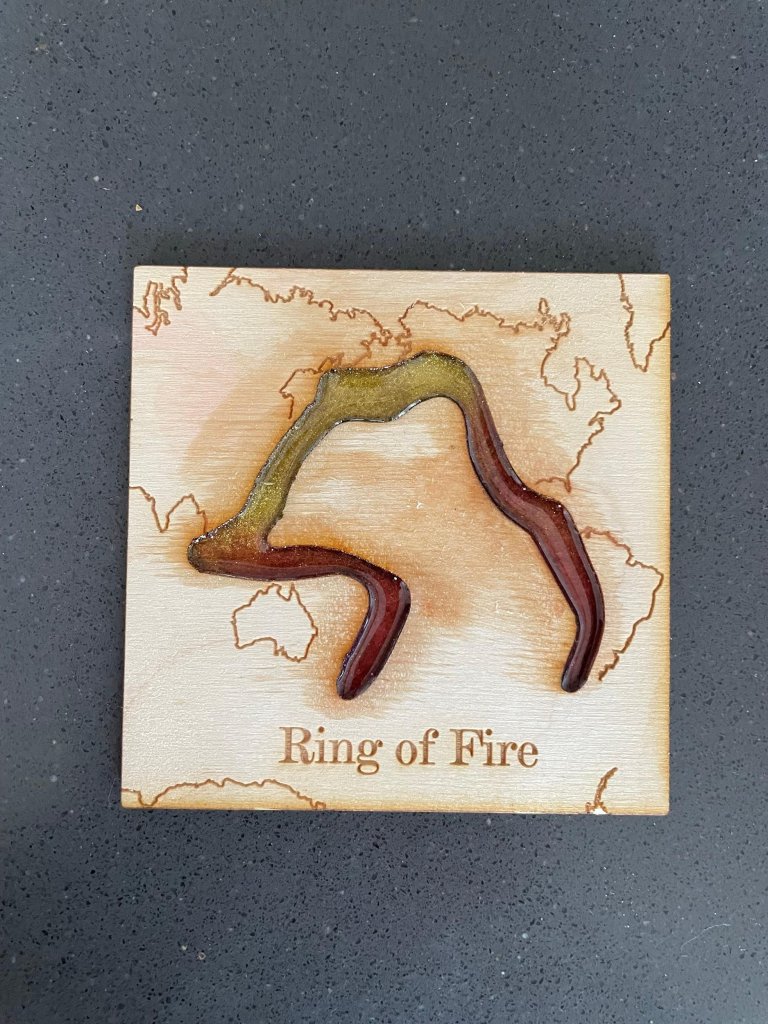 Courtesy of Liz MacLauchlan
Integrating the Arts in Your Classroom
If you're a STEM teacher not yet integrating art into your teaching, what are you waiting for? There are easy and exciting ways to get started and refresh your practice. We propose the following:
Imagine an elementary science class learning about the water cycle. Rather than memorizing terms to fill in a worksheet, your students might create a dance to portray the water cycle, using gestures to represent condensation, evaporation, and precipitation.
Or in middle school, a seventh-grade math class learning about reflection and translation of functions might work in teams to draw a mandala with a 5-foot diameter, creating a visual design that translates complex shapes and patterns.
And in high school, seniors in an environmental science course might, as a final project, produce a series of TikTok videos, writing and acting out skits about the need for climate action.
These arts-integrated projects employ visual, kinesthetic, and social memory, offering students multiple paths for engagement and enhancing their ability to remember academic concepts and content—and enjoy themselves in the process!
A Freshened Perspective
Though students' previous lack of interest almost seemed like a reason to stop teaching the lake coaster project, our collaborative arts integration—teaching students to think like artists—has made the project, and the learning, stronger.
When we, as teachers, identify how our content already engages the arts, then teach that artistic content explicitly, we can create valuable cross-disciplinary work that enhances students' learning, adds meaning to our teaching, and promotes cognitive development through creativity.