Literacy
Honoring Student Voice and Choice With the Magazine Project 
When students create a magazine about a topic of their choice, it encourages them to write and rewrite carefully.
I was talking recently with the parent of a student who was in my class nearly 15 years ago. "He still has his magazine! I know exactly where it is," his mom said. I might be surprised that a young adult has kept an eighth-grade English assignment for over a decade, but I hear this often about my favorite activity of all time: the magazine project.
This project has evolved over the years to encompass a wide variety of skills, but originally it was designed to address one persistent frustration in the teaching of writing: How can we so thoroughly engage students in writing that they will take the time to proofread, edit, revise, and polish their work? Too often, students submit the first draft of a piece of writing and leave it at that. Close editing and revision call for a level of investment that can be difficult to inspire in young writers.
The Power of Choice
I know that letting students choose their writing topics can improve engagement, so I created a project that asks students to choose a topic of personal interest and spend most of a semester writing, designing, and publishing their own magazine on that topic. The combination of topic choice and a final published magazine greatly improves my students' investment in their writing all semester long.
When I introduce the project, I explain to students that since they will be doing a lot of writing about that topic over the next few months, they need to choose their topic carefully. It might be a topic they already know really well, or they might choose one they want to learn more about. We brainstorm potential topics on paper, in small groups, and together as a class to help them decide on their favorite topics.
This big choice usually entices students, but many don't believe that they really do get to choose, and they pepper me with questions:
"Can I write about gum?"
"Sure, if that's what interests you."
"My whole magazine can be about gum?"
"Yep. The whole thing."
"What about LGBTQ+ issues? Can I write about that?"
"Of course. If that interests you, go for it."
"I love roller coasters. Can I write about that all semester?"
"How fun! I can't wait to read your magazine."
But when a student tells me, "I would like to write about the vast enigma of space," I am reminded that I can't possibly anticipate what kinds of writing might engage every eighth grader, and giving them a choice is the best way to do that.
Topics range from the silly (gum) to the serious (civil rights, school safety, mental health) and everything in between (fashion, college life, travel, puppies, and, of course, the vast enigma of space). Not only does this choice mean that students will be more invested in their writing, but our classroom becomes abuzz with writers eagerly sharing ideas.
A Lesson Guide
Once they've been introduced to the project, I distribute a packet of directions that will guide them through the next few months. The packet has been an evolving work in progress as all the eighth-grade English teachers on our campus collaborate on the best ways to support our students through the production of their magazines.
We have found the packet to be invaluable to keep students on track whether they are at school, home with a cold, or away on a family trip. Our resource teachers also have told us they appreciate having all the directions in one place, as it helps them support our students throughout the semester. The packet includes the following:
A list of required pieces for their magazine (essays, research notes, advertisements, letters to the editor, table of contents, front and back covers)
Criteria for each required piece
Brainstorm pages for topics, titles, advertisements, and captions
A research note-taking page
Graphic organizers for each essay
Mentor texts for each essay
Directions for formatting with technology
Directions for an online magazine (optional)
A final magazine rubric
The primary focus of the project is nonfiction writing: argumentative, informative, and biographical. But since all this writing is in the context of a magazine, students also learn a host of technology and design skills, like how to search for copyright-free images, illustrate essays with pictures and captions, use Google Drawings to design page layouts, and create an online publication.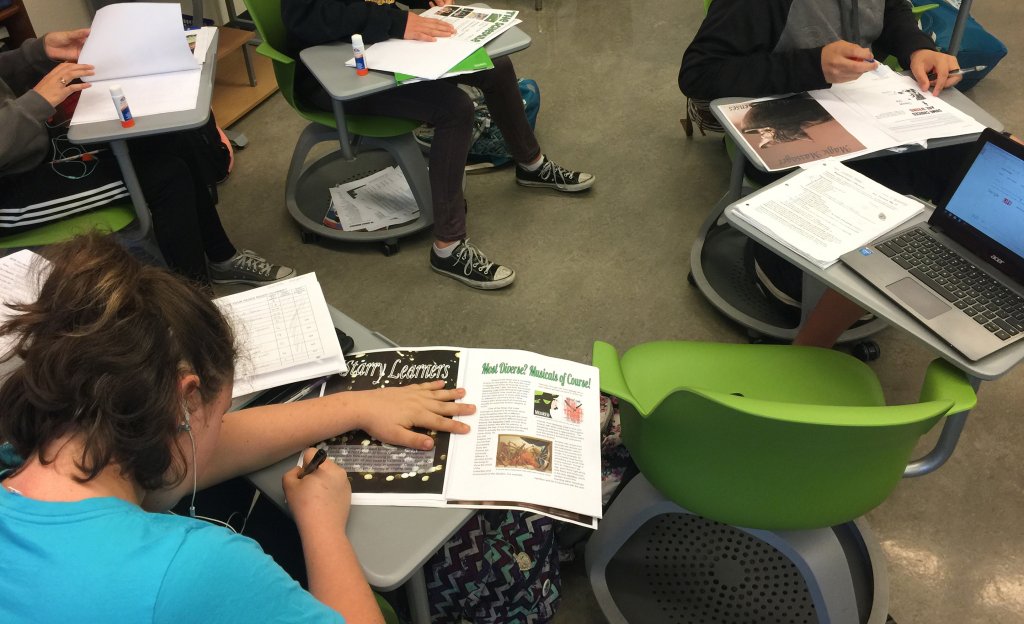 Courtesy of Laura Bradley
In order to support our students as they work through the many stages of the project, we set deadlines and give feedback throughout. Essays are submitted for feedback, and students are given guidelines and class time to revise their work. We break up the writing time by assigning graphic design work in between the essays. Students enjoy creating their ads and front cover, but those assignments also need feedback and revision time. We look at how magazines have ads that relate specifically to the content of the magazine, which helps students create an ad to accompany each essay they write.
Twenty-five years ago, students glued their pages onto four pieces of folded 11 x 17 paper, and I used a long-arm stapler to secure the pages through the spine, just like a real magazine. But now we give students the option of creating an online magazine. This eliminates printing expenses, while also incorporating valuable technology skills. We have used Adobe Express, Canva, and Google Sites for student magazines, and our students have been thrilled with the professional quality of their final publications.
We schedule the final due date of the magazines for a week or so prior to open house so we can have them out on display for the community to see. These student-centered, uniquely individual magazines make a powerful statement about what matters to our students, what they are learning, and how they are able to demonstrate their learning through words, images, and design. And every time I encounter a former student, they say, "Mrs. Bradley! I still have my magazine!" That kind of pride confirms for us the power of this project.