Play & Recess
Inspiring Creativity With Blocks in the Early Childhood Classroom
These picture books for young learners encourage them to grow their social-emotional and collaboration skills as they build with blocks.
In graduate school I was fortunate enough to take a block building course. That's right, block building. There was even a textbook. It was one of the most valuable early childhood classes that I've ever had. The lessons from that class and subsequent years of block building in my kindergarten classroom allowed me to formulate a block area methodology and philosophy.
The block area is a community center, and it must be intentionally designed so that students can access, navigate, and assist in maintaining its organization. The block area isn't simply a play destination, but a collaborative and cooperative learning environment; problems that occur (e.g., law of gravity or social and emotional) are critical teachable moments that help children learn more about themselves, the materials, and their peers. Finally, I learned that the structures themselves must be respected; documenting them via photographs, drawings, or words not only assist in evaluating students' civil engineering skills but also help children say goodbye to their structures at cleanup time.
There are numerous picture books about building as it pertains to construction, but there are far fewer about block building itself. The books that follow are love letters to the block area meant to inspire young engineers and architects. They're also meant to prompt practical classroom discussions about the blocks and the block area—for example, "What do you do when someone knocks your building down?" "How tall is too tall?" "If you don't have the kind of block that you need, what do you do?" And last but not least, "What is the best way to clean up the block area?"
Picture Books About Block Building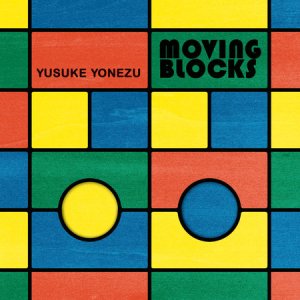 Courtesy of Astra Publishing House
Moving Blocks, by Yusuke Yonezu. With the refrain "What are you building? What can it be?" a collection of colored blocks form and re-form to create assorted modes of transportation. (Preschool)
Bigger! Bigger! by Leslie Patricelli. A young construction worker with BIG dreams, and assorted blocks, constructs buildings, a road, and a bridge. With the assistance of her faithful coworkers, Dog and Cat, the city grows bigger and bigger until a giant baby comes to town! (Preschool—kindergarten)
Changes, Changes, by Pat Hutchins. A resourceful wooden toy couple build a block house that inexplicably catches fire. They quickly construct a fire engine with a hose to extinguish the fire, but now knee-deep in water, the blocks are reconstructed into a boat. On land the blocks turn into a truck, then a train, to arrive at a new place to build their new block home. (Preschool—first grade)
Courtesy of Simon & Schuster
Block City, by Robert Louis Stevenson, illustrated by Daniel Kirk. Robert Louis Stevenson wrote this poem in 1913, and Daniel Kirk illustrated it for contemporary times. A boy happily builds a block town on a rainy day. Kirk's illustrations blend the boy's fantasy town and his actual block buildings. (Preschool—first grade)
Crash! Boom!: A Math Tale, by Robie H. Harris, illustrated by Chris Chatterton. An industrious young elephant stacks blocks to measure up against. Alas, the blocks topple to the ground. Elephant rebuilds twice with determination in an attempt to make the block tower stronger each time. (Preschool—first grade)
Dreaming Up: A Celebration of Building, by Christy Hale. Children construct buildings juxtaposed with images of famous architectural structures. While this book includes block building, it also features other assorted construction materials. (Preschool—first grade)
Jack the Builder, by Stuart J. Murphy, illustrated by Michael Rex. With an assortment of colored blocks and a boundless imagination, Jack builds a robot toy, a hot dog stand, a ferry boat, an airport control tower, and the tallest building in the world! Ultimately, he uses all of his blocks to build a rocket ship. (Preschool—first grade)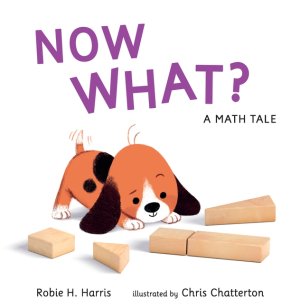 Courtesy of Simon & Schuster
Now What?: A Math Tale by Robie H. Harris, illustrated by Chris Chatterton. A puppy scrutinizes individual blocks to problem-solve how to create a bed of blocks for a nice snooze. (Preschool—first grade)
When I Build With Blocks, by Niki Alling. With this book, set in the classroom, students share all of the potential structures they can create in the block area that will enhance their dramatic play, such as a haunted house for a ghost, a castle for a king, and a plane for a pilot. (Preschool—first grade)