Learning Environments
'The Human Connection Is Everything': Dave Eggers on What He's Learned From Tutoring Students
A new book details how a tutoring center movement that Eggers started almost 20 years ago works to spark students' creativity.
Nearly 20 years ago, Dave Eggers had already founded McSweeney's Publishing and written A Heartbreaking Work of Staggering Genius when he and some friends started a new venture: a youth writing and tutoring center. The original plan was to put the center in part of a building Eggers had rented for office space, but there was a snag: The building was zoned for retail, so the group had to sell something.
What Eggers and his team decided to do at 826 Valencia in San Francisco looks, in retrospect, like a stroke of genius: They opened a pirate supply store in the front of the building and put the tutoring center and offices behind it. A new book about the tutoring center and allied ones around the world, Unnecessarily Beautiful Spaces for Young Minds on Fire, explains that the store, though it was more or less a gimmick, "had a galvanizing effect. It brought people in—random people, shoppers, tourists, potential students and donors and tutors." It also had a profound impact on students, who felt no stigma about getting extra help in a store for pirates.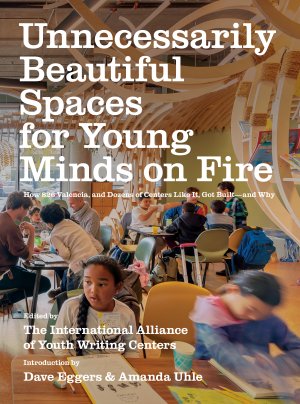 Courtesy of McSweeney's Publishing
Following the example of 826 Valencia, dozens of other groups around the country and around the world opened tutoring centers and formed a loosely affiliated group called the International Alliance of Youth Writing Centers. There's a superhero supply store in Brooklyn, a secret agent store in the Netherlands, and an "apothecary to the magical" in England, but the centers don't all sell things. What they share is the goal of creating "unnecessarily beautiful spaces" to inspire students—mirroring the rising interest in flexible classrooms in schools.
I spoke with Eggers about the tutoring centers and how educators can create a little of the magic of the Pirate Store in their schools. The interview has been lightly edited for clarity and length.
TOM BERGER: Can you tell me why you wanted to start a tutoring center in the first place?
DAVE EGGERS: More than anything, it was teacher friends of mine telling me they needed help. Their students needed more one-on-one attention—especially with their writing and reading—and with 110 students in a given day, they couldn't give every student all the individualized attention they needed. There just wasn't enough time in the day.
So I thought we might provide that extra help to teachers and their students. I knew a lot of writers who had free time and expertise in the written word, so we had that part covered.
BERGER: Let's talk about the tutors—are they still mostly writers, and do you know what drives them to volunteer?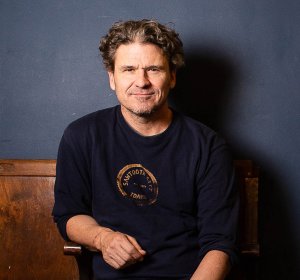 Courtesy of McSweeney's Publishing
Dave Eggers
EGGERS: I'd say they're a very wide mix. A lot of them are college students and grad schoolers, many of whom are getting credit for volunteering. Many are aspiring teachers getting extra experience with a wide variety of students, schools, and ages. Then there are writers and editors—maybe 10 percent of the whole. We have carpenters, cooks, bankers, lawyers, advertising professionals, and a huge amount of retirees. There's nothing better than when a retired teacher comes through the door. That's the jackpot.
For so many volunteers, it's a way to feel useful. With one student and one volunteer, a lot can get done in one 2-hour session. It's startling the breakthroughs that happen. We have very deep connections forged over personal essays or a private poem. That connection means a lot to both sides—the student and the tutor.
BERGER: The storefront idea was a happy accident in that you needed to sell something because of the zoning. Do you think public schools can create a similar sense of whimsy?
EGGERS: Absolutely. I'm not sure when it happened, but I do look at the 1960s and 1970s as a turning point, when schools turned to windowless, cinder-block gulag designs as the go-to look. I was in a high school in Minneapolis last year that had been designed by a firm that normally did prison architecture. It had almost no windows. The incredible teachers and students have managed to make it lively, despite the lack of natural light and the brutalist conception of the place, but we can do so much more with school architecture from the start.
I think schools can and should be rich with color, with humor, with the unexpected. Schools shouldn't look like prisons, and shouldn't look like Fortune 500 workplaces, either. Kids really and truly absorb that efficiency-above-all theory of architecture, and it crushes the spirit.
BERGER: The how-to guide at the back of the book has a section on how tutors can open a writing room in a school and describes the one you started at Everett Middle School in San Francisco. It had rugs, chairs, couches, etc., which all sounds normal and good. But apparently it was "a little weird"—what was weird about it?
EGGERS: It's weird just to have a couch at school. Just to have stuffed chairs. Curtains. A Persian rug. Floor lamps. We've decorated a lot of writers rooms this way, and the effect is always dramatic. There's a K–8 in Boston that gave 826 Boston its basement for a writers' room, and 826 Boston made it into this deeply atmospheric, almost romantic space full of rich colors and low light, and even those green bankers' lampshades. When the kids go down there, they feel a difference. The room says, "Here we slow down and write. Here we're serious writers." I think we really underestimate the effect our surroundings have on us.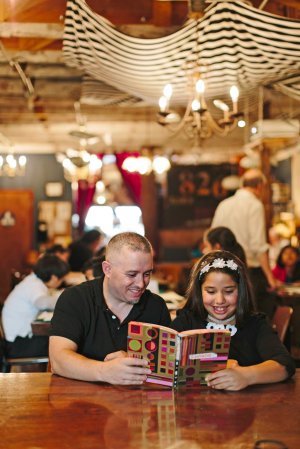 Courtesy of McSweeney's Publishing
A tutor and student discuss her work at 826 Valencia, a.k.a. The Pirate Store.
BERGER: One difference between a school and the tutoring centers featured in the book is that they aren't school, so there's no stigma about doing extra work there. Obviously schools can't not be school, but do you think it's possible for them to reduce that stigma?
EGGERS: In our school-site writers' rooms, the kids get extra help, and it's really important that the rooms are staffed by volunteers and feel somewhat apart from the flow of the rest of the school. That school in Minneapolis I mentioned before has a writers' room set up by the local 826MSP, and while the rest of the school is bustling and loud, that room is so loose and quiet and mellow. I watched a dozen kids come in during their free period, and it was like every single one of them just breathed a massive sigh of relief the second they entered. It's like a safe haven for the mind. Inside this room, there are adult tutors and peer tutors, and because of that mix, and the fact that the room is full of couches and art projects—the students really own the space—there's just no stigma at all.
BERGER: You've been involved in this volunteer work for nearly 20 years. What has that time taught you?
EGGERS: The human connection is everything. This distance learning moment during the pandemic has really proved that technology only gets you so far. Every teacher I know says they're working three times harder than ever, in part because of all the overlapping and flawed technology. Teaching in a room with humans is far easier and far more effective, they say, and that's what we've seen for 20 years, too: That one human can adjust, can try eight different strategies with a student in a given session, altering their approach, responding to what the student's needs are—adjusting, cajoling, strategizing. And encouraging.
Machines will never do any of that as well as humans can, and the more we move learning online and into algorithmic realms, the more these human connections will be crucial to deeper learning and the emotional well-being of young people.