Teaching Strategies
How Students and Teachers Can Develop Clear Expectations for Learning
Simply sharing what teachers hope kids will learn may not be enough—constructing expectations together helps guide students to understanding.
Ensuring that students are clear on the expectations of learning is one of the most effective ways to impact student achievement. Yet, I have found, through trial and lots of error, that establishing clarity is not a straightforward process for students or teachers.
There was an assumption on my part that if "I do" the sharing of expectations with kids, they will learn. I thought if I shared the learning expectations verbally, stated the goals clearly on the board, provided easy-to-read rubrics, and gave students time to write down the learning expectations, they would develop clarity. That didn't seem to do the trick for most kids. Akin to hearing a lecture without checks for understanding, students watched me teach but didn't take an active approach to ensuring that they understood the expectations of learning.
Next, I tried the "you do" approach by having students review an outline, preview a passage, or review a previously taught lesson to determine what we might be learning in the future. Again, the whole class came up short on what we were learning. Without my guidance, students strayed from finding the purpose of the learning.
After a time, I found that the best way for students to develop clarity of expectations was through a "we do" process, using activities where both students and I engaged with one another to build clarity of what we were learning together. Research calls this co-construction. I found that this process not only provided students with a better understanding of what we were learning but also gave me a better understanding of what students knew when we began a unit or lesson.
3 Popular Co-construction Strategies
1. Silent protocol: One of the most efficient and effective ways to co-construct expectations of learning is to show students the exact steps to successfully accomplish the learning goals you want them to meet. For example, simply show students an example of how to solve a math problem, but do so without talking. See if they can do the following:
Write down the specific steps that you have taken
Share the specific steps with their friends and create consensus
Revise their steps after viewing multiple examples from you
The teacher solves several addition of fraction problems with unlike denominators and asks students to write down the steps that they took to solve the problem.
The teacher writes three paragraphs of an essay in front of students and asks the students to write down the key steps that they took to write the essay.
2. Error analysis: Having students detect errors from others (either the teacher or their peers) is highly engaging and allows students to develop an awareness of common misconceptions. For example, in one class, students were told that they would be assisting the teacher in developing success criteria toward a goal (i.e., counting objects). The teacher began counting and making a number of errors, including repeat counting of the same object, skip counting objects, and repeating the same number in their counting. Each time the students stopped the teacher, the teacher asked these questions:
What was the error?
Why was that an error?
How do we rectify the error?
After the discussion, students shared the steps they took and how to use those in the future. The next day, the teacher presented a rubric to support them in counting. The students thought the teacher should have the rubric up on the wall so that she wouldn't forget how to count!
Present students with multiple drafts of a scientific lab report, and have students serve as a senior editor to determine what criteria other editors should be using when assessing the lab report.
Present students with drafts of paintings that have a myriad of errors, and have them determine the criteria needed to prevent such errors in the future.
3. Evaluating examples: One of the most powerful ways to ensure that students have clarity of learning expectations is to provide work samples. For example, imagine that a second-grade teacher was expecting students to write a personal narrative. He or she presents an example of mastery to students and asks each student to independently write down what they think makes the personal narrative successful.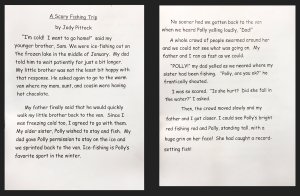 Courtesy of Michael McDowell
Next, the teacher asks the students to discuss their criteria with a partner and then asks the class to create consensus on one list. The teacher then asks students to use their list to evaluate other work samples. In this last step, students debate and reference the mastery example when making claims.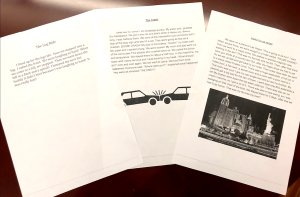 Courtesy of Michael McDowell
Provide students with a recording of students reading a passage, and ask them to point out what they're doing successfully to read and interpret the passage.
Show students examples of successful art pieces, and ask students to identify the criteria for success.
Show students worked math examples, and have them identify what success looks like.