Place-Based Learning
How to Set Up Outdoor Class Time With Elementary Students
Spending time outside one day each week helps students find a sense of calm and become careful observers of the natural world.
In first grade, "Wednesday in the Woods" is everyone's favorite day of the week. When the kids arrive at school, a list of things they need to pack for the day is waiting for them: water, magnifying glass, blanket, nature journal, and marker. So many things change during a busy school week, but there is one thing they can count on: Wednesdays begin with sit spots.
This routine brings us closer together as a community, relieves stress and anxiety, and helps promote social and emotional learning for my students.
Into the Woods
After packing our things, we head out to the woods behind our school, where we spend the first 45 minutes of the day. However, you do not need access to the woods to do sit spots. Any outdoor space that is safe from hazards and near your school, such as an open field or a neighborhood park, could also be a good location. Each child carries a bag with what they need. I take a thermos of hot raspberry tea and a backpack with supplies, including a chime bell.
When we get to our place in the woods, we gather in a circle. Our weekly ritual consists of our unity clap, where a clap is passed around a circle as each child's name is called aloud, and our good morning song. Finally, I ask the kids, "What has changed since our last Wednesday in the woods?" We discuss the seasonal changes that are happening around us.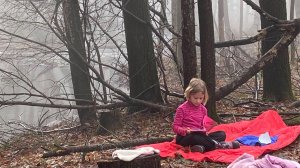 Courtesy of Alissa Alteri Shea
After circle time, the kids run off to their chosen spot in the woods. They lay their blankets out over the leaves and under the tall pine and hemlock trees surrounding us. Once everyone looks settled, I ring the chime that calls us to silence, and we all enter into our own little worlds for a while, where the kids begin their observations.
Once in their sit spots, some kids pound stones with sticks, some lie back and look up at the blue sky, and others write and draw what they observe in their nature journal, while others just sit and listen to the trees swaying overhead or the singing birds returning from a long winter away. These quiet moments alone in nature help cultivate my students' awareness and mindfulness while encouraging them to study patterns of local plants, birds, trees, and animals. They also build a stress-free routine in our classroom community that the kids can look forward to. It doesn't take long for students to forget about the others around them as they become immersed in their own thoughts or activity, increasing focus skills.
Stories and Tea
After about 15 minutes, I ring the chime again, and one by one, the children slowly pack up their things and return to sit on tree stumps placed in a circle. I pass around little cups of raspberry tea as we gather together to reflect on what we observed. I ask, "Who has a story to tell? Who has a thought, feeling, or observation from your sit spot you would like to share?"
Little hands wave in the air for attention. They all want to tell their story.
"My sit spot makes me feel calm" is a typical response.
"I feel peaceful," says another.
"I saw a wolf!" someone exclaims.
"I think I heard an owl," someone whispers.
Others hold up drawings with labels telling what they observed.
"Sit spots make me feel like I am Queen of the Forest," a girl announced to our class one week as she held up her work for all to see.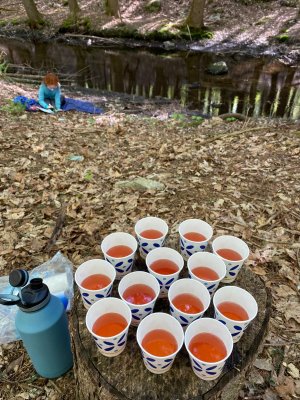 Courtesy of Alissa Alteri Shea
One after another, they tell their tales. Some are true, and some are straight from the imagination of a 6-year-old who wishes them to be true. Our nature observations help us become confident storytellers.
After a while, we pack up our bags and head back to school with our hearts a little fuller and our minds a little calmer, wondering what we might see in our sit spots next Wednesday. Over the course of the year, we've watched as seasonal changes occurred in the trees, collected data on how the morning temperatures fluctuated, and searched for signs of animal activity on our playground. All of these activities have helped my students be more observant and curious about the world around them.
Bringing the Nature Back Into School
Doing sit spots with my class was one of the most loved activities of the year. This routine grounded us, helped connect us to the natural environment around our school, and brought peaceful, calm moments during an otherwise stressful year. Being outdoors was a time when masks could come off, smiles could be seen, and we all could take a deep breath and be still together.
Through their shared observations and storytelling, along with the adventure of being outdoors, the children were able to find much-needed connections with peers in ways they couldn't always find in the classroom. Nature became a healing environment that brought us together as a community.
There are many ways this routine connects to our curriculum. For example, time in nature invites children to observe and notice what is around them, leading to scientific questions. One goal of the Next Generation Science Standards is to teach children the art of asking good questions.
When we return from our sit spots, the children write in their nature journals about what they observed: "I see _____, I think _____, I wonder _____."  This always leads to great questions, discussions of life science, and increased vocabulary related to their observations. The writing practice connects to our nonfiction writing goals. When the children come together to share their work, we practice our listening and speaking standards as they share their thoughts and ideas with each other.
The children's sit spots and nature journal writing connects their time outdoors to what we are learning in the classroom and helps bring the outdoors inside. Sit spots have been a relatively easy routine to implement with my class and will have significant long-term benefits for my students (and me).