Project-Based Learning (PBL)
How Project-Based Learning Can Teach Empathy
When PBL is personal to students, it can provide more than just content knowledge—it can also foster important connections.
It all started because of an email. In August 2020, I received a message from a parent in my seventh-grade humanities class, explaining that her husband was a genocide survivor; he had escaped the Khmer Rouge in Cambodia and then lived in a Thai refugee camp before coming to California. I was intrigued, and like any good educator, I started asking questions. What I uncovered became the catalyst for a unique project-based learning (PBL) experience.
What I discovered was that my students came from very diverse backgrounds. More than 40 percent of them had parents who came to the United States as immigrants or refugees. What's more, my students and their parents represented 23 foreign countries of origin: Australia, Austria, Bosnia, Cambodia, Chile, China, Côte d'Ivoire, England, Germany, Guatemala, Holland, India, Iran, Ireland, Jamaica, Laos, Mexico, the Philippines, Portugal, Russia, South Africa, Spain, and Vietnam. I kept asking questions, and my curiosity quickly turned to inspiration. Their stories needed to be told, and my students needed to be the ones to tell them. Project HOPE was born.
Understanding and implementing the histories, cultures, worldviews, and experiences of our students, can be the impetus for powerful PBL.
Infancy: Angel Island and Interviews
In its infancy, Project HOPE was going to focus on the experiences of Asian immigrants who came through Angel Island in San Francisco. In prior years, I brought students to the Immigration Station on the island, also known as the "Ellis Island of the West Coast." This year, my students would still learn about Angel Island, but with the park closed, and looking into the eyes of the children of immigrants and refugees, I realized that Project HOPE needed a dynamic adolescence.
My students researched the history of Angel Island and also interviewed their parents, extended family, and members of our community. They created illustrated journals, telling the stories that they had encountered. For some students, this was deeply personal, and for others it was a window into powerful human experiences.
All communities have unique histories that can enlighten and inspire. When we listen to understand and develop purposeful inquiry, we are rewarded with not only unique PBL ideas but also the power to make the world a better place.
Adolescence: Widening the Lens
I broadened the scope. We learned about push factors, such as poverty, by watching the documentary Living on One Dollar. We learned about war and the many struggles and triumphs of a Vietnamese family by reading Thi Bui's memoir The Best We Could Do. We learned about the lives of children in Ukraine, Syria, and South Sudan through two virtual reality experiences, "The Displaced" and "Clouds Over Sidra." We read "The New Colossus" and learned about the history of the Statue of Liberty while revisiting the history of Ellis Island. This adolescent phase gave my students a good foundation from which to spread their wings.
Maturity: Spreading HOPE
My students gained special knowledge, powerful insights, the skills and courage to tell stories, and the empathy to truly understand. Now it was time to go public. We wanted to create an interactive experience, influenced by the United States Holocaust Memorial Museum in Washington, DC, and Tunnel of Oppression, interactive, immersive experiences made popular on university campuses that are designed to highlight social issues. We purchased three-quarter-inch PVC pipe and connectors and an 18-by-20-foot tarp to create what we called Tunnel of Despair.
Inside the tunnel, students created original art pieces that showed the desperation and misery that was evident in several of the stories they encountered. Outside of the tunnel, they created representations of hope as well as a large urban art wall on the tarp. As visitors walked through the tunnel, they saw images of despair and listened to a heartbreaking audio recording of family separation. Upon exiting, they were greeted by welcome signs from Disneyland's "It's a Small World"; original art pieces; clay, plaster, and cardboard sculptures; illustrated journals; and more. The juxtaposition of hope and despair resulted in a more dynamic understanding of the human condition—one that visitors, and creators, would not soon forget.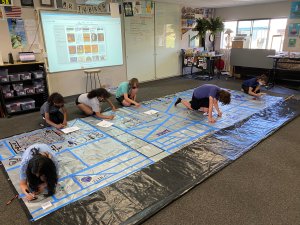 Courtesy of Teague Tubach
The author's students hard at work.
We worked with researchers from the Stanford Graduate School of Education to create virtual tours of the tunnel. Some students used Google Street View to create photospheres and then made them interactive using ThingLink. Other students created walk-through videos and then added explanatory text slides. Both versions of virtual tours were shared with a wider audience.
Reflecting on the Life of Project HOPE 
Project HOPE began as a grassroots effort inspired by my students and their families. It became a multitiered PBL experience that my students shared with our community via a powerful public display. In the end, Project HOPE wasn't just something they did; it was something that changed them and gave them a greater appreciation for the plight of immigrants and refugees.
There are many avenues to powerful PBL experiences. They often require the wisdom of educators, coupled with the innovation and energy of students. When we teach truth, seek justice, and stick together, we bring hope to our communities and the world.