School Culture
How to Improve Students With Disabilities' Sense of Belonging
By focusing on play, schools are finding ways to bring students with and without disabilities together, to the benefit of both groups.
"Alone, isolated, left out: This is the way most students with special needs feel in school," says Jayne Clare, a veteran special education teacher. A study published in 2001 suggested that it's not just a feeling: Students with disabilities are often deliberately excluded by their peers in academic and extracurricular settings.
Ellen Stumbo, who is the mother of a child with Down syndrome, wrote in 2019 that at her daughter's school, students with disabilities were not included in the yearbook. Being excluded or separated from their peers at school events like field trips, award ceremonies, and dances was all too common, Stumbo noted.
Going Beyond Access: Reaching Inclusion
That's not the case at all schools, of course: Some, like McKinley Elementary School in Santa Monica, California, prioritize social inclusion throughout the school day, in part by focusing on how students interact in unstructured time like recess.
To meet the needs of students with disabilities—in particular their need to feel like they belong in the school community—McKinley has partnered with Inclusion Matters by Shane's Inspiration, a nonprofit that aims to eliminate bias toward children with disabilities through play.
The team at Inclusion Matters started out thinking that their mission was simply to remove the physical barriers to play for children with disabilities. But they quickly realized that they would have to address a variety of social barriers as well in order to help those children feel included.
"For children with disabilities to feel truly included, it requires looking at what the invisible barriers are—the misconceptions, the perception that they are somehow less capable, seen as less valuable than their peers without disabilities," says Marnie Norris, director of programs at Inclusion Matters.
To facilitate social interaction between students with and without disabilities, Inclusion Matters orchestrates field trips between general and special education classes to inclusive playgrounds, which are designed so that children with and without disabilities can play together throughout the whole site. It's a free program for public schools that has served over 45,000 students in more than 250 schools around the world.
Play is something that all kids—regardless of ability—can enjoy together, but simply throwing them together on the playground won't ensure that they play together. Inclusion Matters created an ability-awareness workshop to help general education students acknowledge and challenge their biases toward people with disabilities, as a way to remove one barrier to social inclusion.
video
Grouping two general education students with one special education student as buddies bypasses another roadblock by ensuring that students interact with each other. And by letting the general education students know their buddies' interests, abilities, and limitations beforehand, the workshop guides the students to enjoy each other and have fun.
After the field trip, general education students participate in a 45-minute reflection workshop in which they consider how their beliefs changed and how they'll interact with their peers with disabilities in the future.
"We've seen this program transform school campuses," says Norris. "We've seen schools go from having children with more severe disabilities who've never interacted with their peers to organically interacting with each other. It's transformative, and not as complicated as people might think it is."
Play is not the only way schools foster social inclusion, though. In February 2020, the 15th annual Super Kids Bowl in California's Hemet Unified School District featured cheerleaders and the marching band celebrating elementary special education students as they ran down the field and scored a touchdown with the football team.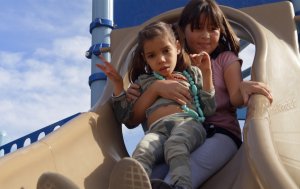 Edutopia
On an Inclusion Matters field trip, a general education student and her buddy play together.
Fairfax County Public Schools in Virginia brings middle and high school students with and without disabilities together to engage in service projects, giving them all a chance to develop relationships with their peers and do something useful for their community. Inclusion efforts can be simpler than that, too: Special and general education students at Salem Junior High and Salem High School in Ohio meet once a month in the library to have lunch and do activities together.
Working toward social inclusion can be as simple as talking with general education students about students with disabilities. "It's important that we be models for our students, and if we're afraid to talk about something, they'll think that means that something is wrong," says Ashley Benjamin, the principal of McKinley Elementary School.
Improving School Climate
Inclusion Matters' program has had a wide-reaching impact at McKinley Elementary. Parents of general education students have asked McKinley special education teacher Keylee Cubillas how they can include her students and their families at events and holiday parties. And the parents of Cubillas's students have told her that they're happy with the inclusion efforts. They want their children to be happy and to develop their social and adaptive skills, says Cubillas, and being included in the school community helps achieve both goals.
The buddy relationships deepen with time: "If any of Keylee's students pass us on campus, you would think they were a rock star with how excited my students are to see their buddies and interact with them," fourth-grade teacher Katy Buckner says.
Buckner also points out that the buddy relationships are not a form of charity, telling her students, "This isn't about you helping someone. That can be part of it, but it's also about what gifts do both buddies on both ends have to bring to each other."
Buckner has noticed her students learning sign language to communicate with their buddies and using person-first language instead of ability-centered language when talking about students or fictional characters with disabilities—they have developed greater empathy through their interactions with their buddies.
That's a process that takes time. Even when schools partner with organizations like Inclusion Matters, working toward inclusion is "not just one quick trip. It's something that has a lasting impact. It shapes how students act, think, and feel about differences. It's shaping who children are and how they're going to interact with others in the world and society," says Benjamin.