Online Learning
How to Design a Culturally Responsive Bitmoji Classroom
Your virtual classroom can foster a sense of community by including items that represent both your and your students' backgrounds.
You finally finished your Bitmoji classroom, taking part in what might be one of the biggest K–12 teaching trends in 2020. You color-coordinated your digital bulletin board, office chair, and pencil cup, and your ABC garland is perfectly hung. The process may or may not have taken five hours longer than you expected, but your final product might help students navigate your online class a little better, it may actually look like your brick-and-mortar classroom (impressive!), or it might simply have given you joy to create.
I am a professor of educational technology who has discussed Bitmoji at length with my own students who are current or future K–12 teachers. I've come to believe that in spite of the critiques of Bitmoji classrooms, there is value in them. Yes, they risk being trite, visually overwhelming, or a waste of time, and the Bitmoji program profits from users' personal data.
These are concerns that deserve serious consideration. At the same time, well-done virtual classrooms can be an effective way to build community, engage students online, and enact culturally responsive pedagogies. But doing it right requires some serious thought. Your virtual classroom may be cute, but does it convey meaningful, functional, inclusive, and culturally responsive pedagogy?
Before diving in, head to Edutopia's recent Bitmoji article for basics on how to create a virtual classroom. Then return here for guidance on thinking critically about what your classroom should include to be good for all students, particularly your most vulnerable ones.
5 Questions to Ask When Creating a Virtual Classroom
1. What is the learning purpose of my virtual classroom? A clear objective or question is at the center of effective learning, whether online or in person. What do you want your virtual classroom to support your students in doing or knowing? Virtual classrooms can be used to set expectations and norms, support relationship building, and offer students clickable virtual libraries. (Be careful with copyrighted material. Some publishers, such as Scholastic's Learn At Home Library, have begun to offer free, open-access books during the pandemic.) For example, my student Lindsay Hoel created different virtual classroom pages, like the one below, for targeted purposes.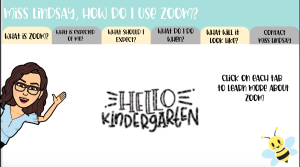 Courtesy of Lindsay Hoel
One of Lindsay Hoel's virtual classroom pages was designed to show her future students and their parents how to connect on the class's online video conference platform.
2. What meaningful objects can I include? Next, seek meaningful objects to include in your classroom. Bitmoji classrooms can easily get littered with stuff, making it difficult for students to focus on what matters. How can you cut the clutter and include meaningful imagery? When deciding what objects to include, ask yourself: Do objects in my classroom represent my values, background, and culture as an educator and as a person?
Ask yourself if you need that clock in the corner or if it's just distracting. And that Starbucks mug in your avatar's hand—what is it for? I love coffee with the best of 'em, but what does a branded coffee cup really say about me? Instead, why not showcase your family, friends, pets; activities that matter to you; your favorite places; or a favorite book, movie, album, or piece of art that is important to you? You could share a favorite quote that expresses your teaching philosophy. Think about your students' identities and cultures so that you can share things about yourself that resonate with their lived experiences. Nadia Echevarria's classroom, seen at the top of the page, illustrates a virtual classroom with meaningful objects that represent her background as a person and educator.
3. How can I make my virtual classroom accessible for cognitively and linguistically diverse learners? Begin by cutting the clutter. If you have too much content, why not make a second virtual classroom for related but distinct purposes? Next, check your fonts—are they clearly legible for all of your students? Then ask yourself if your language is clear, simple, and accessible for your bilingual and multilingual emergent students. Remember, screen readers may not function with your virtual classroom—keep this limitation in mind if you have students who rely on this technology. For more specific considerations, see the Universal Design for Learning guidelines, which may provide helpful guidance.
4. How can I make my virtual classroom inviting and nurturing for racially and culturally diverse learners? Your classroom, whether in person or online, must be a space that welcomes and celebrates your particular students, especially those who come from historically marginalized communities. Do you include objects, imagery, and content that resonate with and demonstrate respect for your African American, Latinx, and Indigenous students? Do you find ways to celebrate bilingualism and culture that matter to your students' communities? There are so many ways to honor your kiddos with two simple places to start: your classroom walls and your bookshelf.
What's on your "walls"? Think about including some of Teaching Tolerance's One World classroom poster series. These free digital posters include quotes by racially and culturally diverse changemakers and would make a culturally responsive addition to any virtual classroom. Next, what's on your "shelf"? Are the people and stories represented on your virtual bookshelf diverse in terms of race, language, ability, sexuality, and gender? Jillian Heise's Classroom Book a Day suggests books with diverse characters and authors to showcase your virtual classroom. Michelle John's Bitmoji classroom, below, features a bookshelf and walls that are culturally responsive.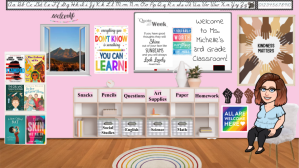 Courtesy of Michelle John
5. How will I express creativity without an overwhelming time investment? Finally, remember that five hours making a Bitmoji classroom are five hours you could have used to plan a meaningful, hands-on social studies or science lesson. However, if the time you invest brings you joy and can support student learning, particularly for your most vulnerable students, it may be time well spent.