Technology Integration
How to Create Engaging Instructional Videos
Teacher-made videos that encourage interaction and engagement are an effective way to support student learning—and they aren't hard to create.
When created well, instructional videos can be a highly effective medium for supporting instruction in remote, hybrid, and flipped or blended learning environments.
Effective instructional videos are concise—no more than six minutes if possible, as that is the proven drop-off point for attention—have a clear purpose and focus, and, above all, are interesting and engaging. Fancy equipment or software isn't necessary to create great instructional videos, although there are free or low-cost apps and programs for enhancing and improving videos to make them more engaging for learners.
I've found success creating instructional videos that fall into three broad categories: screencasting, explainer videos, and live demos.
Screencasts
A screencast is a digital video recording of a computer screen. Often accompanied by voice-over narration (and sometimes a talking-head inset video), screencasting is relatively intuitive.
Many free and low-cost screencasting tools are available to teachers, including Screencastify and Camtasia, which are user-friendly and have built-in editing capabilities. Most programs allow the user to choose between recording an entire screen and recording just a single browser tab, and to make choices about recording an inset video with the webcam.
Courtesy of Jenny Gieras
A screencast allows teachers to demonstrate concepts when students are not in the classroom.
The beauty of a screencast is that it can capture anything on your computer or tablet screen. Consider, then, what kinds of materials you want to use as instructional tools or supports. Slide shows, of course, are a great choice for presenting content in a linear fashion. Here are some more ideas:
Tutorials: Screencast directions for accessing materials, use of an app or program, or navigation to and through a website that may be helpful for students.
Audiovisual feedback: Getting the same question over and over again? Notice a common mistake in your students' work? Create a quick screencast providing clarity on a topic, addressing an error, or reteaching a concept. This may be more helpful than lengthy written comments.
Integrate digital tools with instruction: For example, when teaching a math lesson about fractions, telling time, or geometry, support your content with a demo using free virtual math manipulatives.
Explainer Videos
Explainers are typically short, animated videos that use simple graphics and straightforward language to explain or illustrate abstract or difficult concepts.
Online software programs like Powtoon and Moovly make it possible for anyone to create engaging multimedia videos that fuse content with animation, still images, text, narration, music, and/or sound effects.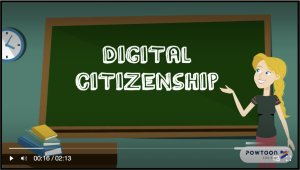 Courtesy of Jenny Gieras
Relatively easy-to-use apps allow teachers to make animated videos.
Explainer videos can also take the form of a blank whiteboard providing a slate for paced visual explanations in the form of drawings, annotation, and rearranging or resizing images. A simple screencast of a whiteboard in action will suffice, but apps like Explain Everything include robust tools and helpful features, such as the ability to record one slide or section at a time, allowing a teacher to layer in content.
Some ideas for explainer videos:
Annotate curriculum materials: Take a screenshot of, upload, or snap a photo of some element of your curriculum, then create an explainer video by marking it up, comparing it with other materials, or bringing the content to life with animation tools.
Make it personal: Have students submit photos or written work for an assignment and use their work to support lessons that follow. It's quite meaningful for students to see their own pictures and work used as exemplars in an explainer video that ties their work to new content.
Let students take the lead: Many programs and apps allow for user sharing—Explain Everything is a useful collaboration tool. Have students working remotely collaborate on a whiteboard project; record their work to share as an explainer video for their teachers or classmates.
Live Demos
Live demos are arguably the easiest videos to create: If you can press a record button and prop up your phone at a good angle, you're ready to go. Having the ability to use any camera—laptop, tablet, phone, etc.—also makes it easy to shoot lessons in different locations or in sections that can be pieced together later using an app like Clips or WeVideo.
Students feel a personal connection when they see you seemingly talking directly to them. Embrace this and let them see who you really are—live demos provide a perfect opportunity for you to share the real you, so let students see your dog walk into the frame and sit by your side while you teach, which will up your authenticity factor.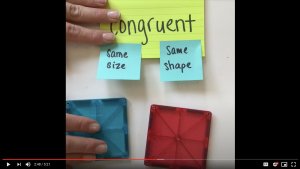 Courtesy of Jenny Gieras
Live demos can be fairly simple, yet still engaging.
Can you just record yourself writing on an easel? Sure, and for some lessons that may be all you need. But consider these ideas to make your live demo more engaging:
Green screen: Play with your background, or better yet, insert yourself into a virtual world relating to your content: teach about Egypt from atop a pyramid or make yourself the decimal point in a giant string of digits. Do Ink is a great green screen app for education.
Document camera: Set up your phone, tablet, or laptop as a document camera by setting it on a stack of books with the camera hanging over one edge. You can record the area under the camera—annotate a text, manipulate small objects, or demonstrate up close how to piece together a project like a circuit board.
Take it outside: Video allows you to teach students about applications of concepts beyond the classroom. Imagine the impact for students learning about plants to see you out in the woods, zooming in on leaves, stems, and petals in the field while comparing and contrasting wild species. A welcome change from a still photo in a textbook, for sure.
The key factor in connecting with students asynchronously is maintaining engagement. Consider what appeals to your students as you plan and create instructional videos. Step up engagement and retention by adding interaction: Platforms like Edpuzzle allow you to insert questions and track students' progress, or let them know when to pause and take notes, for example.