Social & Emotional Learning (SEL)
How Classroom Pets Foster Social and Emotional Learning
When elementary students care for animals, they practice making decisions and create a positive classroom environment.
When students first walk into some of the classrooms on our campus, they're greeted by bearded dragons, tortoises, tarantulas, hedgehogs, guinea pigs, and snakes. Immediately, students are intrigued and sometimes anxious.
Our campus and district believe in supporting students' social and emotional learning in a variety of ways. Using classroom pets to support the emotional needs of elementary students is a helpful tool for creating a positive and nurturing classroom.
Why Have Classroom Pets?
When they hear the phrase classroom pets, some teachers immediately shake their heads in disgust or disapproval. Classroom pets, however, give students the opportunity to learn responsibility, love, and how to take care of a living animal.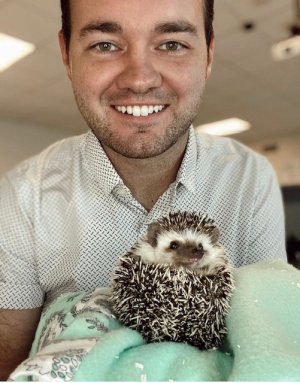 Courtesy of Mason Nichols
Our hedgehog
Before any student can handle one of the animals, our teachers first tell students they have to prove they can manage caring for an animal. The teacher has to trust the student, and this builds a positive relationship with the student. Then I tell students they have to become an expert on the animal. Some classes will read books from the library, while upper elementary students will research how to care for the animal(s) and read about their diet, habitat, and ecosystem. 
In my classroom, I've had a hedgehog and a bearded dragon, two very different animals with very different needs. Our classroom duties include two rotating "veterinarian" jobs where students care for and handle animals. Prior to the job rotating to the next set of students, the "vets" have to teach other students about the care of the animals.
Social and Emotional Learning
Having animals allows students to care for something that has feelings. Many students learn to love these animals and ask to visit them years later. Students learn responsibility by feeding the animals the appropriate amount of food and managing their waste. Students read to the animals and learn to care for others with love and kindness. If a student is feeling anxious or upset, they can go to the animal's cage and watch the animal, and then practice some breathing exercises and regulate themselves.
Students can also make connections between their needs and the animal's, such as physical and emotional needs. At times, our bearded dragon can get nervous when a student he doesn't know picks him up. With patience and practice, he becomes comfortable being handled and petted. Students can recognize similarities to the dragon; if the dragon is feeling nervous, they recognize how our own bodies feel when anxious and can then support the animal.
Unfortunately, as with any living creature, an animal can become sick or die. If a pet becomes ill, we're able to show students connections between animals being sick and seeing a vet and humans seeing health care providers. Last year, one of our teachers lost one of the class's guinea pigs. She told the class what happened and how they all knew the guinea pig was sick and did everything they could to help it.
Some students shared funny moments they had experienced with the guinea pig; some coped by writing goodbye letters and drawing pictures. Parents supported us by printing pictures of the guinea pig and giving them to students to put throughout the classroom. While this was a very sad situation, it brought the classroom together and helped students support one another.
For some students, seeing an animal they don't come across often can produce anxiety. Within teaching boundaries, we reinforce student choices—if a student is interested in handling an animal, they can, after the proper education and training. Learning about the animal can help ease anxiety about the animal.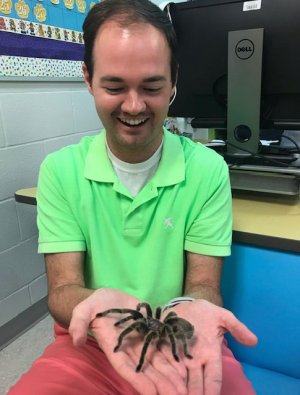 Courtesy of Mason Nichols
Our tarantula
I had a student who was scared of the scales on the bearded dragon. After learning how the scales protect the animal, the student was less fearful and eventually learned to pet and care for the bearded dragon. Some students feel anxious and skeptical about holding a tarantula until they realize how fragile and delicate they are. Other teachers have had similar situations with snakes, and having students learn about the animal helped create respect in the student for the animal and eased anxiety.
Seeing how students interact with animals and care for them has encouraged parents to support the use of classroom pets. Most of the animals we have at our school are hypoallergenic, so most students can be around the animals easily. With classroom pets, students not only learn nurturing skills but also learn about life cycles and other science-related topics. When the tarantulas, bearded dragons, and snakes molt, for example, students learn about the process of molting.
With the use of wish lists and other resources within the community, teachers have been able to get supplies and food for the animals, typically without having to pay out of pocket, from local education agencies and organizations that provide grants and funds such as Donors Choose.