Literacy
Helping Preschoolers to See Themselves and Others in Literature
An author studies program focused on Black, Indigenous, and authors of color helps students to both see themselves and learn about different cultures, traditions, and families.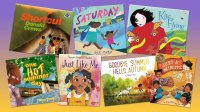 How do we teach very young learners to appreciate each person's unique story and background—especially those who are traditionally underrepresented? At Germantown Friends School (GFS), author studies offer an engaging opportunity for students to take a deep dive into the works of one author or illustrator of color at a time to learn what their books reveal about different backgrounds, cultures, traditions, journeys, and families.
In early childhood, picture books do much more than tell a story; they form the cornerstone of early literacy. From the time a toddler understands the focus of a book, they're beginning to comprehend that the illustrations are typically, though not always, accompanied by text. We tell students that they're readers and writers from the time they start school because they can "read" familiar books by retelling the story. Likewise, they can "write" a story when they draw pictures in sequence. In school, students begin to realize that, like the pictures they "read" to tell the story, the words on the page allow their grown-ups to tell the tale as well.
From there, children can begin to learn about the conventions of writing, such as character and setting, and that we're all storytellers, and our experiences help us tell our own stories.
Mirrors and Windows
When children are in their prekindergarten year (typically 4 turning 5), they grow skilled at making connections between themselves and the world around them. Parents and teachers can use books to serve, in the metaphor Rudine Sims Bishop popularized, as both windows and mirrors to a child's world. A book serves as a mirror if it reflects a character or way of life that is familiar. On the other hand, a book that depicts people or ways of living that are different from a child's own can become a window and an opportunity for growth. Studying an author of color—their biography and inspirations, as well as their body of work—can offer young children those windows and mirrors in a natural, organic way.
At GFS, teachers present the prekindergarten author study in a planned, careful way, repeating the process with each author. Over the course of the study, children get to know the authors through a multimedia approach. First, the students watch a video of the author describing their experiences and writing process. Seeing the author as a person, and not just a name on the front of the book, is a primary goal.
Next, the children hear the author reading one of their stories. One of the few benefits of remote learning is that we as educators have come to embrace how technology can be useful for young learners. There are many examples of authors reading their own works currently available for schools and families. Hearing a story told by the author has a special power—children see the humanity behind the story. Finally, children draw connections, sometimes literally, to their own experiences.
This is where the window and mirror experience is particularly important. We ask our class what things in the story are familiar and what are new. For students in historically underrepresented groups, there is an opportunity to see, hear, and connect/contrast to their own lives in a very visible way. The children who are typically in the majority might learn about something that's new to them and different from their own family life, and they'll also likely find ways to connect with the characters in the stories.
As the final step, we bring the books into the classroom to become part of the library. There are digital versions of the books in addition to print copies that the students can hold and touch. The pre-K classes have established a digital Bitmoji library, and it's inspiring to see how excited the children become when they recognize books by authors they've studied.
The author study is a natural, developmentally appropriate way to expose children to various types of diversity. It allows students to dig deeper into subjects such as immigration, self-worth, race, diversity, gender, cultural differences, and equity in a meaningful, age-appropriate way. All children in the class find a way to recognize themselves in the books regardless of skin color or cultural background. When this activity is replicated at home, it reinforces to children that they, too, can be powerful authors.