Technology Integration
From Headache to Helpful—Teachers on Using TikTok in the Classroom
From 60-second micro lessons to brain breaks, teachers are finding creative ways to meet students where they are. Increasingly, that's on TikTok.
To improve her middle school students' grammar skills, English teacher Claudine James started posting short YouTube video lessons linked to class writing assignments last fall. But most of her videos weren't getting any views—and her students kept making the same mistakes time and time again.
"What I was trying to get you not to do is exactly what you did," James told them, frustrated.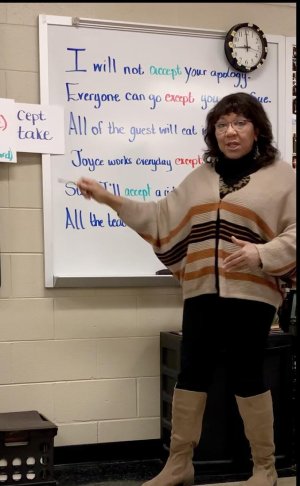 Courtesy of Claudine Sanders James
Claudine James uses TikTok to teach the basics of grammar to more than 900,000 of her followers.
As a solution, some students suggested that she upload her videos to TikTok, a video-based social media platform frequented by tweens, teens, and adults under the age of 30. Though James, 54, was reluctant, her students encouraged her to film her first video right then and there. On Nov. 30, 2020, she posted her first TikTok grammar lesson, and in less than a week, her account @iamthatenglishteacher was approaching 10,000 followers. Six weeks in, her account reached 100,000 followers; currently, she has more than 900,000 from all over the world.
James is one of the 65.9 million U.S. users of TikTok, nearly a third of whom are between the ages of 10 and 19. According to Business of Apps, American children are early adopters—between the ages of 4 and 14, they use the app about 82 minutes a day—making it an increasingly valuable technology platform for teachers to consider. Teachers making the leap won't be alone. In less than 18 months, the number of adults using TikTok grew almost six times: from 2.6 million users to 14.3 million users.
Despite the concerns, the platform has many positives for education, says Shauna Pomerantz, an associate professor of child and youth studies at Brock University in Southern Ontario, Canada.
"The mistake adults make is they say TikTok is terrible—they only see that negative side—but it's not a binary thing," said Pomerantz, who is co-researching TikTok alongside her 12-year-old daughter to learn about youth culture. "TikTok can speak to them in a way that other kinds of lessons haven't spoken to them. I don't think all education needs to be in a TikTok… but I think there's a pretty profound place for that kind of media."
So what does it look like to meet students where they are when that place is TikTok? According to members of the #TeachersOfTikTok and #learnonTikTok communities—common hashtags that educators use, with 7.6 billion views and 77.2 billion views, respectively—teachers are using the platform to craft bite-sized micro lessons or assignments, learn from colleagues, start TikTok clubs, and connect with students.
#1: BITE-SIZED LESSONS
Though high school science teacher Winnie Sloan already used YouTube and Instagram to post science lessons, using TikTok offered a new way to approach and share her content, she said.
On TikTok, Sloan, or @mrssloanbiology, as her 118,600 followers know her, posts micro lessons—under a minute in length—on topics such as gene expression, mitosis, and photosynthesis, to help students quickly grasp key concepts. "It's about getting information out there in a voice that is understandable—you really don't need all the bells and whistles," said Sloan.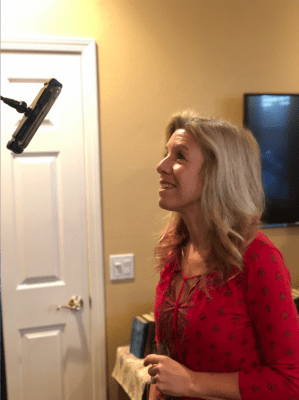 Courtesy of Winnie Sloan
Winnie Sloan, who has 118,600 followers, films a TikTok video.
She also provides a Google document of all her videos, curated by subject, to help students access what they need—even if they don't have a TikTok account. "I have always thought of myself as 'the sage on the stage,'" said Sloan. "Now I need to guide my students, but I'm not the keeper of the information anymore. I'm coming alongside them and helping them to understand it better."
Similarly, Jeremy Rinkel, a curriculum and instructional coach and former teacher, says he's shared quick summaries of chapters of novels that his students were reading in class, like Of Mice and Men and The Great Gatsby. Along with the reading, students could glean some additional meaning from the 30-to-60-second chapter reviews, he said.
According to educators like Sloan and James, the platform is especially helpful for students who are reluctant to ask for help in class and need different entry points to the curriculum. TikTok videos—like any video content—give students the ability to access content asynchronously. Students can self-serve the gaps in their understanding and revisit these bite-sized lessons again and again until they understand them.
"I had one student who said to me, 'When you explain something in class and I don't understand it, I love the fact that I can go home and watch your TikTok on it as many times as I want to and nobody will know,'" said James.
#2: INCREASING PARTICIPATION
When Covid hit and schools shut down across the country, Matt Head—an elementary school physical education teacher in Salem, Oregon—noticed that his virtual live class participant numbers were waning when the school made enrichment classes optional.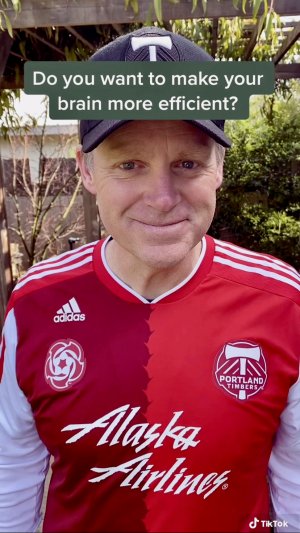 Courtesy of Matt Head
Brain break videos, like this one on Matt Head's TikTok account, encourage students to engage their minds even when they're not in the classroom.
Head thought that using TikTok, a platform the students liked, could boost class attendance, so he started posting short, simple videos on brain breaks, jump rope exercises, and other activities he wanted to teach in class. His account, @oneoldkid, is now approaching 221,000 followers. As he watched his platform grow, Head decided to launch a physical education livestream—another feature of the platform—and started running two sessions a day, twice a week, to help students work toward their fitness goals.
Rebekah Poe, a sixth-grade special education teacher in Alabama, says she's also seen the power of the app in boosting class engagement. Recently, she posed a question: "Caleb wanted to make a TikTok that is 60 seconds long with five clips of equal length. How long will each clip be?" She hoped that incorporating TikTok—something her students were familiar with and enjoyed—would alleviate the stress they often felt around word problems.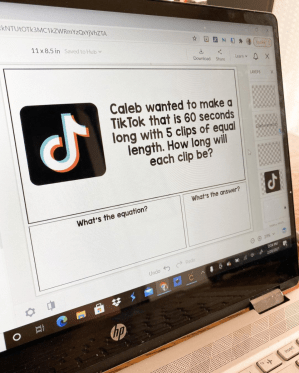 Courtesy of Rebekah Poe
Rebekah Poe incorporated TikTok into her sixth-grade special education lesson in hopes of better engaging her students.
All of her students solved the word problem correctly. One of the kids told her it was easier to do the work because the problem was based around something they liked. As a class, they also made a TikTok about solving the TikTok math problem, though it was never posted to the platform. "It was good for me because I was able to hear and watch their thought processes as they solved the equation rather than just checking their final answers," said Poe.
But not all engagement and participation is a good thing, warned Head. He actively monitors the comment sections on each of his videos and deletes inappropriate comments. "I'm having to actually work—going through my comments, deleting people, deleting things, blocking people," he said. "I don't want my kids to be running through my comments like, 'Oh, all of this is OK'... you don't have to be inappropriate on TikTok to go viral."
#3: CONNECTING WITH STUDENTS
When working as a high school English and social studies teacher at a rural school in Illinois, Jeremy Rinkel said, he was "struggling to make connections with [his] students." But he noticed that when students spoke in class, they talked mainly about one thing: TikTok.
Though initially resistant, he decided to post a TikTok video about himself to see how students reacted. Surprisingly, the video gained 2,900 views, more than eight times the number of students he was teaching at the time. His second video, which poked a little fun at students' views about snow days, gained 209,000 views, 12,200 likes, and 147 comments.
"I hit a wall in my teaching where I felt like the relationship piece was lacking a little bit, and TikTok brought that back for me," said Rinkel. "There's something there. The kids seem more engaged, and they want to know more about me."
Health and Kinetic Wellness teacher Andy Milne found similar success upon first use. One day in class, a student was dancing at her desk, and he asked what she was doing. "The Renegade," she replied, and challenged him to learn it—which he did. "This was an opportunity to develop a relationship with students, show myself in a different setting… I thought it was a great way to model vulnerability and to break barriers between 15-year-olds and a 50-year-old," he said.
According to Shauna Pomerantz, TikTok can help educators connect to students because it "is a lingua franca for young people," and by speaking their language and even just talking with them about the platform, educators show that they are open to learning about students' worlds.
"Imagine what happens to young people's minds when they hear, 'Hey, I'm here to teach you some stuff, but you're also here to teach me some stuff, and I'm ready to learn from you,'" she said.