Student Engagement
Using Nature Haiku to Build Community
Teachers can foster a sense of community by having students share a photo and poem in this low-stakes writing exercise.
A few years ago, during a wonderful summer of hiking in the Pacific Northwest, I found myself writing haiku to caption some of my nature photos on Instagram. This little practice—which I termed Insta-Ku—became the perfect way for me to enjoy and share my passion for nature and my love of language. 
Because I am a teacher, it wasn't long before it occurred to me that Insta-Ku might be a fun and meaningful activity for my high school English students. This activity became an easy way for me to learn a little about my students and to share a little about myself. It also reflects my central goal of bringing attention and mindfulness to every class activity, and it's a creative, engaging and low-stakes writing assignment that gets my students thinking and talking.
Why Haiku?
The best haiku is a lightning flash of language that artfully narrates an instant in time in a spare and often startling way, compelling its readers to see something familiar in a new light. I love its simplicity and the way it invites its writers to observe closely and to boil language down to its very essence.
For students, a lesson in haiku is an introduction to an art form that they may not fully appreciate. It offers a review of basic language concepts, such as syllabication, imagery, and concrete and abstract word choices. It also can cultivate attention and appreciation of the natural world, language conciseness, and problem solving. Because it is such a short and simple form, haiku can be used effectively across grade levels as both an antidote to writing reluctance and a tool to nurture creativity and confidence. 
The Activity
I use this assignment as a back-to-school icebreaker, but it can be used at other moments as well. The goal is to use haiku to boost attention and cultivate creativity, confidence, and community in the English language arts classroom. It takes one 50-minute class period.
The day before I do this assignment, I ask my students to find a photo in their camera roll that really says something about them, or about a thing or a place that they find interesting or beautiful or compelling but doesn't have them in the photo, and email it to themselves so that they have access to it during class the next day.
On the day we're doing the assignment, I begin by projecting an image of my Insta-Ku, and I briefly describe where I took the picture and what I was thinking when I wrote the haiku.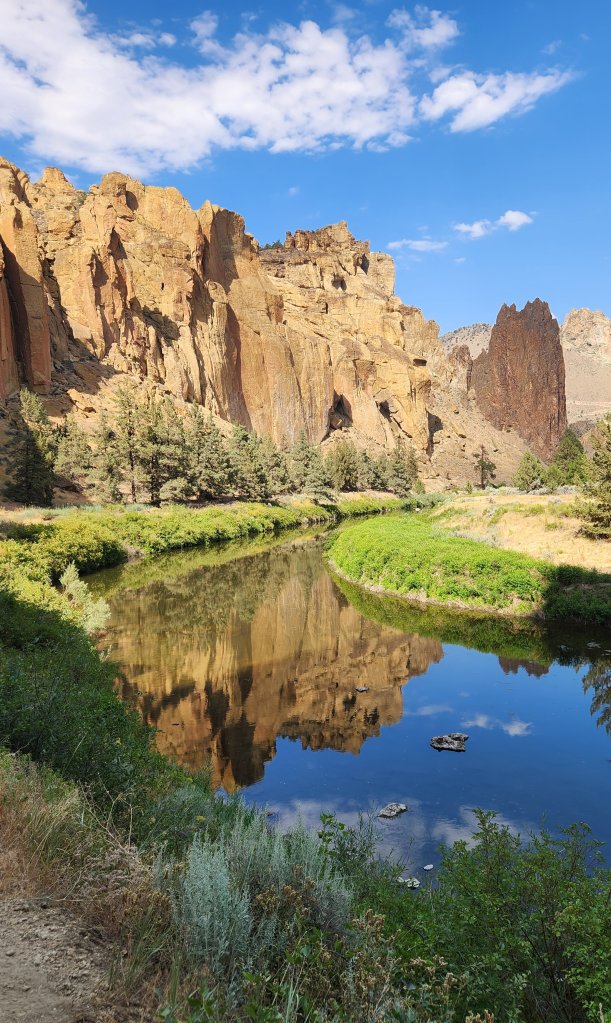 Courtesy of Suzanne Caines
Here is the haiku I wrote to go with the photo of Smith Rock in Oregon:
cloudless sky glitters
against sun-drenched rocks at noon
reflections in blue
This becomes a positive way for my students to get to know me a little better, as I explain where I was traveling and that I love nature and hiking, and also that I enjoy writing poetry in my free time. I have a colleague who uses pictures of her dogs for this activity and finds that students really connect with her by getting to know her dogs' names and sharing the names of their pets.
Next, I ask students to explain what they already know about haiku, and I use this short discussion to review the basic 5-7-5 syllabication rule.
Then, I emphasize the lesser known tenets of haiku by encouraging students to pay attention and observe closely, describe what they see using concrete imagery, and end with a subtle twist or aha! moment in which they share some new insight about or reaction to their subject.
Finally, I present a slide show from a previous class, which seems to give the activity validity and also helps students to visualize our final product. I then direct students to open the Google Classroom assignment I have posted, noting that I have attached a blank slide show, which they have access to edit. I have already added the first slide, which has a unique picture for each class, the title of the assignment (Insta-Ku), and the class period number.
Low-Stakes Writing Builds Community
As students are working on their slides, I keep our work-in-progress class slide show projected on the screen. As I see the photos begin to populate the slide show, I admire and compliment the photos and casually ask individual students where and when the picture was taken.
Because students are focused on their own slides, the attention on each student is subtle and the conversations that ensue are natural and easy. Other students usually begin to join in, and I have found this period of easygoing sharing and conversation to be a positive way to build community in my classroom and to get to know my students.
After many years of teaching high school students, I have come to believe that building student confidence is a first and necessary step to help students engage in deep learning. The minute students feel that they can be successful is the minute they become highly motivated to engage in the work and to push themselves academically.
Low-stakes writing assignments that center students themselves and value creativity are a perfect way to cultivate this type of confidence. Not only do assignments like this one give students an immediate sense of success, but also they can become a space where teachers can engage in positive and uplifting conversations with their students. This translates to trust and community building, which ultimately makes for the most productive kind of classroom.