Project-Based Learning (PBL)
Getting Students Into College Is Not Enough
See how one high school shapes its PBL curriculum—available online for free—to help prepare students to progress all the way to college graduation.
The Problem: Missing the Mark on College Readiness
In May 2007, nearly every student in our first graduating class at Summit Preparatory Charter High School attended a four-year university. In 2011, we investigated where our graduates had landed.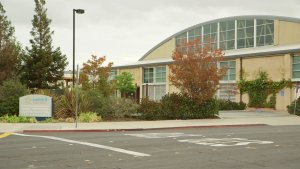 © Edutopia
Summit Preparatory Charter High School
We found that 55 percent of our graduates were on track to complete a four-year university. While this number was, and essentially remains, twice the national average of high school graduates who graduate from a four-year college, we were concerned because although nearly all of the students who left our school were college-bound, we suspected we had missed the mark of college readiness for some of our students.
Upon further investigation, we found that one of the main reasons for some graduates' college struggles was remediation. A small group of our graduates exited with a high school diploma and then entered college without the skills required for entry-level literature and mathematics coursework. These students accrued debt, but not academic credit, in remedial courses that put them off track for college graduation.
The Solution: Teaching Cognitive Skills Through Projects
In early 2012, we set out to engage our entire faculty in solving this problem. We all took the Smarter Balanced performance tasks in literacy and math. They were hard—much more cognitively demanding than anything students had encountered on standardized tests since the inception of No Child Left Behind. We loved the increased rigor, and we were inspired to reorient our class time around rich projects that asked students to read critically, integrate evidence into well-formed arguments, independently solve complex problems, design experiments, and communicate clearly and empathetically.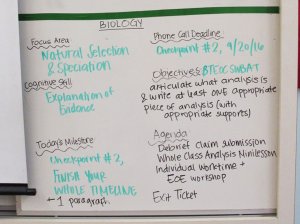 © Edutopia
Cognitive skill focus for biology class
To this end, we worked with the Stanford Center for Assessment, Learning, and Equity (SCALE) to build the Cognitive Skills Rubric: 36 skills—like oral presentation, active listening, and interpreting information—upon which all of our projects are built, across every grade level in every subject. We applied for a grant through the Gates Foundation—alongside Green Dot Public Schools in Los Angeles—to support our work with SCALE. We then worked with all faculty members in every discipline to build projects aligned with the Buck Institute of Education (BIE) project quality standards. Now all courses across all grade levels are project-based at Summit. 
Using PBL, we conducted professional development for PBL. This was state-funded through our Expeditionary Learning (EL) program. Through our EL program, students pursue their interests and explore their passions for eight weeks, and Spanish, science, math, social studies, and English teachers have 40 days allotted for collaboration and professional development.
The Cognitive Skills Rubric
Project Development
After establishing this rubric, we worked closely with all of our faculty members to build projects that effectively assessed those skills. Teachers led the development of our curriculum, curating and revising projects in course-level teams. We offered a variety of professional development options, including summer curriculum development stipends, that enabled our teachers to align our curriculum both vertically across grade levels and horizontally across subjects.
Our entire curriculum is available online, for free, at our Summit Learning website. It is always improving based on teacher feedback, and is getting better faster this year as we now partner with over 100 schools in 27 states through our Summit Learning Program.
School Snapshot
Grades 9-12 | Redwood City, CA
Enrollment
388 | Charter, Suburban
Per Pupil Expenditures
$8917 School
•

$9658 District
Free / Reduced Lunch
47%
DEMOGRAPHICS:
60% Hispanic
25% White
6% Asian
3% Multiracial
2% Black
2% Filipino
1% Pacific Islander
Data is from the 2014-2015 academic year.
Project Implementation
Although we have a diversity of projects in our curriculum, teachers at Summit are attuned to a basic framework for internalizing projects.
1. Know Your Students. Education begins with relationships. Students must be deeply known by their teacher and peers, and must feel a sense of belonging in our schools. Projects are designed to be flexible so that teachers can adapt curriculum and instruction to meet the needs of their students. To this end, we:
Take all Summit students camping for two days at the start of every school year.
Build time for student reflection, goal-setting, and planning into each week.
Create mentor-mentee relationships that span students' time in our schools, which include weekly 10-minute check-ins with each student, family goal-setting meetings, daily group-bonding activities, and weekly 90-minute workshops focused on developing habits of success, such as growth mindset, self-directed learning techniques, and self-awareness.
2. Know Your Outcomes. Additionally, all projects have clear cognitive skill outcomes, outlined in our Cognitive Skills Rubric and planned using our Project Quality Rubric. Teachers are experts in recognizing what excellence looks like, and they set a high bar for all students.
3. Know Your Path. Finally, teachers support students in taking different paths into and through projects. You typically will not see teachers lecturing students about content knowledge at Summit schools. Instead, all of our projects are built to be "the main course, and not dessert" in the terms of John Larmer and John R. Mergendoller. Teachers create engaging, rigorous, and differentiated social learning opportunities to offer students multiple pathways to success. If you were to walk the halls of a Summit school, you would see:
Peer editing
Experiments
Individual research and writing
Brainstorming with Post-its, d.school style
We believe that this intentional, collaborative approach to cognitive-skill development through projects is moving our students toward their future goals and true college readiness. We welcome you to join us on this journey at Summit Learning.