Online Learning
Finding Reputable Online Resources for Distance Learning
There's so much information available online that the challenge becomes sorting through it to find accurate, objective materials.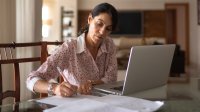 As with most teachers across the country, in mid-March I found myself making a hasty transition from teaching middle school social studies in a physical classroom to remote teaching in a virtual classroom. My classes met in a Google Classroom at a specific time each day, and I presented a resource for students to view, analyze, and discuss.
Utilizing this format, the challenge is finding high-quality information for the students to analyze. I have found that brief videos are more effective than readings, as it is more difficult to support lower-level readers when I can't see the cues that would indicate they're struggling.
A quick search on any given historical topic provides an overwhelming abundance of resources, both written and video, a function of the internet having few barriers to entry. Any person with a camera, computer, or smartphone and an internet connection can post a video or create a website on any topic on which they perceive themselves to be an expert, whether or not they actually have any expertise.
The challenge becomes applying a critical eye to sources to weed out the amateurs and find the experts. As a result, I developed a system for finding and vetting possible materials to use with my classes.
Vetting Online Resources
Of each potential resource, I ask the following questions.
Is the resource on level? Resources need to be on an appropriate level for my students to understand. Academic and college-level lectures are out, as are those that talk down to viewers. The content must be challenging while ensuring that the concepts presented can be understood.
Will it hold my students' attention? I find that five- to six-minute videos are ideal to hold their attention. Middle school students tend to lose interest with longer videos. In addition, a mundane and monotone narration won't hold anyone's attention, including mine! In the case of written sources, length must be considered. You should think carefully about the time allotted for the class, the reading levels of the students, and the amount of academic language in the article to gauge what will work for your class.
Is the source reputable? Is the resource created by an authority in the field, or does it feature interviews with authorities in the field? I find that videos created by museums are generally quite reputable.
Is the information accurate? Has the information contained within been vetted by knowledgeable people? Materials posted by museums also pass this criterion, as do snippets from longer documentaries.
Is the information biased? Is the material promoting a particular point of view? It's important to identify any agenda that the creator of the material is trying to promote. If biases are identified, how will I deal with them?
More Guidelines
In my searches, I developed a small stable of fair and reputable sources that create quality resources to use. When sourcing and vetting your own collection, in order to guarantee reputable and accurate resources, try following these guidelines.
Who and/or what organization cares enough about a topic to want to educate others? Look for museums, memorials, and historical societies. I have found videos from the FDR Presidential Library and Museum particularly useful for exploring many issues from the Great Depression to World War II.
How do I find experts? Look for videos containing explanations by college professors and other professionals in the field. Specialty programs from television stations such as the History Channel and PBS documentaries often contain the testimony of renowned experts.
Are there biases? Identify any agenda or point of view that the source is trying to promote. Biases are not necessarily disqualifying, but you may need to explain the bias and/or compensate for it when presenting the information to your students. Wartime propaganda and political cartoons, for example, are important and compelling primary sources to study, but they tend to exploit the worst stereotypes of various ethnic groups and nationalities in order to villainize them. It's our job to help students understand the original context, purpose, and intent before the material is introduced.
It seems that distance learning will be with us in some form for the foreseeable future. It's important that we not become complacent while out of the physical classroom. The first resource you find might be the most popular, but it's not necessarily the best. These guidelines are useful in helping you find the best—not just in social studies but in all disciplines.