News
A Farewell to the Coalition of Essential Schools
Celebrating the impact and influence of CES—with the people who knew it best.
The final Coalition of Essential Schools Fall Forum took place in December 2016, marking the end of a 33-year run for an organization that inspired thousands of teachers and hundreds of schools.
Courtesy of the Coalition of Essential Schools
Ted Sizer, founder of the Coalition of Essential Schools, in 1987
CES was founded in 1984 by Brown University professor Ted Sizer—who died in 2009—as an extension of the work he had done in writing his influential book Horace's Compromise. The book set many a reader on the road to teaching: "I devoured it in a night, and with the righteous indignation of a 17-year-old, decided that this was it. This was my life path," says Laura Thomas, director of the Center for School Renewal at Antioch University New England.
Sizer had traveled the country visiting hundreds of schools, observing classrooms, and talking to teachers in an attempt to understand what was and wasn't working in education. "At the end of it," says Nancy Sizer, Ted's widow and longtime collaborator, "one of his research funders said, 'Now I think it's time for you to get to work on trying to figure out ways to answer some of your own questions.'"
Ted's first inclination was to start a school that would apply the best practices he had identified. While founding CES as a network to help drive continued innovation, he and Nancy also started the Francis W. Parker Charter Essential School in Devens, Massachusetts, in 1995. Sizer based the school on his list of Common Principles—nine values starting with "Learning to use one's mind well" (a 10th was added later). The principles were attributes that Ted believed distilled the essence of the nation's most successful school environments, including the ideas that, as The New York Times put it, "a school is an egalitarian community and that the student is a valued worker in that community, with the teacher in the role of mentor or coach."
"Ted didn't make them up," said George Wood, chairman of the CES board and superintendent of Federal Hocking Local Schools in Stewart, Ohio. "Ted just translated what teachers cared about into these 10 Common Principles. That is why they resonate."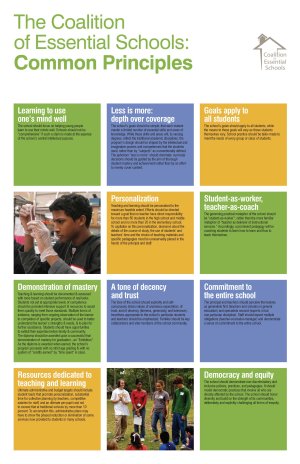 Courtesy of the Coalition of Essential Schools
The 10 Common Principles of the Coalition of Essential Schools
The Impact of CES
The work of the Coalition is deeply embedded in the work of progressive educators and schools across the U.S. and around the world. When I asked Nancy Sizer to name one thing most people don't know about CES, she responded immediately, "What they don't know about is how many of CES's ideas are in the heads of people who've never even heard of Ted Sizer."
"For me, the most important thing that the Coalition did was change the language," says Dennis Littky, co-director of the Met School in Providence, Rhode Island. The language of the Common Principles is now embedded in teacher training programs, says Judy Guild, head of school at Brimmer and May in Chestnut Hill, Massachusetts. "I could see a generation of new teachers coming forward that knew these principles, and were taught about them." Laura Thomas agrees: CES is "in the DNA of what teachers are doing if they call themselves progressives."
To the people who knew CES best, its impact has been profound: "I think everything I know about teaching and learning in school has come from working with people out of the CES tradition, including the teaching staff we have here [at Federal Hocking]," said Wood.
CES schools wove the Common Principles into their culture. The Coalition's greatest insight, Guild says, "is that each school is different, and that each one of these principles has to be applied to your own school setting. They were never intended to be a blueprint. They were intended to be a guiding mechanism for each school so they can stay unique and do what they need to do."
Wood likens this aspect of CES to the stamps on PCs that read Intel Inside. "And you don't even know what the hell Intel is, right? But trust me, there's so much going on in this country that should say, 'CES Inside.'"
The End
The closing of CES was not wholly unexpected. As Jill Davidson, the managing director of CES, explains, the organization "was never built to last. That was never the point." Wood agrees: "It wasn't that you had to do 10 things beforehand and buy a program. That was the beauty. And probably the demise, too"—because there was never a clear revenue stream.
The end of an organization that sparked so much progressive thinking lands hard for many. "The real loss is that CES is a national organization," says Davidson. "I know for sure that a lot of our schools will really feel the loss of that."
Yet Davidson adds that those schools aren't going to change their work. The ideas that led Ted Sizer to start CES existed before he collected them, and they will continue to guide educators in the years to come.