Literacy
Extending Penmanship Lessons Beyond Elementary School
Working to improve their handwriting can help middle school students improve their reading and writing skills as well.
I teach middle school students and have complained—both privately and silently, and quite loudly in department meetings—about how quite a number of the students entering sixth grade had poorly formed letters.
It was always difficult for me to read their work, and I didn't quite know how to help my students fix their handwriting. And then my son entered my grade level, the pandemic hit, and I completed a short course on teaching reading using evidence-based methods. I decided to conduct a very informal study on how moving to cursive writing can help students who struggle with print, employing a not-so-willing subject: my son.
Courtesy of Chie Sipin-Bjarenas
The author's son's handwriting in sixth grade before the short experiment.
Typically, penmanship has been the responsibility of preschool and lower primary school teachers. At this point, I decided to be a parent and help my son clean up his penmanship, but I had no idea how to do so. After much research looking for a solution, I realized I was not alone.
Researchers such as Steve Graham have recognized the need for teachers to be equipped with skills in handwriting instruction. They have suggested that schools and teachers needed to adopt whole-school approaches and language in this area of instruction to ensure successful results.
Though there is no conclusive data on whether print or cursive is better for children who struggle with handwriting, many articles suggest cursive writing as an intervention. So I taught him cursive.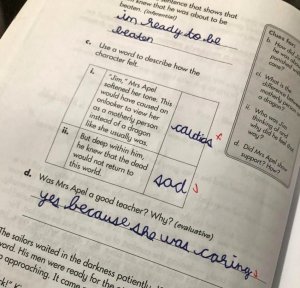 Courtesy of Chie Sipin-Bjarenas
The author's son's handwriting in sixth grade after the short experiment.
I could not believe the difference. My son was so very proud of his penmanship—after years of trying to simply muddle through it and read his writing to frustrated teachers. It took a week of practice to see change.
I wanted to bring this to my students and my department so we could replicate it for all of our students. Once we returned to campus, we started to overhaul our penmanship program.
The Importance of Penmanship
Time and time again, leading experts in education have highlighted the importance of penmanship in literacy:
How do we build penmanship? Through highlighting the "pressure points" of penmanship training.
Pressure Points
Pencil grip: Writers need cognitive space to write ideas; they should not be using their working memory to remember just how to hold the pen or pencil right so that they can facilitate their writing. It's challenging to help students correct this at a later stage, so laying a good foundation is key.
Developing fine motor skills and drill practice are two essential components that play an important role in helping the child hold the pencil correctly when writing. Young writers must be explicitly taught to hold the pencil correctly in the traditional triangular grip with some leeway in personal comfort level.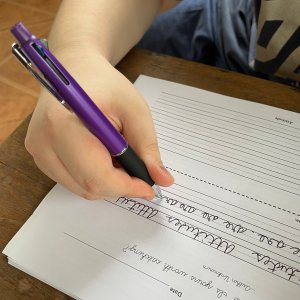 Courtesy of Chie Sipin-Bjarenas
Correct pen(cil) grip
Pressure: The right pressure must be applied to the writing instrument and the paper. Not too loose, or the strokes will not be well formed, nor too tight, as it will result in tiredness.
Paper hold: To support the pencil grip and the pressure on the writing instruments, the writer must also hold the paper with their nondominant hand. The paper must be slightly tilted toward their nondominant direction.
Stroke formation: Closing the loop for accuracy, students need to be explicitly taught how to form their letters. Although there might be slightly different ways to write print and cursive, the main strokes are similar. All t's originate from just below the topline, and all j's dip slightly below the baseline. These components should be reinforced for older students.
I learned that projecting lined paper onto the screen as I demonstrate and talk them through the strokes for each letter is a very effective strategy. There are a few curricular choices for letter formation. I favor Denise Eide's approach in The Rhythm of Handwriting series.
What Makes for Good Handwriting?
Students must be fluent in writing letters and words to relieve their minds from the cognitive load of thinking about how to write the words and sentences for the story or essay they want to write. But what does "good handwriting" look like? Instructors Meliosa Bracken and Pam Buchanan suggest four components:
clearly formed letters,
letters placed on the line,
even spacing between letters, and
even spacing between words.
With the good handwriting model in mind as we work toward handwriting fluency, teachers at our school are revitalizing their skills in teaching handwriting as we work on our students' reading skills.
Write Way Forward
We now set aside 30 minutes every week for explicit instruction on handwriting, focusing on the pressure points with our eyes on improved penmanship. Students from first through sixth grade receive intensive handwriting instruction in print. Eventually, cursive will be phased in for students from third to sixth grade.This is supplemented with daily reminders as our students go about their writing tasks. It's my hope that with the research in our hands and minds, we will be able to reinforce literacy skills in all areas with this much-needed adjustment.
What was once a task chiefly for primary teachers is now a mission for all teachers at my school.