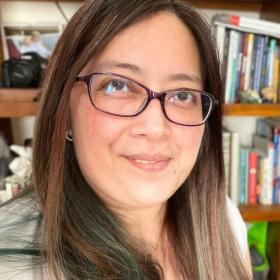 Chie Sipin-Bjarenas
Middle School English Teacher
Chie Sipin-Bjarenas is a passionate educator, avid storyteller, bibliophile, reading advocate, and lifelong learner. She has been teaching English in Southeast Asia for more than 20 years, mainly in Jakarta, Indonesia, but also in the Philippines, Vietnam, and Bali. 
Chie is a member of the International Literacy Association, the International Dyslexia Association, and the Reading League. She is also the subject specialist for English in her school's primary department and trains teachers to teach reading comprehension and writing. She also speaks in parent workshops on supporting reading and writing at home.
Chie is a licensed professional teacher and holds certificates in International Baccalaureate, Cambridge, Jolly Grammar, and Singapore Examinations and Assessment Board (SEAB) educational assessment. She has worked with Indonesia's Ministry of Education and the SEAB in the content and implementation of their examinations.
You can connect with her on Facebook, Instagram, LinkedIn, and Twitter.