Literacy
Double-Duty Writing Instruction
Writing lessons that foster social and emotional skills at the elementary, middle, and high school levels.
Employers today are searching for individuals who have the ability to empathize, communicate clearly, and make unique discoveries.
So how exactly do we teach students to empathize with others? One answer is to give them the opportunity to read their peers' perspectives and share their own reflections, which encourages them to appreciate and respect their differences. By modeling writing at the elementary, middle, and high school levels, teachers can foster empathetic citizens who can successfully communicate with people from all around the globe.
Elementary School
At my school, we use the following lessons to help fourth-grade students feel comfortable expressing themselves.
Assigning group writing: Group workshops give elementary students a chance to engage with different perspectives. After brainstorming writing prompts as a class, we divide students into groups, and they work together as each writes an individual paragraph for a group essay. This cultivates a sense of shared ownership and empathy for others.
"They're working with students at different reading and writing levels, and my class is also very multicultural," said Danielle Pierson, a fourth-grade teacher at Milton Hershey School, where I teach. "It's helpful for them to hear how other kids are processing information instead of just listening to me."
Providing meaningful prompts: Next we challenge them to write a completely independent piece. Students generally feel intrinsically motivated to produce their best work when we allow them to choose from a variety of writing prompts—when they have a choice, they feel more connected to their work and more comfortable expressing themselves.
For example, they can write about a person who serves as their "power of one"—a term we use to refer to staff and students when they make a difference in each other's lives. This prompt allows students to apply their social skills by sharing their admiration and appreciation with others.
Middle School
In middle school, it's important to build a culture of acceptance and empathy through activities that promote expression.
Fostering open dialogue: In one exercise, students receive challenge cubes with parts of speech and universal topics such as art, sports, and animals on the faces. They roll the cubes and then write a poem or claim statement using the topics and parts of speech they rolled. They can choose to work in groups and model their writing for each other.
"The dialogical approach is very important because for the students who know it, they have a chance to be mentors for their peers," said Tony Sedun, an MHS middle school teacher. "For the students who aren't sure, it gives them a ledge to hold on to by pairing up with a peer."
This type of close collaboration also helps students learn about effective leadership techniques. If they feel more comfortable working independently, the challenge cubes can motivate them to apply their knowledge in creative ways.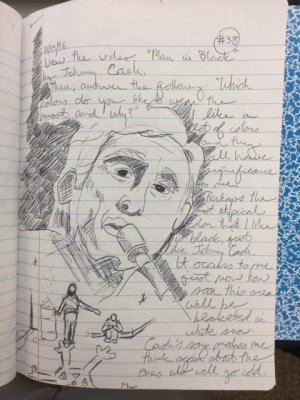 Courtesy of Emily Gallo
Teacher Tony Sedun models visual journaling for his middle school students by sharing his own work.
Working in visual journals: Visual journals promote creativity and linguistic and visual expression, and guide students to take risks during the writing process. In his weekly journal writing assignments, Tony writes alongside students and shares his journal on a document camera. He encourages students to share their work if they feel comfortable. Learning how to listen with empathy and respect is a significant part of social and emotional learning.
"When students struggle with writing, there's hesitancy, risk taking, and fear of audience acceptance," Tony said. "I try to verbalize that process. I explain the expectation that we listen respectfully and give insightful comments to show students how to talk about writing."
High School
In high school, students are beginning to understand language conventions and making discoveries by using noteworthy authors as models.
Studying language conventions: I use literature as a model for my high school students. For example, after my class read a novel by Octavia Butler, we selected a sentence from the book, and students highlighted the punctuation, circled important word endings, and then rewrote the sentence, using the same form and structure but replacing the words with their own to form a sentence that would be appropriate for their college essays.
Exercises like this give students a chance to model complex sentence structures and describe grammar rules in ways that make sense to them, which expands on our SEL curriculum: They become self-aware about how they interpret grammar conventions and gain a firsthand look at the different ways their peers are crafting sentences. By making these grammar discoveries on their own, students develop important decision-making skills and learn how to respect the decisions their classmates are making.
Imitating models: I frequently refer to Walt Whitman's poem "There Was a Child Went Forth" in an attempt to guide my students, who all come from impoverished backgrounds, to embrace a growth mindset as they begin to accept imperfection, confront failure, and gain the confidence to share their unique experiences.
Using Whitman's structure and line length as models, students insert their own perspectives, sharing them with the class if they feel comfortable. Modeling Whitman's language helps them gain a deeper understanding of language conventions, and listening to each other's narratives fosters an empathetic environment. As students listen to their peers being vulnerable and honest through their writing, they learn important lessons on navigating diverse relationships and relating to one another.
For students of all ages, writing is more than conventions and memorization. It involves expression, critical thinking, empathy, discovery, and collaboration—skills that set students up for success in work and life in general.