Assessment
Documentation Panels Are a Novel Way for Students to Demonstrate Their Learning
This innovative assessment tool has students engage in metacognitive reflection by assembling and presenting evidence of their learning.
Essays, PowerPoint presentations, multiple-choice tests: Educators and students know all of the traditional summative learning assessments. While familiar assessments can be a good thing, at the end of the last school year our students were experiencing assessment fatigue.
To combat this, my co-teacher at The Possible Zone and I tried something relatively new: a documentation panel. The Possible Zone is an entrepreneurship and work-based learning program for 10th through 12th graders in Boston, with a mission to advance economic equity. Over Boston Public Schools' spring break in April 2022, we taught a mini research boot camp, during which students learned about and conducted social science research.
What Is a Documentation Panel?
A documentation panel is a visual archive of children's learning. The panel aims to answer two questions: What just happened here? How did this happen? Popularized by educators following the Reggio Emilia approach, documentation panels are a place to analyze and display photographs, art projects, transcripts of conversations, and notes in order to demonstrate a child's learning process.Traditionally, documentation panels are used by early childhood educators; by adapting their methods for high school students, we cut through students' fatigue, encouraging them to make their thinking visible in a way that was rigorous and engaging.
In early childhood education, teachers construct the panels. However, the skills required to craft a documentation panel—observation, reflection, analysis, organization—are ones that we are trying to teach students. We deliberately decided to design our course such that the cognitive load shifted to students while reinforcing their learning.
Documentation Panels in the Secondary Classroom
In our classroom, we split the documentation panel process into three chunks: daily updates, panel curation, and presentation.
Daily updates: At the beginning of our project, my co-teacher and I explained what a documentation panel was and how we as a class would use it to document and assess student learning. At the end of each day, students spent approximately 15–20 minutes adding to their documentation panel. We asked students to answer the following questions:
What did I learn today?
What evidence from today best captures what I learned?
Then we gave students time to pull their evidence and analyze it by answering the question, "How does this evidence capture what I learned today?" Students wrote these analyses on sticky notes that they then stuck to their evidence. We encouraged students to pull rough drafts and other work that showed their learning in motion. Students stored this evidence and the accompanying reflections in a safe place.
An important part of this process was giving students ongoing feedback on the evidence they chose and their analysis. At the beginning of this process, students' choices of evidence were almost entirely in the form of writing (handouts, notes, etc.). By the end of the project, students were choosing photos that showed them engaged in their work. They also included videos, accessible via QR code, of them working together to conduct a mock focus group.
Panel Curation
At the end of the project, we gave students time to curate their panel by answering three questions: What? So what? Now what?
What?: What story do you want to tell with your documentation panel? Students reviewed their evidence and organized it to tell their unique story of learning. Our students chose to organize their evidence in chronological order rather than by theme or topic. Students also added in additional evidence, including a tower made out of newspaper that they'd created in teams, to diversify the kinds of work displayed in the final panel.
So what?: Why did you learn what you learned? Why was it important that you learned this? Students justified their learning in the larger context of the project. This helped students realize how each piece of work and each piece of evidence was connected to the overarching learning outcomes for the project.
Now what?: How did each piece of work build on the previous piece of work? And what are the implications of the project and your learning going forward? In this final stage of curation, students integrated transitions when moving between their evidence of learning; they connected each piece of evidence with those that came before and after. Additionally, they considered next steps for their learning and their projects going forward.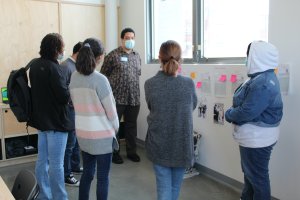 Courtesy of Emma Korolik, Gabriel Thorpe, and the Possible Zone
Gabriel, a student in the class, presents his documentation panel to peers.
Presentation: At the end of the curation phase, students were ready to present. Documentation panels are meant to be displayed, so we had students tape theirs up on the walls of our classroom. For students' presentations, we invited guests so that students could interact with an external audience. Students presented their work and engaged with administrators and other educators during a postpresentation gallery walk, during which guests reviewed the panels up close and asked questions of individual students.
Staff and Student Takeaways
From an educator perspective, the documentation panel was very successful. The process of creating the panel helped students to see the connection between their work and the learning outcomes for the project, which increased their motivation to do the work. Students also began to understand that evidence comes in many forms, such as writing, pictures, and video.
Suddenly, every activity was ripe for documentation panel poaching. Most important, this form of assessment encouraged students to be more metacognitive in their reflections. Students regularly reflected on what and how they learned, and at the end of the project they were proud of how much they had grown.
Students' reflections on the documentation panel reaffirmed what we as educators had seen, too. Gabriel Thorpe, a senior this past spring when he took our course, told us that "the writing and curation process was engaging and helped reflect the importance of why we were doing what we were doing." These reflections make us even more excited to use documentation panels with students again in this new school year.
While we used a documentation panel in a research course, there are lots of options. English teachers can use this at the beginning of the school year to emphasize the importance of revision by having students document a writing piece from its early brainstorming stages to its final draft. Art teachers can have students document their paintings, drawings, or pottery from first to final stages, too. Science teachers can have students document their work learning theory and put that theory into practice through experimentation. This form of assessment is extremely versatile and is exciting for both students and teachers.
This piece was coauthored by Tamar Gaffin-Cahn and Gabriel Thorpe.