Special Education
District 75: 'The Toughest Job You'll Ever Love'
A former teacher revisits her roots in New York City's District 75—a school system composed entirely of kids with severe disabilities.
Almost 30 years ago, I walked into my class of 12 teenagers with acute disabilities in a District 75 school in the South Bronx feeling young and nervous. I had no formal training as a special education teacher, just a master's degree in political theory and an emergency teaching certificate from New York City.
My students included Jason and Jorge, both of whom had learning disabilities and degenerative neurological disorders. They have likely passed away by now. Vanessa was a sassy 18-year-old with Down syndrome. Nearly blind and in a wheelchair, Robert loved to show off his autistic splinter skill of calculating which day of the week your birthday would fall on in five or 10 years. Sharonne, who wore a helmet, was so rattled by daily grand mal seizures that she was never able to remember my name.
My class was the highest functioning in the school.
On top of severe neurological, cognitive, and physical disabilities, my students also had all the challenges that go along with living in a high-poverty urban community. Every Monday morning, we fed children bowls of cereal we brought from home because many didn't get enough food over the weekend. Classroom books and supplies were decades-old hand-me-downs from the previous teacher. Sometimes Jorge, who was in a wheelchair, couldn't come to school because drug dealers had knocked out the elevators in his high-rise public housing building.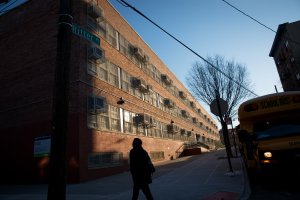 ©Edwin Torres
Located in the Bronx, P186X is part of District 75, a school system that serves only students with severe disabilities.
At the end of my first day of work, I cried. I had never seen children with so many obstacles. But by week two, I had fallen in love with the students and staff. My students were sweet and cheerful, and worked hard at lessons that a veteran teacher helped me prepare. The staff was fiercely protective of the kids and each other. When I returned to graduate school a couple years later—this time to study education policy—I was a whole lot wiser about compassion and resilience.
Today, District 75 is an archipelago of 61 schools serving only children with special needs in New York City. While most of the city's 223,000 students with disabilities are educated within their neighborhood schools, 24,000 of them have such severe needs—behavioral, emotional, neurological, physical, or cognitive—that they must be educated in schools with other students like them.
They are served by 6,050 teachers and 8,700 paraprofessionals who have some of the toughest jobs in education.
"Nothing in college could have prepared me for this," says Katie Papaccioli, a teacher at P186X, also known as Walter J. Damrosch School, a school within District 75. "It's definitely hard, but it's also great. As soon as I met the kids, I was like, 'OK, I'm going to figure this out because I want to be here. I want to work with these kids.'"
Facing Many Obstacles
It's three decades later, and I'm back in District 75 visiting Papaccioli's school in the Bronx, just a block away from my old school.
Inside, there are striking differences from what I experienced. The classrooms are supplied with technology and new books, and the school sets challenging academic goals for its students. With graduate degrees in special education, teachers like Papaccioli, Steve Hodge, and Maha Husein are rigorously screened by Principal Ava Kaplan and, unlike me, highly qualified to be serving this population of students.
Sporting a blond Mohawk and at least 10 turquoise earrings, Kaplan runs a tight ship, overseeing nearly 450 staff members—from teachers to social workers and occupational therapists—who serve 727 students across nine annexes around the city. More than 90 percent of students are on free-and-reduced-price lunch; nearly a third are English language learners.
Choosing top-quality teachers and staff who can handle students with such significant needs is a priority, says Kaplan. In addition to a four-step screening process, applicants must show "they love the kids" because students are sent to P186X, like other District 75 schools, when "they haven't prospered elsewhere."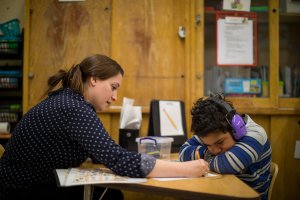 ©Edwin Torres
Teacher Katie Papaccioli works with an autistic student who wears noise-canceling headphones due to sound sensitivities.
"I remember my interview. Miss Kaplan said, 'If you're gonna work here, you're going to have to have Teflon skin.' I remember that and keep it with me," says Husein. "It's not that you can't care—you do care—but if the students attack you verbally, you can't internalize it. It may be because they're mad at someone else."
Catching the early warning signs of a meltdown or problem before it gets out of hand is critical, teachers say. Hodge tells me that the students need constant pep talks and prompting, and most importantly, a listening ear for the challenges they face.
"They know who cares versus who's just trying to pass the day with them. It's survival skills," says Hodge. "I come from where they come from, so I understand their struggles. I understand their needs and the services they need to be successful and persevere and move on."
High-Quality Teaching
In the past, the school's expectations for children with severe disabilities in District 75 were custodial. "You fed them. You didn't get food on them. You toileted them. And that was it," Kaplan says. But about 10 years ago, schools like P186X began to set higher academic goals for students.
"Every child is going to be taught like they are going to Harvard, because I want that academic bar raised," says Kaplan. "I work on the ability, not the disability, because I want every kid to prosper that attends our school. And they can and they do."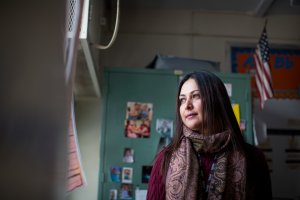 ©Edwin Torres
Maha Husein in her classroom at P186X.
Walking through the halls, I notice that every teacher is working on academic lessons with their children, geared to their needs.
On the first floor, in Papaccioli's class of six autistic children, first- through third-grade students complete a yoga exercise and then break into groups to work on academic lessons. One boy works on tracing shapes with his aide, taking breaks every five minutes to jump on a trampoline in the corner to release energy. Using supplies that she makes in the evenings with items like Velcro and paper obtained through DonorsChoose.org—like many teachers, District 75 educators have to supplement traditional funding—Papaccioli works with another two kids on prepositions.
"I think a lot of people don't understand necessarily what it is that we do here. There's not a teacher in front and rows of desks and kids sitting there getting their pencils and folders out," Papaccioli says. "Sometimes it looks like there's chaos, but there's a method behind what we're doing. We're trying to make these kids better learners and better able to function in their daily lives."
On the second floor, Husein helps her elementary school students refocus on her reading lesson with a call-and-response activity. Using iPads, an interactive whiteboard, and Kahoot, a popular education app, they answer questions—"What does phoenix mean?"—about their reading assignment.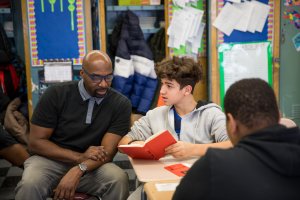 ©Edwin Torres
Teacher Steve Hodge helps a student on classwork at P186X. Though students have significant disabilities, the school sets high academic expectations.
And on the third floor, where the children with the greatest emotional challenges learn, Hodge drills his middle school class on the week's vocabulary words—diversity, embrace, migration, presume, and reveal—while reading a passage about Egyptian history.
All three teachers proudly share their stories of progress. Husein talks about a student who returned to general education and became valedictorian. Papaccioli points to one student who couldn't talk and would cry for an hour when he first came to her class. Now, two years later, he's talking and drawing shapes. Other students make less dramatic, yet still important progress, gains that often carry over to their personal lives and their relationships with family.
The Best of an Imperfect System
Schools like P186X are special not necessarily because of innovative curricula or high-end technology, but because of the quality of the people in the building. While there are certainly cases where schools fail low-income students with major disabilities, it's important to take note of those who succeed.
District 75 schools certainly do not meet the needs of every child. There have been tragic errors, like a lack of supervision of an autistic boy in Queens that led to his death. A recent report found that many students with special needs in New York City were not receiving appropriate speech and occupational therapy.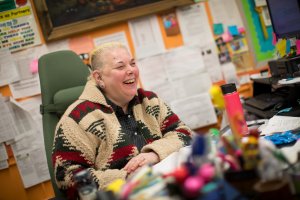 ©Edwin Torres
Principal Ava Kaplan at her desk at P186X
Kaplan says that schools like hers need more funding. She has privately raised money for air-conditioning units and a rooftop playground for her kids. Just the day before my visit she met with a local councilwoman about getting funding for more technology at the school. But not all schools in District 75 have principals who are adept at finding extra funding.
That said, District 75's self-contained model provides students with highly knowledgeable staff, technology that is suited to their needs, and appropriate behavioral supports, says Moroff, emphasizing that it also gives students a chance for a better future.
"With the right training, all kids can learn and succeed. It's really important that the school staff be given all the support and the training that they need to work with kids with a wide range of special education needs," Moroff says. "Special education shouldn't be a dead end for anybody. It should be a road to success."