Maker Education
Digital Shop Class: Fun and Profitable
These students are making things people need and want.
The second year of our maker program is well under way here in our Digital Shop, and we're continuing to make it stronger while building an entire year's worth of brand-new design experiences for our middle school students. Consistent across the board this year is what we're calling our "special sauce" for 2016–17: a focus on entrepreneurship and innovation.
Making Things That Matter
We have a saying here in our Digital Shop: "We make things that matter." Whether it's a device that blows salt onto an icy driveway or shoes that plow snow as you walk, we focus on making things that solve real problems, help people, and make the world a better place. This past summer, we added some important new equipment and production capacity to our shop—features that are vastly improving the quality of the products we create.
In particular, the new Epilog Mini 40-watt laser engraver we added has been a game changer for us and has given our kids the ability to design and produce much more sophisticated gifts, keepsakes, and mementos. Seeing some of our new creations, I quickly realized we could not only make things that matter, but also start marketing them and selling them for a profit. With that in mind, Digital Shop's strategic focus for the 2016–17 school year, entrepreneurship and innovation, was established.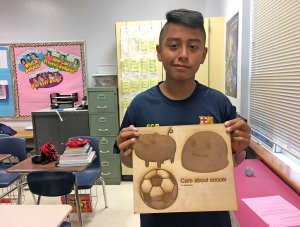 Kevin Jarrett/flickr (CC BY 2.0)
A seventh-grade student poses with his first-ever creation using the laser engraver.
As we slowly move from 1.0 toward 2.0, some shifts are evident. Most of these apply directly to our program, but some are more general and likely applicable to many maker programs.
Here are a few examples of the shifts we've observed in what we consider to be our current stage of Maker 1.1:
From "I make things designed to help people" to "I make things that do help people."
From "I like the things I make" to "Other people like the things I make and would even pay for them."
From "I work semi-randomly" to "I work by following a process."
From "I only use tools I know" to "I use tools I don't know so I can learn how to use them."
From "Making is not connected to my classwork" to "Making is connected to my classwork."
From "Making lets me be a kid" to "Making helps me feel like a grown-up."
With a Little Help From My Friends
Several individuals and organizations are playing a significant role in our program this year. For starters, Chris Aviles and his amazing students at the Innovation Lab in New Jersey's Fair Haven Schools are constantly pushing my thinking about what's possible in best practices for engaging and empowering kids. We plan to follow their lead and establish an online store like their FH Gizmos where our kids can design, market, and sell their own creations while working as freelance designers on a contract basis.
Similarly, Don Wettrick, a high school teacher and author of the terrific book Pure Genius, is inspiring us through his work on StartEdUp, a promising collaboration between his students and our own this coming year. We are also thrilled to be working with Jorge L. Valdes, a high school teacher and senior advisor on science, technology, engineering, and mathematics (STEM) education and intellectual property at the U.S. Patent and Trademark Office. Jorge is providing encouragement and feedback as we develop our young entrepreneurs and their respective ventures, starting with students who worked on last year's collaborative project with JeffDESIGN to make children's hospitals less scary for kids.
These initiatives will span both during- and after-school programs as we ramp up our knowledge of what's involved with this type of work, including the legal and organizational questions that may arise.
The Plan of Attack
Our fifth graders are already knee-deep in the foundational set of experiences we dreamed up last year and are effectively learning design skills as they get familiar with our makerspace and their responsibilities as creators. In general, they're getting a variation of our curriculum from last year, with adjustments, modifications, and improvements.
The middle school students are another story, however.
As I mentioned previously, their experience needed to be completely new this year. According to our manifesto, our goal is to conduct student-led initiatives tied directly to community needs—including both small, everyday solutions to problems they encounter and larger, systemic challenges affecting our town as a whole. To facilitate this, we have chosen to implement EPICS, the human-centered design curriculum from Purdue University that is aligned with Next Generation Science Standards (NGSS). EPICS is a powerful and comprehensive methodology designed to ensure that students follow a systematic process while developing and designing their creations.
In the seventh grade, we are collaborating with my colleague Mary Ann Devine, a science teacher, who has dreamed up a unit involving the study of endothermic and exothermic reactions. Specifically, she developed a vivid story line where kids can choose from different expeditions such as Mission to Mars, Climbing Mount Everest, or Sailing Around the World. The unit challenges them to design a food transportation system for the journey that will keep their hot food hot and their cold food cold. We are using the EPICS methodology to walk the kids through the design process, which starts with finding needs, documenting requirements, researching prior art, and constructing pretotypes (click here for an explanation of the difference between a pretotype and a prototype). Ultimately, the students design, test, and deliver a solution.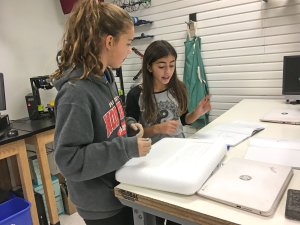 Kevin Jarrett/flickr (CC BY 2.0)
Two seventh-grade students consider materials for their pretotype for a food transportation system.
I'm very excited by this collaboration with my colleague as it represents an authentic, relatable challenge grounded in a lesson that demonstrates how design (and our makerspace) can be used authentically as part of traditional curriculum.
Students in the sixth and eighth grades are also learning the EPICS methodology, but in the context of a different provocation: How might we make our weekday morning routines easier? I got the idea for this challenge from the design-thinking curriculum at Citizen Schools, an expanded learning time program that partners with middle schools. I like the model as it is relatable and easy to dissect and analyze.
I use this 16-minute video (sped up so that it runs in under a minute) to get the conversation started and ideas flowing. It didn't take long for the kids to identify needs and develop creative solutions. Some of their ideas: a hair-straightening wand that works in less than a minute, a system that monitors and manages bathroom time, and an automated smartphone app that helps you select outfits based on the weather, your style, and your mood.
Increasing Complexity
One of our key takeaways from last year was that most of our prototypes were fairly low resolution—representations of desired products or functionality similar to the pretotype above. This year, we want to raise the quality of our prototypes so that kids will be motivated to incorporate a wider range of technologies and the skills needed to create them. Maybe student designs will use the laser cutter or contain intricate moving parts and Arduino-based programmable controllers. The choice will be theirs.
Accordingly, we are revamping our Tools week, a five-day design experience centered around using and experimenting with the variety of technologies in Digital Shop. A group of student volunteers from the Physics Club at nearby Stockton University is helping us this year. We met in November to begin planning our collaboration, and I provided them with an overview of our program and pedagogical philosophy. We're all very excited to begin working together.
While we're in the midst of changes at our Digital Shop, we're also facing many of the same challenges as before. Still, we've learned what doesn't work, eliminated some problematic technologies, and tightened up our procedures. We're leveraging relationships everywhere we can and are continuing to learn from others who have been doing this work a lot longer than we have. Overall, we're tying work together with a focus on entrepreneurship and innovation that makes our mission larger and more impactful to our students. We hope you will keep reading this series and follow our continuing adventures as they unfold.