Design Thinking
Designed for Engagement
A school district uses monthly missions in design studios to increase student and teacher engagement and foster self-directed learning.
In 2016, I reconfigured a learning space at each of the two schools in the Harrison Township School District in New Jersey into a design studio to promote design thinking, engagement of students, and self-started learning opportunities. 
The goal was for homeroom teachers to utilize the spaces with their classrooms to do things they couldn't accomplish in a traditional room. Thirty homeroom teachers at each building would share the spaces, and my colleague AnnaLisa Rodano and I assisted them with a modeled approach to using the spaces effectively.
In that first year, we noticed that some teachers would use the spaces much more than others. They were comfortable with relinquishing control of their traditional lessons. But to ensure equity for our learners, we knew we had to develop a way to expose all learners to the design studios on a consistent basis.
Creating Missions to Support Student and Teacher Learning
To support the teachers and students during the 2017–18 school year, AnnaLisa and I created thematic missions for all grade levels. These design studio missions were planned out to be a way for students and teachers to get comfortable with design thinking and project-based learning. Having the materials and directions ahead of time allowed teachers of all comfort levels to participate in the missions with their learners. Teachers could decide when and how often they came to the space to work on the missions.
Each month, we created a new mission, so we needed a variety of materials that could be used in different ways. We reached out to the community to collect materials that would allow the missions to be successful, collecting rocks, tinfoil, straws, cardboard—items that were specific to our missions.
Kids in kindergarten through sixth grade all accessed the same mission pages, meaning that we had to develop experiences that 5-year-olds could try and that would still be challenging for 12-year-olds. We developed the mission pages using Padlet, and gave teachers differentiated options so they could adjust to the needs of their learners. Additional programs like Edpuzzle, Do Ink, and Flipgrid were embedded into the missions to help teachers familiarize themselves with these digital tools.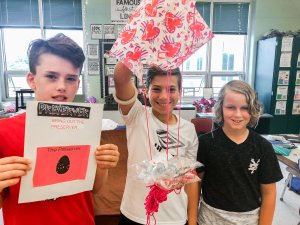 Courtesy of Natalie Markey
Students with a lander they've built to safely land eggs after a 10-foot drop, part of a design studio mission.
When we began designing each mission, we first thought of the learning that must take place before the hands-on learning events could begin. We provided teachers with background information—recommended picture books, podcasts, readings, three ACT math videos, and cross-curricular infographics—in all subject areas, which they used in their classrooms to build excitement for the visits to the design studio to work on the mission.
The Design Studios Hit Their Stride
In September, we started out by asking students to create an apple-balancing device for a relay race. This blending of design, engineering, and physical education was a hit. But January's mission was when we realized we had captivated the community. In the course of some earlier research, I had discovered that New Zealand has safety concerns around penguin populations crossing roads and highways on Great Barrier Island. Local organizations there build wooden nest boxes and place them in safe areas so the penguins will stop and make a home instead of migrating further.
So for the January mission, we decided to ask students to construct prototype nest boxes that improved on the ordinary design—the challenge was to create the most enticing nest box for penguins to visit. The mission started with students learning about various types of penguins. Next came the design project as they built their nests with only cardboard and tape. (We had prepped for this earlier by asking families to send in cardboard from packages they received in the holiday month of December.)
AnnaLisa and I infused video production into the mission as well. Soon videos were flying in with students using descriptive writing and persuasive techniques to lure penguins into their hypothetical nest boxes. I think my favorite had to be a kindergarten design that included a hot tub for the penguins.
The most amazing component of this mission—and all of our missions—is that students of every age were exposed to content knowledge, group work, and tactile learning that brought in 21st-century learning standards.
Each month brought a brand-new experience for our students. They looked forward to the experiences because they were enjoyable. I feel we were able to harness the fun factor or hook that many teachers are looking for in a content-driven experience.
Some of our lessons were built around empathy—as when we celebrated Black History Month and Autism Awareness Month—and others were strictly driven by the engineering principles involved in topics like buoyancy and the flight of bats. I invite you to visit our Missions page to see how they developed over the year. We're making them public because we want to build a community of educators who will create and share similar project-based experiences for all students to enjoy and learn from.