Place-Based Learning
Capitalizing on the Pedagogy of Place
Place-based learning provides fertile ground for projects that enhance students' understanding of history.
The pedagogy of place has led my students and me on trips to different parts of the United States and Mexico.
Museums and monuments are worth visiting, but I believe that historical places (i.e. places at which important historical events occurred) can offer a deeper appreciation for our shared history—for example, the 9/11 Memorial & Museum in New York, Independence Hall in Philadelphia, and even places with good food, like Ben's Chili Bowl in Washington, D.C. When we teach and visit historical places, it allows students to develop a more dynamic understanding of the world.
The immigration station on Angel Island in the San Francisco Bay has been called many things, including the "Ellis Island of the West" and "Gateway to Gold Mountain." It operated between 1910 and 1940 and has been part of the Angel Island State Park since 1962, but like many native Californians, I didn't learn about it in school. In fact, the immigration station was boarded up and nearly forgotten until a park ranger started a preservation effort in 1970.
Places such as Angel Island, and San Francisco's Chinatown, to which it has a close connection, are often omitted from state standards and viewed as beyond any curricular necessity. This is where the pedagogy of place needs to be emphasized.
(I want to acknowledge that Angel Island is part of the traditional territory of the Coastal Miwok Native Americans.)
Synthesizing Histories
Several years ago, I was finishing up a unit on Chinese history when I read an article about the immigration station on Angel Island. What a fascinating connection between our history curriculum and local history. I decided to set up a field trip to visit Angel Island and also Chinatown. Since then, it has become an important focus in the spring during Asian American and Pacific Islander Heritage month.
After learning about Imperial Chinese history, my students took a deep dive into the history of Angel Island and Chinatown. We read the book Angel Island Gateway to Gold Mountain, by Russell Freedman, and students used the facts that they gleaned to create nonfiction narrative journals or a series of letters from the point of view of a Chinese immigrant who was detained on the island. They also wrote Cantonese poems in the style of those carved into the walls of the detention barracks on the island.
The writing components of this project help students appreciate the richness of the place and develop an understanding of the sacrifices that were made there.
When we stand on historical ground and face injustices past and present, we absorb the hardships and sacrifices of others and make it our mission to confront similar injustices today.
Statue Design for Angel Island
As a design component, my students conceptualize a statue for Angel Island, using the Statue of Liberty near Ellis Island in New York City as an example. We learn about the symbolism woven into the Statue of Liberty and other statues, and then students draw, paint, sculpt, or use Tinkercad, a free online 3D modeling program, to depict their design.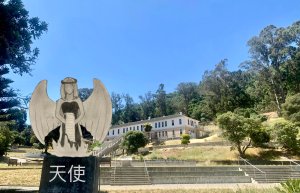 Courtesy of Teague Tubach
A composite image of a student-designed statue overlaid on a photo of Angel Island.
The most interesting designs often show the outward appearance of welcome with a more subliminal message of unwelcome. Later, they take a photo while on the island, which becomes their base image, and then they overlay an image of their statue design. 
Chinatown History and Culture
Many Chinese immigrants who entered California worked on the transcontinental railroad or the California Aqueduct or became commercial fishermen. If they were not bound for other parts of the West Coast, they often settled in the familiar ethnic enclave of San Francisco's Chinatown.
Sociologists tell us that ethnic enclaves exist for two reasons: They offer safety and familiarity, with shared language, food, and customs, and they are the manifestation of racist policies meant to enforce segregation.
After learning about the Chinese Exclusion Act, the founding of Chinatown, and the 1906 earthquake and fire in San Francisco that destroyed nearly all of the structures, we looked more closely at the bubonic plague outbreak in Chinatown between 1900 and 1904. This last year, my students were granted a special preview of the PBS documentary Plague at the Golden Gate. The earthquake and plague outbreak both highlighted discrimination against Chinese Americans.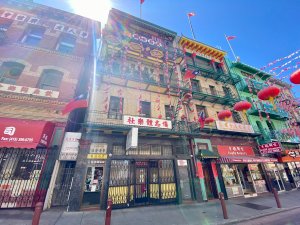 Courtesy of Teague Tubach
Tin How Temple in San Francisco's Chinatown
Pedagogy of Place
As an extended day field trip, my students visit the Immigration Station on Angel Island and go on a photo scavenger hunt in Chinatown.
The Immigration Station tour is run by park rangers, although docents are often present to share personal connections to the island. The detention barracks are home to more than 200 poems, which were carved into the walls by Chinese immigrants. The former hospital at the Immigration Station has reopened as a museum. A granite monument and a fog bell serve as iconic landmarks, honoring the lives of those who passed through this important place.
After touring the Immigration Station, my students continue on to Chinatown to find the landmarks that they learned about in class.Highlights include a replica Goddess of Democracy statue, Old St. Mary's Cathedral, the Dragon Gate, and Tin How Temple. We also visit the Chinese Historical Society of America Museum and sample some regional Chinese food, such as lotus mooncakes and dan dan noodles. With this, my students are simultaneously learning about history and culture, while standing on the ground where these converge.
When we merge project and place, we create a dynamic understanding of our shared history.
Additional Resources