Project-Based Learning (PBL)
PBL That Fosters Empathy and Community
Project-based learning can cultivate collaboration, creativity, and critical thinking across the grades.
In today's fast-paced and interconnected world, fostering collaborative, empathy-driven learning experiences is crucial for equipping students with the skills they need to navigate an increasingly complex future. Combining the power of community partners, collaboration, authentic problem-solving, and a focus on understanding, project-based learning (PBL) experiences offer valuable insights into how education can shape compassionate and socially responsible individuals.
Our role was to support our colleagues with curriculum design through planning meetings and serving as liaisons connecting our community partner with the district, teachers, and students. We modeled PBL techniques, including differentiated instruction, feedback, reflection, assessment, and evaluation. We shared resources, supported the integration of technology, and fostered community building with different teachers and students.
In this article, through a review of the outcomes, as well as an examination of the design and implementation, we explore the transformative potential of PBL.
The Outcomes
Maria Fareri Children's Healthcare Services offers specialized care for infants and children who may be seriously ill. As part of Westchester Medical Center, they provide world-renowned health care services to the most fragile in our community.
During the 2021–22 school year, the Wappingers Central School District students worked on a PBL project, "Happy Little Accidents." The students inspired, designed, fabricated, and donated a Rube Goldberg machine to the hospital to provide much-needed entertainment and potential therapeutic benefits during difficult times.
Kindergarten and fourth-grade students used their physical science knowledge to inspire original prototype designs for the machine. Kindergarten students transferred their knowledge of pushes, pulls, and collisions into their prototype designs. Fourth-grade students utilized their knowledge of energy, energy transfer, and motion for their prototype designs.
High school students then reviewed 94 different designs from the elementary students. They thought critically, planned meticulously, and solved problems along the way. They analyzed cause-and-effect relationships, had to troubleshoot issues, and made adjustments to ensure the successful chain reaction.
The Rube Goldberg machine at the hospital continues to entertain and provide therapeutic benefits to children. Yet, it has limitations. It's a single self-contained portable device that can serve only one child at a time. After collaborating further with our community partner, we understood their new needs: multiple games for many children.
During the 2022–23 school year, we helped establish the PBL experience titled "What's the Matter?" As with "Happy Little Accidents," elementary students worked with high school students to inspire the designs and fabrications. The public product for this PBL included eight tabletop games (interactive tic-tac-toe and mini-catapult).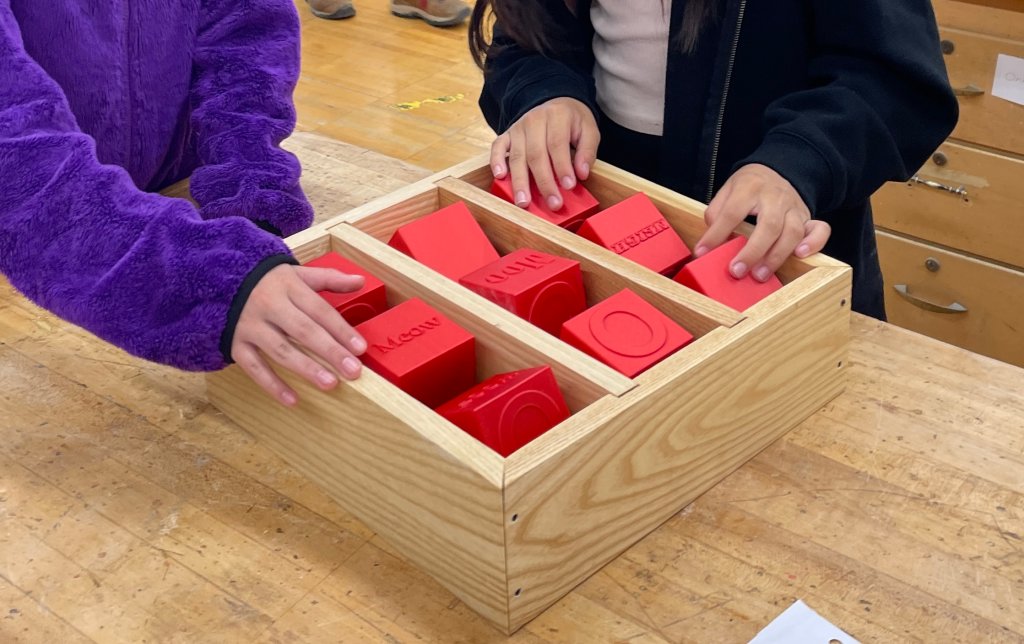 Courtesy of Tara Koehler and John Sammon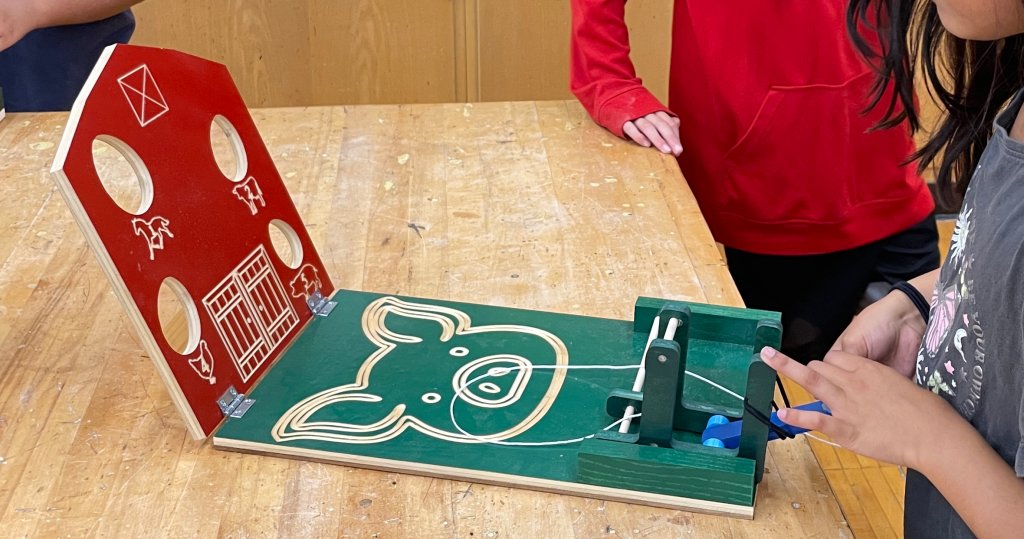 Courtesy of Tara Koehler and John Sammon
Due to the nature of the public product and the users, grade five and high school students were sensitive to the properties of matter, particulate nature of matter, and conservation of matter. They created games that prioritized the safety, comfort, accessibility, and emotional well-being of sick children in order to contribute to a positive and enriching play experience.
The Design
Brainstorming and planning: Every PBL experience starts by thinking about our community partners and their needs. We align their needs with relevant standards and our content curriculum. We utilize Gold Standard Design Elements and think about how we'll use the design thinking process with our students so they can develop empathy while creating something for someone.
Storylines and driving questions: Each experience launches with a Storyline, a narrative structure that engages students, contextualizes learning, stimulates creativity, and creates an emotional connection with the subject matter. Out of our storylines come our driving questions—open-ended, thought-provoking questions that guide the project and stimulate students' inquiry. We typically use Tubric 2.0 to easily generate our driving questions.
Turning points: Turning points serve as important checkpoints in the learning and the project's progression. They help teachers and students track progress, stay organized, and ensure that they're on track to achieve the project goals. With each turning point, students are using their content knowledge and creating elements that contribute to their public product. This ensures that the project is the learning, not a product that is only completed at the end. See our turning point template for What's the Matter?
Design thinking: We employ design thinking at relevant turning points, which promotes a human-centered (empathy), iterative problem-solving process.
The Implementation
Culture: Because of the scope of the projects, it was important to make sure we established a proper culture. All of the students had to collaborate within their classes and virtually with other classes, utilize empathy, be independent learners, and function within an inquiry-based learning environment. Additionally, they all had to collaborate with employees from our community partner. To achieve this, we utilized open dialogue, active listening, and empathy toward diverse perspectives with students. We also facilitated collaborative activities and group work that promoted teamwork and the exchange of ideas. Students worked in science teams; engaged in authentic, real-world science experiments; and had to consider multiple viewpoints in their work.
Sustained inquiry: We used student-generated need-to-know questions to support student inquiry. These provided a starting point for students and helped them delve deeper into the projects and guide the learning journey. As they progressed, students generated additional questions specific to each turning point. These need-to-know questions became refined and guided their inquiry and shaped their learning experiences.
Scaffold student learning: To support all students in reaching their PBL goals, we employed a variety of lessons, tools, and instructional strategies at different points during the teaching and learning. We utilized the 5E Model, explicit direct instruction with a gradual release, small group lessons, and differentiation.
Assessment tools and strategies: We used a variety of assessment tools and strategies, including observations, science notebooks, investigations, feedback, and revision of designs, as well as digital tools. Using formative assessment methods throughout the projects provided a view of student progress and allowed for timely intervention.
The two PBL experiences described highlight the power of collaborative, empathy-driven projects to inspire and empower students. By embracing the principles of PBL and engaging with the community, students not only develop essential academic and social and emotional skills but also make a positive difference in the lives of others. These experiences serve as a testament to the transformative potential of PBL in creating empathetic, engaged, and community-minded learners.